Il grande salto lo chiamano alcuni, passare dal piccolo al grande schermo. Un passaggio che viene visto da molti come conseguenza naturale della notorietà o del successo, l'approdo a una dimensione più importante e prestigiosa, una vera e propria progressione. Nel contesto delle serie tv molti grandi artisti sono esplosi, rivelandosi al mondo intero, basti pensare agli attori lanciati da serie come The Big Bang Theory o Game of Thrones. Per alcuni tuttavia, varcare poi le porte del cinema ha segnato l'inizio del tramonto per la propria carriera, e non certo per mancanza di talento o popolarità. Oggi ricordiamo cinque star indiscusse del piccolo schermo, interpreti di ruoli iconici rimasti nel cuore di tutti, che per qualche motivo non hanno saputo ritagliarsi un ruolo altrettanto importante sulla scena cinematografica.
Sono molti in realtà gli esempi di grandi star partite dalla tv e giunte alla conquista di Hollywood (e anche che hanno fatto il percorso inverso), pensiamo a George Clooney, Michelle Williams o Will Smith. Questi artisti sono riusciti a districarsi dal ruolo iconico che hanno portato in scena, elemento questo che molto spesso ha invece tarpato le ali a molti grandi attori. Un peccato quando questo accade, soprattutto alla luce del fatto che in quel ruolo particolare essi si sono dimostrati estremamente talentuosi. Probabilmente è per questa ragione che il passaggio dalle serie tv al cinema viene definito grande salto, dal momento che sembra esistere la necessità di reinventarsi in qualche modo.
Vediamo allora chi sono i grandi del piccolo schermo che non ce l'hanno fatta a varcare i confini della settima arte.
1) Sarah Michelle Gellar – Buffy, l'ammazzavampiri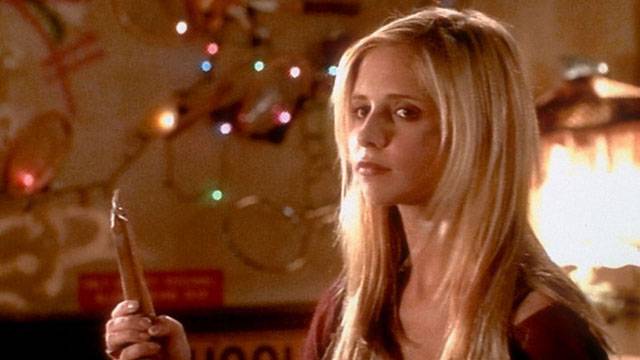 Colei che è stata scelta per combattere i vampiri sembrava essere stata scelta anche per una carriera sfolgorante, ma purtroppo ha tradito le attese. Nel ruolo di Buffy che l'ha resa famosa in tutto il mondo, tra l'altro giovanissima, l'abbiamo vista mettere in mostra doti attoriali e atletiche notevoli, padroneggiando con bravura vari registri, dal comico al drammatico. Il talento non manca davvero a Sarah Michelle Gellar, eppure sul grande schermo non è mai riuscita a esprimersi ad alti livelli.
Ha interpretato molti film per la verità, da Cruel Intentions a Scooby Doo, passando per la saga horror The Grudge, ma nessuno dei lavori successivi a Buffy, l'ammazzavampiri l'ha valorizzata e resa famosa allo stesso modo. Sembra questo uno di quei casi in cui la luminosità di un personaggio oscura quella dell'interprete. L'estrema notorietà di Buffy Summers, diventata vera icona culturale, ha probabilmente relegato l'attrice americana a essere riconosciuta principalmente per quel ruolo, definendola in maniera indelebile. Un peccato davvero per un'artista che come detto sembrava essere destinata a grandi cose.