Il grande salto lo chiamano alcuni, passare dal piccolo al grande schermo. Un passaggio che viene visto da molti come conseguenza naturale della notorietà o del successo, l'approdo a una dimensione più importante e prestigiosa, una vera e propria progressione. Nel contesto delle serie tv molti grandi artisti sono esplosi, rivelandosi al mondo intero, basti pensare agli attori lanciati da serie come The Big Bang Theory o Game of Thrones. Per alcuni tuttavia, varcare poi le porte del cinema ha segnato l'inizio del tramonto per la propria carriera, e non certo per mancanza di talento o popolarità. Oggi ricordiamo cinque star indiscusse del piccolo schermo, interpreti di ruoli iconici rimasti nel cuore di tutti, che per qualche motivo non hanno saputo ritagliarsi un ruolo altrettanto importante sulla scena cinematografica.
Sono molti in realtà gli esempi di grandi star partite dalla tv e giunte alla conquista di Hollywood (e anche che hanno fatto il percorso inverso), pensiamo a George Clooney, Michelle Williams o Will Smith. Questi artisti sono riusciti a districarsi dal ruolo iconico che hanno portato in scena, elemento questo che molto spesso ha invece tarpato le ali a molti grandi attori. Un peccato quando questo accade, soprattutto alla luce del fatto che in quel ruolo particolare essi si sono dimostrati estremamente talentuosi. Probabilmente è per questa ragione che il passaggio dalle serie tv al cinema viene definito grande salto, dal momento che sembra esistere la necessità di reinventarsi in qualche modo.
Vediamo allora chi sono i grandi del piccolo schermo che non ce l'hanno fatta a varcare i confini della settima arte.
1) Sarah Michelle Gellar – Buffy, l'ammazzavampiri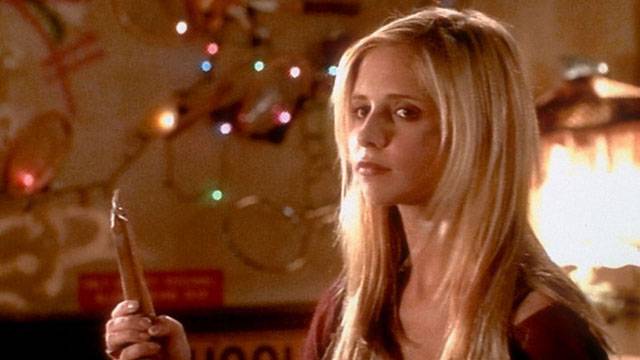 Colei che è stata scelta per combattere i vampiri sembrava essere stata scelta anche per una carriera sfolgorante, ma purtroppo ha tradito le attese. Nel ruolo di Buffy che l'ha resa famosa in tutto il mondo, tra l'altro giovanissima, l'abbiamo vista mettere in mostra doti attoriali e atletiche notevoli, padroneggiando con bravura vari registri, dal comico al drammatico. Il talento non manca davvero a Sarah Michelle Gellar, eppure sul grande schermo non è mai riuscita a esprimersi ad alti livelli.
Ha interpretato molti film per la verità, da Cruel Intentions a Scooby Doo, passando per la saga horror The Grudge, ma nessuno dei lavori successivi a Buffy, l'ammazzavampiri l'ha valorizzata e resa famosa allo stesso modo. Sembra questo uno di quei casi in cui la luminosità di un personaggio oscura quella dell'interprete. L'estrema notorietà di Buffy Summers, diventata vera icona culturale, ha probabilmente relegato l'attrice americana a essere riconosciuta principalmente per quel ruolo, definendola in maniera indelebile. Un peccato davvero per un'artista che come detto sembrava essere destinata a grandi cose.
2) Jim Parsons – The Big Bang Theory
Se esiste un attore conosciuto per essere un personaggio, questo è Jim Parsons. Giunto agli onori della ribalta per l'interpretazione di Sheldon Cooper nella serie The Big Bang Theory, si è rivelato essere un artista di enormi potenzialità, versatile e magnetico. La serie è terminata da poco per cui sicuramente l'attore texano avrà tempo di conquistare nuovi lidi, per il momento però sembra non essere riuscito a riproporre sul grande schermo il suo talento.
Proprio The Big Bang Theory, la serie che l'ha reso famoso in tutto il mondo, con cui ha vinto ben quattro Emmy Awards e un Golden Globe, potrebbe aver segnato in qualche modo la sua carriera di attore. Fuori dal piccolo schermo lo abbiamo visto impegnato infatti in ruoli di secondo piano, come in Dallas Buyers Club o Il diritto di contare, produzioni sicuramente di alto livello ma che non hanno dato all'attore lo spazio che merita. Nel 2018 partecipa come protagonista al film A Kid Like Jake, presentato al Sundance Film Festival, segno che qualcosa si muove nella carriera di Parsons, salvo poi tornare al ruolo di comprimario in Ted Bundy del 2019.
Un'altalena di ruoli che se da un lato testimonia come il suo nome sia più vivo che mai dopo The Big Bang Theory, dall'altro denuncia un ritardo probabilmente in quella che sembrava ormai una carriera lanciata. Vedremo come si evolverà il percorso artistico di questo ottimo attore.
3) Matthew Fox – Lost
Un eroe per me, Jack Shephard, personaggio memorabile e famoso in tutto il mondo. Lost è prima di tutto il suo viaggio, ce lo dice espressamente dall'inizio della serie al suo finale. Il viaggio di Matthew Fox però sembra aver incontrato notevoli ostacoli dopo la fine della serie che lo ha lanciato sulla ribalta mondiale, dal momento che l'attore non ha trovato più la via de successo. Già durante le riprese di Lost, Fox aveva tentato di scalare le colline di Hollywood, venendo però coinvolto in prodotti piuttosto mediocri come Smokin Aces e We are Marshall, fallendo poi anche nel progetto delle sorelle Wachowski Speed Racer del 2008.
Dopo la conclusione di Lost, Matthew Fox sembra essere quasi sparito. Nel 2012 ritorna alla ribalta per un ruolo da protagonista in Alex Cross, dove interpreta il serial killer Picasso, e per poco edificanti vicissitudini personali che segnano il definitivo declino dell'attore. Incredibile per certi versi il fallimento di Fox al cinema, dopo aver interpretato uno dei personaggi più importanti nella storia della televisione. Un peccato davvero se si pensa che nonostante tutto viene ancora acclamato e amato dai fan di tutto il mondo.
Un altro mistero di Lost, forse.
4) David Schwimmer – Friends
Ross Geller e il capitano Herbert M. Sobel, grandi ruoli in due serie indimenticabili, Friends e Band of Brothers, per un attore di sicuro talento e grande versatilità. David Schwimmer ha conquistato davvero tutti con i suoi ruoli televisivi, è quasi impossibile non riconoscerlo anche a distanza di tanti anni dalla conclusione delle serie. L'attore aveva dichiarato però, dopo la fine di Friends, di non essersi trovato a suo agio a gestire quella enorme popolarità, di avere difficoltà a rapportarsi al suo status di star planetaria. Questo fattore deve aver inciso in qualche modo nella sua anonima carriera cinematografica. Non che non ci abbia provato, comunque.
Lo abbiamo visto infatti a lavoro in progetti dalle gradi firme, sotto la guida di registi come Bryan Singer e Ivan Reitman, ma mai però in ruoli di primo piano. L'attore ad ogni modo nutre due grandi passioni che lo hanno assorbito negli anni, il teatro e la regia, alle quali si è dedicato con dedizione, preferendole agli impegni cinematografici, comunque sempre presenti. Nel 2019 per esempio compare in Panama Papers, film di Netflix diretto da Steven Soderbergh. Vedremo cosa riserverà il futuro al nostro Ross, sperando di vederlo finalmente al centro di un progetto che ne valorizzi le qualità.
5) Jason Alexander – Seinfeld
George Costanza di Seinfeld, ricordiamo Jason Alexander principalmente per questa interpretazione rimasta nella storia. La serie ABC andata in onda dal 1989 al 1998 ha rivoluzionato i canoni della sitcom moderna, definendone le caratteristiche che conosciamo e apprezziamo oggi, e proponendo dei caratteri unici. George Costanza era rude, invidioso e meschino, adottava stratagemmi e macchinazioni per raggiungere i suoi scopi ed era così ridicolo quando ogni volta veniva scoperto. Un gran bel personaggio portato in scena magistralmente.
Peccato però che l'attore di Newark non abbia trovato più in carriera una centralità tanto marcata e un progetto che ne valorizzasse le qualità. Lo abbiamo visto in molti film per la verità, il più famoso dei quali è certamente Pretty Woman, ma mai più in un ruolo adatto alla sua vena tragicomica e grottesca. Di Seinfeld si è parlato anche per i suoi postumi, gli effetti che ha avuto cioè sugli attori principali (e qui ve lo spieghiamo) che ne hanno fatto parte e che hanno tentato la via di altre sitcom, ma per Jason Alexander sembra essere andata diversamente. Non è stato di certo dimenticato, il suo sembra piuttosto essere stato un problema legato alla sua caratterizzazione in Seinfeld, che ne ha fatto un'ottima spalla, un personaggio di supporto dalla genuina vena comica, ma che gli ha impedito di mettersi alla prova in ruoli da protagonista.