Dopo la recensione dell'episodio della settimana scorsa, siamo nuovamente tornati con la recensione del nuovo episodio di The Big Bang Theory, "The Military Miniaturization". Dopo un episodio che si è soffermato a lavare i panni sporchi di famiglia e sul matrimonio di Penny e Leonard, nella seconda puntata della decima stagione della famosa sitcom torniamo a parlare di un tema che renderà interessante questa stagione, la minaccia dell'Aeronautica Militare.
Prima di procedere con la recensione però devo avvertirvi che potreste trovare degli spoiler!
Non procedete se non avete visto l'episodio!
E' arrivato finalmente il momento dell'appuntamento di Howard Wollovitz con il colonnello Richard Williams, che era stato anticipato già da tempo. Howard ha convocato i suoi amici, con cui aveva collaborato per la creazione del progetto, per decidere come affrontare la situazione e se fosse il caso di consultare un legale per capire cosa fosse conveniente dire e cosa no. Il problema infatti è evidente (anche se non per Sheldon): gli scienziati temono che il Colonnello voglia rubargli il progetto ed usarlo per costruire delle armi. Sebbene Sheldon creda di esser ben capace di difendersi da solo, decidono di consultare il cugino di Howard, che è uno stimato avvocato. Ma prima abbiamo una divertente scena sugli stereotipi indiani ed ebrei…
Il cugino di Howard consiglia loro di fare bene attenzione a non firmare nulla, ma Leonard ed Howard capiscono che l'unica cosa davvero utile da fare è impedire a Sheldon di parlare. Il dottor Cooper nonostante sia infastidito ed indispettito da questo ordine, obbedisce…o almeno ci prova!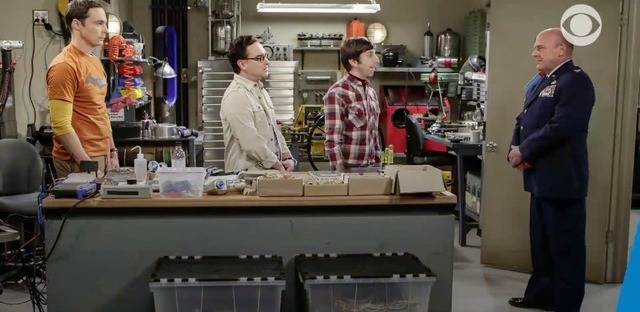 Il colonnello Richard arriva nello studio e si impone con fermezza e molta prepotenza. Propone loro di accettare un finanziamento dalla società militare per poter realizzare un sistema di navigazione più piccolo. Nel momento in cui Leonard ed Howard chiedono a cosa sarebbe stato destinato, il colonnello precisa che il fine del suo progetto non verrà loro comunicato.
La cosa più divertente però è stata quando il colonnello ha iniziato a dire affermazioni completamente in contraddizione con le idee di Sheldon, che avrebbe tanto desiderato controbattere, se avesse potuto…
Alla fine però non ha potuto far a meno di scoppiare e dire all'improvviso tutto quello che per troppi minuti aveva represso, causando naturalmente un grosso guaio. Ha infatti assicurato che avrebbero realizzato il lavoro in solo due giorni, mentre il MIT aveva promesso di farlo in quattro giorni. I nostri nerd preferiti saranno capaci di realizzare questo impossibile compito, ispirandosi ad i loro supereroi?
E' la parte dedicata a Bernadette però quella che ho davvero apprezzato! Sarà perché il tema della gravidanza che interferisce con il lavoro è molto sentito da noi ragazze italiane…soprattutto in questo periodo!
Bernadette non vuole dire al lavoro del suo stato perché teme che a causa di questo perderà la sua occasione di fare un'importante ricerca. Tuttavia ha come amica e collega Penny e questo vuol dire che ogni suo segreto è sempre in pericolo. Penny infatti si lascia per sbaglio sfuggire questa informazione con i colleghi e quando Bernadette lo scopre, ha deciso di non parlarle più. Anche se Amy cerca di mediare tra le due amiche e di sostenere la microbiologa. Bernadette però è una donna forte e combattiva e non si arrende mai. Così quando il suo capo le dice che sta pensando di toglierle l'incarico, lei minaccia di denunciarlo. E alla fine accetta anche le scuse di Penny e la perdona, riconoscendo comunque che sa mentire molto bene. Da quando non ottiene più parti nei film, Penny impiega le sue capacità attoriali per mentire alle sue amiche. Bernadette è un vero esempio di girl power e noi la adoriamo così com'è!
Tra l'altro è davvero tenero che i due futuri genitori si stiano preoccupando tanto per   ottenere promozioni sul lavoro  così da dare al loro figlio una situazione economica agiata. Molto divertente è stata anche la scena finale in cui Howard, Sheldon e Leonard sono entrati nella nuova base in cui lavoreranno. La loro eccitazione era normale: in effetti stavano vivendo una situazione davvero da film! Tuttavia erano anche molto ridicoli.
In questa recensione però è arrivato il momento di tirare le somme!
Sicuramente è stato un episodio più convenzionale rispetto a quello della scorsa settimana e più in linea con quanto è sempre stato The Big Bang Theory. Da un lato abbiamo il gruppo dei ragazzi che si occupano di scienza, litigano tra di loro e vengono infastiditi da Sheldon; dall'altro lato le ragazze che bevono insieme, parlano del loro lavoro e devono fronteggiare un litigio. Un episodio tuttavia che non è stato affatto banale o ripetitivo, semmai il contrario. C'è stata una ventata di novità! Il progetto di Howard ed il loro nuovo incarico si sono ben amalgamati a gag che conosciamo e amiamo (tipo l'ostilità di Sheldon verso gli ingegneri). La vera rivelazione però è stata Bernadette, che sta diventando uno dei personaggi femminili più interessanti. La sua vocina stridula, il carattere forte con cui terrorizza tutti sul lavoro (e non solo) ed i suoi capricci da donna incinta sono davvero adorabili e divertenti!
Un episodio più noioso di quello precedente, ma che sicuramente sarà piaciuto ai fan che preferiscono le "vecchie puntate"!