# #
Proprio nel giorno in cui ci accingiamo a liberarci di addobbi e decorazioni natalizie il nuovo episodio di The Big Bang Theory ci ha fatto rivivere la magia delle feste!
# #
Dopo la pausa natalizia, la nostra sit-com preferita è tornata per raccontarci come i nostri amati nerd e le loro compagne hanno trascorso il Natale.
Era da un po' che non ci gustavamo un episodio natalizio di The Big Bang Theory! Scopriamo se questo è stato originale e godibile come gli altri oppure no.
Piccola avvertenza: la recensione potrebbe contenere degli spoiler per chi non ha ancora visto il nuovo episodio. Vi invito dunque a desistere dal leggerla ed a cercare subito un sito streaming per recuperarlo!
Ma dove eravamo rimasti? Nell'episodio andato in onda prima della pausa, Howard e Bernadette hanno avuto la loro prima figlia, Halley.
# #
Eravamo dunque molto curiosi di scoprire come se la fossero cavata e quanti guai avesse già combinato Howard. Insomma l'hype per questo episodio era davvero alle stelle!
Questo nuovo dodicesimo episodio non è stato per nulla deludente!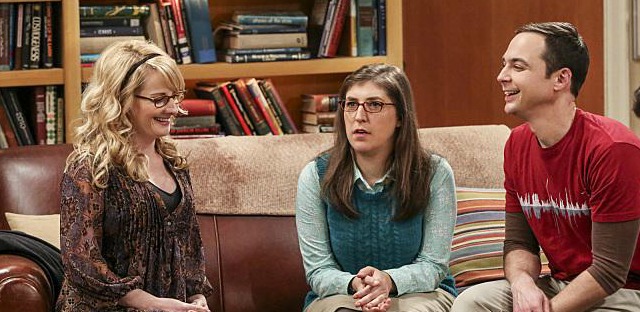 Chuck Lorre e Steve Molaro hanno osato trattando nuove tematiche ed usando una modalità nuova per The Big Bang Theory, ma che ci riporta alla memoria la più grande sitcom, "Friends".
Difatti non abbiamo visto le vicende durante il loro svolgimento, ma sono stati i personaggi a raccontarci (e raccontarsi) come hanno trascorso queste festività. Ovviamente i racconti sono stati impreziositi dal sarcasmo e dalle battutine di Penny e Sheldon.
Un nuovo esperimento che si è dunque rivelato veramente vincente!
Scopriamo quindi che le vacanze natalizie per tutte e tre le coppie sono state un vero disastro!
Penny e Leonard hanno cominciato a guardare insieme la nuova Serie Tv che vede la collaborazione tra Marvel e Netflix, Luke Cage. Penny però non volendo aspettare che Leonard fosse libero per vederla insieme, ha preferito andare avanti da sola.
Quando Leonard ha scoperto che la sua ragazza è avanti di due episodi è andato su tutte le furie ed i due sposini hanno iniziato a litigare. Altri imprevisti hanno contribuito a rovinare il loro Natale: tra i tanti il più esilarante è stata sicuramente la caduta del pino sulla loro auto, mentre erano imbottigliati nel traffico. Quando la mala sorte ci si mette…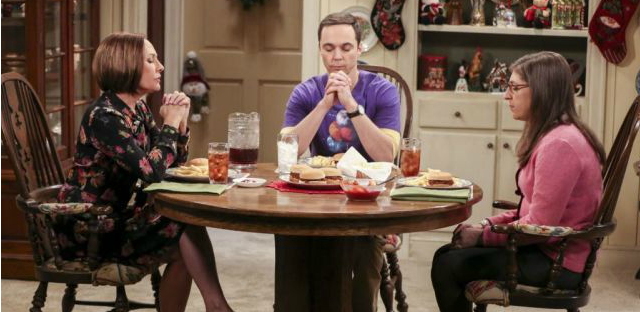 Sheldon ed Amy invece hanno trascorso il loro Natale in Texas a casa di Mary Cooper, la madre di Sheldon. I due erano un po' preoccupati poiché dovevano rivelarle che avevano cominciato a convivere senza essere sposati. Dato che Mary, come sappiamo, è una donna molto cattolica, ci saremmo aspettati da lei una scenata.
In realtà la donna non ha battuto ciglio, sostenendo anzi di essere contenta che Sheldon abbia trovato una compagna, poiché per anni ha temuto che sarebbe rimasto da solo.
Queste parole ovviamente hanno offeso Sheldon che ha sempre ritenuto che il fatto che non avesse amici, non fosse colpa sua, ma degli altri che non erano intelligenti quanto lui.
Si è ritirato dunque in camera sua e quando vi è uscito, indossava la biancheria in testa e le pinne ai piedi. Sua mamma vuole un ragazzo cool? Allora è quello che avrà!
Nonostante Amy cerchi di placare il suo ragazzo, l'aria resta tesa a casa Cooper. Per calmare suo figlio allora Mary è costretta a raccontare la verità: in realtà Amy la aveva già avvisata della loro convivenza.
La situazione si complica poi di nuovo quando la madre chiede loro se Howard e Bernadette hanno deciso di crescere Halley da cattolica o ebraica. Sheldon poi si mette d'impegno per riuscire ad irritare sua madre: va a farsi mettere un orecchino. Peccato che la madre, recuperando il suo comportamento autoritario, lo costringe a toglierlo immediatamente.
Se è vero che il difficile rapporto di Sheldon con sua madre era già stato sfruttato abbastanza tuttavia è innegabile che ci procuri sempre grasse risate.
Un episodio con Mary Cooper è sempre un episodio esilarante e indimenticabile!
La storyline più bella però è stata quella di Howard e Bernadette. Questo Natale per loro infatti è stato molto speciale perché è stato il primo che hanno trascorso nella loro nuova veste di genitori.
Come se la sono cavata? Non molto bene, purtroppo. Sebbene Bernadette finga che le sue vacanze natalizie siano state perfette, tuttavia la verità è che la piccola Halley non le ha fatto chiudere occhio.
La bambina sembra aver ereditato dalla sua defunta nonna la mania di gridare costantemente. Difatti non fa altro che strillare, svegliando continuamente i suoi poveri e stanchi genitori.
In particolare Bernadette è molto scoraggiata perché non riesce a calmare la sua bambina e teme per questo di essere una madre tremenda. Persino Stuart infatti riesce a far addormentare Halley grazie al suono monotono della sua voce. Possibile che tutti ci riescano tranne lei?
I suoi amici tentano di rassicurare Bernadette e di convincerla che le ci vorrà un po' di tempo prima che diventi una mamma perfetta.
Bernadette decide allora di riprovarci e comincia a muovere la culla e resta accanto a sua figlia, fin quando finalmente non si addormenta dolcemente. Howard la loda per essere un'ottima madre e dice di amare le sue ragazze. Che momento tenero!
Ora tiriamo le somme di questo episodio!
Seppur con i suoi difetti, questo dodicesimo episodio di The Big Bang Theory, "The Summit Holiday", è stato notevole. Abbiamo molto apprezzato questo esperimento di raccontare le buffe vicende dei nostri protagonisti attraverso i flashback.
Ormai i nostri nerd sono cresciuti e si sono anche accasati, ognuno ha la sua vita ed è impossibile vederli trascorrere le vacanze natalizie insieme.
Questo cambiamento ha spinto dunque ad osare e a trattare tematiche più adulte (almeno per quanto riguarda Howard e Bernadette). Difatti in molte sit-com (da "How I Met Your Mother" a "Friends") che hanno preceduto The Big Bang Theory, è già stata mostrata la nascita di un bambino.
Non sempre però sono state mostrate le difficoltà e le paure di una giovane madre. È interessante quindi vedere che The Big Bang Theory stia esplorando questo aspetto.
L'unica pecca di questo episodio è stata la storyline di Raj, che è del tutto inesistente. Perché mai Raj, uno dei protagonisti fino a qualche stagione fa, ormai fa la comparsa insieme a Stuart? Trovo assurdo e davvero ingiusto che mentre gli altri personaggi si sono evoluti, Raj invece sia nello stesso limbo da troppo tempo.
Comunque questo dodicesimo episodio è stato davvero divertente, scorrevole ed originale.
Una ventata di aria fresca (e natalizia) per una sit-com che mostra di avere ancora tanto da raccontare