Supernatural è una Serie Tv statunitense di genere Horror, Sci-Fi, Mistery, Action, Adventure, Drama, Fantasy che va in onda dal 13 Settembre 2005 negli Usa sul network giovanile The WB e in seguito sulla The CW dalla seconda stagione in poi a causa della fusione di quest'ultimo con il network via cavo UPN.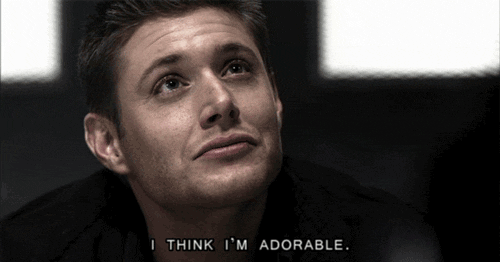 La serie in Usa ha avuto un successo enorme, sia in ambito di ascolti (tra i 5.900.000 spettatori), sia nel fandom e critica, nonostante abbia sempre dovuto combattere contro gli show delle grandi quattro (ABC, NBC, CBS e FOX), tra cui Grey's Anatomy, Lost e C.S.I.
Supernatural è l'unica serie cominciata nell'ultimo anno di programmazione di The WB ad essere sopravvissuta al passaggio al nuovo network The CW.
Ma com'è nato questo progetto geniale, su cui nessuno avrebbe scommesso un centesimo? Supernatural si è rivelata una Serie Tv a cinque stelle, e il merito va a tantissimi fattori che si sono ben incastrati: dagli sceneggiatori lungimiranti, alla scelta del cast, alle location estremamente veritiere.
Ricchissima di citazioni cinematografiche del genere horror (tra cui Poltergeist, The Ring, The Blair Witch Project, solo per citare i maggiori), la prima versione dello show che il creatore Eric Kripke propose alla Warner Bros. era quella di due investigatori del paranormale che si spostavano da città in città scovando il male presente negli angoli bui delle strade americane. La storia non piacque molto al network, così si optò per l'idea di due fratelli con una drammatica/soprannaturale storia alle spalle, che li avrebbe portati a viaggiare per il loro paese. E spaccarono di brutto!
Buona parte degli episodi si rifà alle tantissime leggende metropolitane dell'America (la trama dell'episodio Uomo Uncino ad esempio, si rifà ad una leggenda citata anche nel film Urban Legend). La metodologia investigativa dei due protagonisti, la sceneggiatura e le atmosfere decisamente tetre, ricordano molto la serie di culto The X-Files, ed in generale, tutto il telefilm può essere considerato una celebrazione dell'horror più classico ed adolescenziale degli anni ottanta e novanta.
È considerata negli Usa l'erede morale della serie cult antecedente Buffy The Vampire Slayer per la giovane età dei protagonisti, l'ambientazione fantasy/horror e l'ironia con cui i due protagonisti affrontano le situazioni più sinistre, oltre che per le vesti di Cacciatore, gestite in modo differente nelle due Serie Tv (ne ho parlato qui).
Supernatural ha un simbolismo tutto suo, come ad esempio: le season finale delle prime due stagioni terminano con i due fratelli davanti al cofano dell'Impala che dicono questa frase: "We've Got Work To Do!"; il classico previously degli episodi precedenti che precede la season premiere e finale è sempre accompagnato dall'ormai veterana canzone dei Kansas Carry On My Wayward Son, e via discorrendo…
La struttura narrativa è prevalentemente costituita da episodi auto-conclusivi nelle prime stagioni, mentre nelle successive è molto più presente una trama di fondo che fa da base all'intera stagione. La serie è stata concepita dal creatore Eric Kripke per un arco di cinque stagioni, infatti anche  se Supernatural è ormai arrivato alla soglia della Dodicesima stagione, la trama principale presenta dal pilot fino ad oggi è stata conclusa con la season finale 5×22 Swan Song.
Durante la sesta e settima stagione il ruolo di showrunner è stato rivestito da Sera Gamble (braccio sinistro di Kripke sin dagli albori). Queste due stagioni riprendono e continuano l'arco narrativo ma in maniera diversa dal precedente. Resta, come trama principale, il forte e avvincente rapporto fra i due fratelli (che è il vero "motore" di tutta la serie) e il cattivo di turno da cacciare ma le situazioni evolvono e crescono insieme ai personaggi lasciando immutata la gravità e soprattutto l'ironia delle storie raccontate.
Per l'ottava stagione, il ruolo di showrunner è passato allo scrittore, anch'esso presente sin dall'inizio dello show, Jeremy Carver, supportato da un altro autore, Ben Edlund. Eric Kripke riveste ora il ruolo di consulente e supervisore. Lo show è prodotto dalla società Kripke Enterprises, e dalla Wonderland Sound & Vision (il cui presidente è il produttore McG) e dalla Warner Bros. Television.
Ora preoccupiamoci un attimo del terzo protagonista dei Supernatural: Castiel?
Noooo!
La splendida e ruggente Impala!
L'Impala è una vettura tipo Berlina prodotta dalla casa automobilistica statunitense Chevrolet a partire dal 1958. Nel periodo in cui le auto massicce e ingombranti dominavano il mercato statunitense, l'Impala era la più venduta. Chiamata "l'antilope sudafricana" (Aepyceros melampus, in lingua zulu significa "gazzella"), competeva sul mercato con la Ford Galaxie 500 e la Plymouth Fury.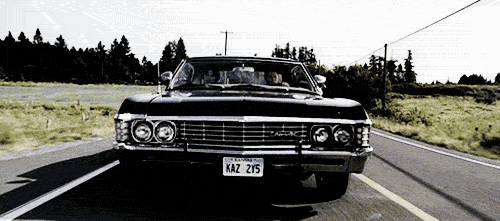 Il creatore della serie Eric Kripke, in un'intervista durante la prima stagione, ha raccontato la scelta di questa particolare macchina piuttosto di altre. Racconta infatti di aver pensato di mettere i due ragazzi a bordo di una Mustang, ma scelta troppo "di classe" per il genere di argomenti che andavano a trattare. Serviva una macchina imponente, che incutesse timore al primo sguardo, con un bagagliaio capiente da contenere tutto l'armamentario per le missioni on the road, e perché no, anche un cadavere!
E così venne scelta la terza protagonista, una Chevrolet Impala del 1967, la "Baby" di Dean Winchester. L'Impala è stata affidata a Dean da suo padre John, che l'ha acquistata nel 1973 su "suggerimento" di un amico: in realtà lo stesso Dean trasportato indietro nel tempo da Castiel durante un episodio della quarta stagione. In pratica, era destino che Dean e la Baby vivessero insieme felici e contenti!
Molti non diedero importanza a questa auto, eppure, nel mondo di Supernatural, è diventata l'oggetto più importante nonché una vera protagonista tanto quanto i suoi padroni! E le schiere di fan adoranti sparsi per il fandom della Serie Tv possono testimoniarlo!
LEGGI ANCHE
10 personaggi morti prematuramente in Supernatural
Il finale dell'undicesima stagione di Supernatural è da applausi
10 motivi per amare Dean Winchester