Eccoci a commentare il pilot della nuova serie "Supergirl": ci ha convinto? Continueremo a seguirlo? Scopritelo leggendo questo articolo!
Partiamo da un presupposto: io AMO Melissa Benoist! Adoravo Marley in Glee e anche in Whiplash si è difesa egregiamente! Inoltre penso che sia fisicamente perfetta per interpretare questa Supergirl, certo, non avrà i capelli corvini del cugino ma ha quest'aria da dolce imbranata (un po'alla Jess di "New Girl" per intenderci) che mi fa stravedere per lei.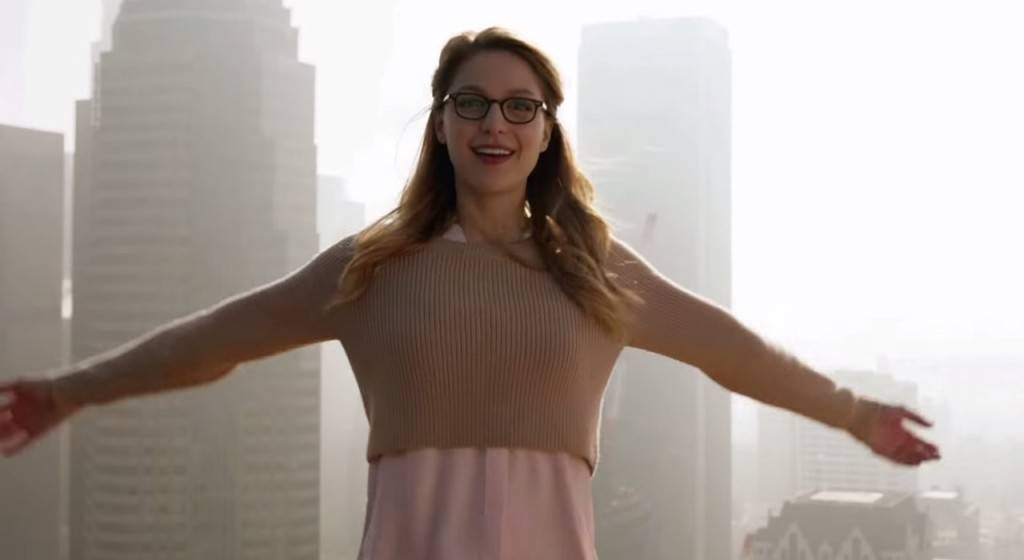 Ma passiamo a cose più concrete: la puntata.
La protagonista, Kara, ci racconta subito il motivo per il quale si trova sul nostro pianeta: all'età di 13 anni era stata spedita qui con il cugino ancora in fasce con lo scopo di proteggerlo. Tuttavia mentre la sua navetta è in volo viene dirottata in un zona fantasma della galassia, luogo senza tempo e spazio, che la tiene in trappola per ben 24 anni terrestri. Al suo arrivo sulla Terra ormai il cugino è ben affermato e non ha di certo bisogno del suo aiuto. Viene perciò affidata ai Danvers, una famiglia di scienziati con un'altra figlia,  per vivere una vita normale.
Anni dopo Kara è una ventenne qualunque: stile bon ton, occhiali (deve essere una cosa di famiglia) ed un lavoro deprimente.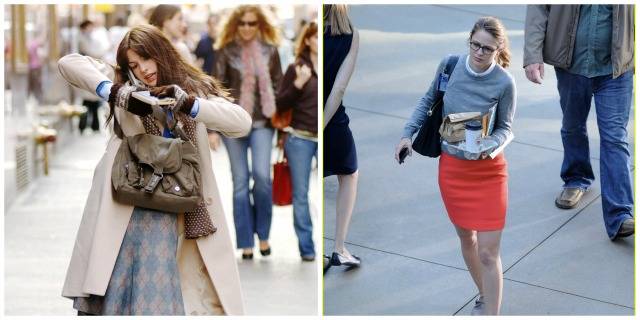 Collabora infatti con la CatCo a National City, una grande azienda di comunicazioni, fondata dalla famosissima Cat Grant, della quale Kara è l'assistente: una donna di grande stile, prepotente e snob, alla quale non interessa nulla dei suoi sottoposti (in pratica le porta soltanto il caffè e subisce i suoi sfoghi passivamente). Se siete delle ragazze nate negli anni 80-90 vi suonerà un campanello d'allarme, e questo campanello si chiama "Il diavolo veste Prada". Il rapporto tra Kara e Cat è esattamente lo stesso che ricordiamo  tra Andrea a Miranda: continui commenti riguardo allo stile, maltrattamenti vari, si insomma: "pura avanguardia".
Arriva in redazione un nuovo fotografo :Jimmy Olsen , in pratica il migliore amico di Superman, che dimostra subito un certo interesse per la nostra protagonista (ricambiato naturalmente, perché Kara è timida, mica scema).La giovane eroina non usa mai i propri poteri, perché non vuole esporsi al mondo come il suo più famoso cugino, ma allo stesso tempo si sente molto limitata: potrebbe salvare delle vite e invece è costretta a non farlo! Coglie perciò al volo (letteralmente!) l'occasione di salvare i passeggeri del volo 237 che ha perso i motori e sta per schiantarsi a terra causando centinaia di vittime.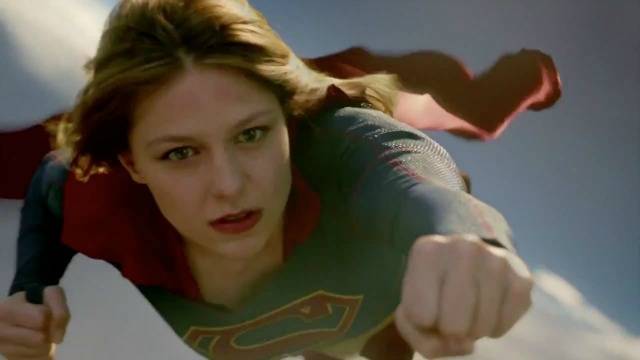 Kara non solo salva la situazione facendolo planare sull'acqua, ma anche la sorellastra, che fatalità si trovava proprio su quell'aereo. Alex è grata del salvataggio ma allo stesso tempo si preoccupa molto di più per il fatto che ora Kara si sia esposta. Una cosa troppo pericolosa ai suoi occhi. Ma ormai la ragazza ha finalmente trovato la sua vocazione: grazie al suo intervento ha anche salvato dal licenziamento i giornalisti del "Tribune" che non avevano più notizie abbastanza salienti da soddisfare Cat. Inizia così, con l'aiuto del collega Winn, a creare un nuovo "outfit" per le sue imprese e intanto sconfigge piccoli crimini in città: un inseguimento in macchina, una rapina e un incendio, tuttavia mentre vola a debellare quest'ultimo viene catturata da un'agenzia segreta che controlla gli alieni: il dipartimento Extra-normal operations.  La protagonista ha la sua vera prima delusione: sua sorella Alexandra lavora per questo dipartimento, ecco perché non era contenta che Kara si esponesse al pubblico.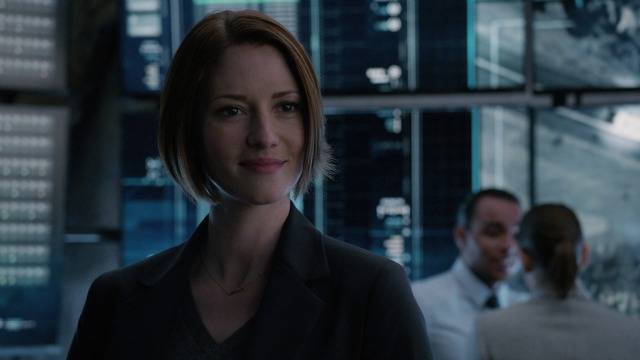 Viene esortata a ritirarsi dalla scena , National city non ha bisogno di lei. La ragazza è avvilita ma ben presto verrà richiesto il suo intervento: si scopre così che quando Kara è arrivata sulla Terra ha portato inconsapevolmente con sé anche un gruppo di prigionieri di Krypton che adesso cercano vendetta cercando di danneggiare Supergirl e gli abitanti della sua città, perchè proprio la madre della ragazza era stata la causa della loro cattura. Dopo varie peripezie Kara riesce a sconfiggere uno di questi, ma siamo solo agli inizi: scopriamo che ad organizzare questi delinquenti è la zia della protagonista che odiava profondamente la sorella per averle usurpato il posto ed ora è in cerca di vendetta.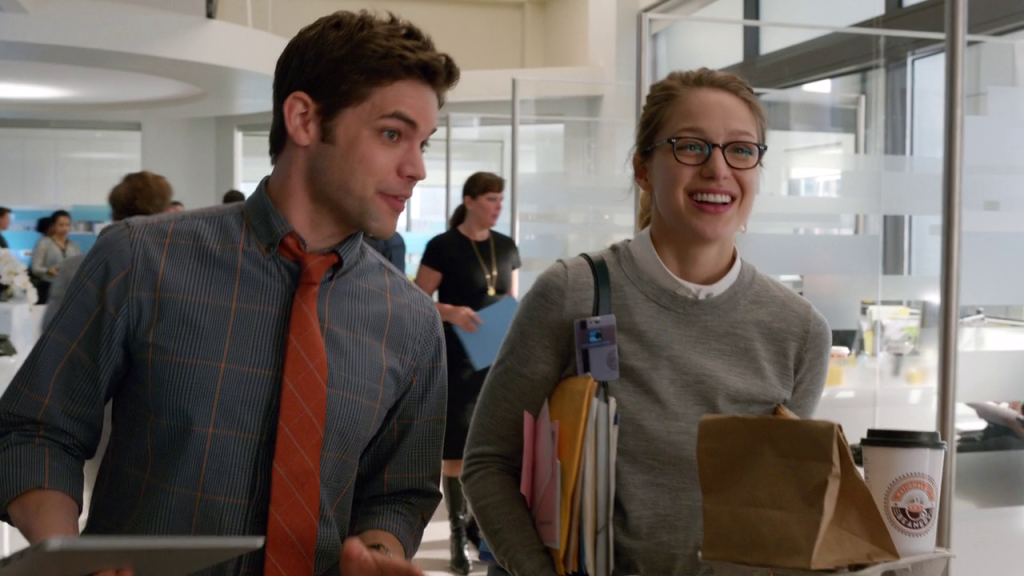 I presupposti per questa serie sono abbastanza buoni: è chiaramente rivolto ad un pubblico femminile, in soli 45 minuti forse sono state mostrate troppe cose ed è stata messa un sacco di carne al fuoco, vedremo come si svilupperà. Non sono molto convinta dell'esagerato citazionismo da "Il Diavolo veste Prada", Cat non può reggere minimamente il confronto con Miranda (il solo fatto di togliersi le scarpe con il tacco al lavoro lo dimostra, non è una cosa "classy" mia cara), e tutto ha un brutto retrogusto di "già visto". Ho amato invece il fatto che Kara comprasse i biglietti di "Wicked" il musical (che io vi consiglio spassionatamente, è un capolavoro), mi è sembrata una strizzata d'occhio a "Glee". Winn è il classico personaggio-spalla della protagonista, un pochino nerd, appassionato di informatica e innamorato (non tanto segretamente) di lei. Mi piace. Non approvo la collaborazione con l'agenzia segreta perché mi ricorda un pochino troppo "Agents of Shield" e "The Flash", la DC Enterteinments dovrebbe cercare di distanziarsi il più possibile dalla Marvel a parer mio. "Love is in the air" e capiamo già che tra Kara e il fotografo Jimmy scatterà qualcosa, speriamo non dedichino troppo tempo ad una storia d'amore scontata.
La cosa migliore di questa puntata è certamente il discorso che Cat fa a Kara riguardo al nome "Supergirl", la nostra eroina si lamenta del fatto che sembri troppo da bambina ("non dovremmo chiamarla Superwoman?") ma il suo capo le risponde nel modo più femminista possibile:
"Cosa trovi di così male nella parola "ragazza"? Io sono una ragazza, e sono il tuo capo, e una donna potente , attraente, ricca e intelligente. Quindi se pensi che "Supergirl" non dia l'idea di eccellenza il vero problema non è forse tuo?"
Grandissima Cat.
In conclusione: voglio continuare a seguire Supergirl, e soprattutto DEVO andare a fare shopping con Kara. Adoro il suo stile
Ps. Povera Edna! Niente mantelli!