Le teorie riguardanti il destino del personaggio più discusso della terza stagione di Stranger Things sono parecchie. Il sacrificio finale di Jim Hopper, capo della polizia di Hawkins, ha sorpreso e traumatizzato un po' tutti. E nonostante fosse uno dei personaggi principali della serie, la sua presunta dipartita rappresenta uno dei momenti più emozionanti del terzo capitolo dello show.
In molti hanno già messo in discussione il finale di stagione. La scena post-credits, infatti, rivelerebbe una conclusione diversa rispetto a quella a cui abbiamo assistito. L'identità dell'americano, nonché la possibile sopravvivenza di Hopper, diventa così uno dei dilemmi più affascinanti da svelare. E le teorie al riguardo non mancano affatto.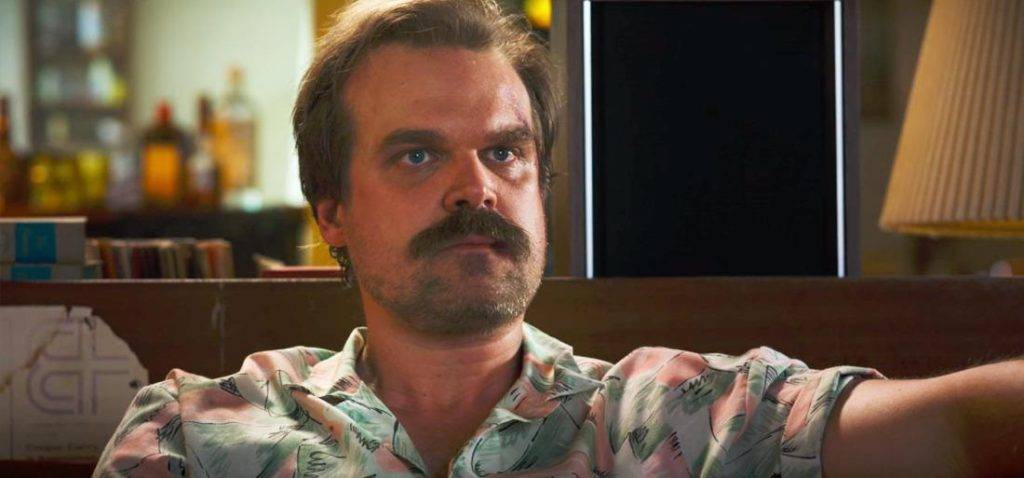 Secondo alcune congetture, il prigioniero dei russi potrebbe essere Hopper, mentre secondo altri il tenero Alexei (ne abbiamo parlato in questo articolo). Ma esiste anche una teoria che avvicinerebbe il mondo di Stranger Things alla saga di Guerre Stellari, rendendo plausibile il ritorno di Jim nella prossima stagione.
È ormai risaputo che lo show dei Duffer Brothers è ricco di citazioni e allusioni ai film e alle serie tv più celebri di sempre. E facendo leva su questo presupposto, il giornalista Bill Kuchman ha elaborato una teoria legata alla sopravvivenza di Jim Hopper che coinvolgerebbe la saga di Star Wars.
La straordinaria avventura ideata da George Lucas potrebbe infatti avere un ruolo fondamentale circa il futuro del poliziotto di Hawkins. In Stranger Things gli omaggi e i riferimenti alla cultura cinematografica degli anni '80 sono onnipresenti. Alcuni sono nascosti sotto forma di easter egg e altri sono più evidenti, al punto da rendere la storia ancora più vivida e realistica, mostrando avvenimenti accaduti in quel dato periodo.
La saga di Guerre Stellari, in questo caso, rivelerebbe un particolare legame tra il nostro eroe del Sottosopra e Han Solo.
Alla base di tale teoria vi sono le ultime parole di Hopper, prima della sua scomparsa. L'uomo, durante il combattimento con la spia russa Grigori, dice la seguente frase prima di uccidere il nemico: "Ci vediamo all'inferno". È una frase a effetto, parecchio avvincente, che ricorda le parole di un altro personaggio altrettanto popolare.
Quest'ultimo è Han Solo, il pilota di Guerre Stellari che ne L'impero colpisce ancora ripete la stessa identica frase. Secondo le supposizioni del giornalista Kuchman e di parecchi fan non si tratterebbe di un semplice omaggio. Potremmo infatti trovarci di fronte a un indizio che potrebbe rivelare – o predire – il destino di Jim.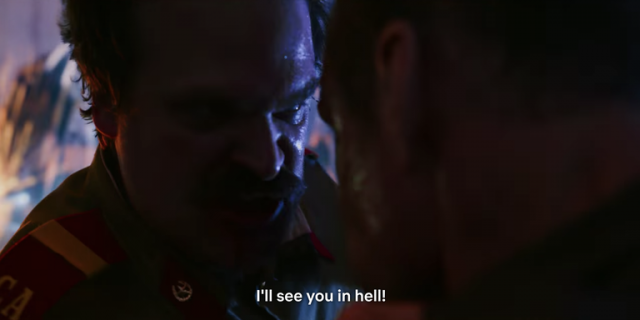 Così come accade in Stranger Things, infatti, anche il personaggio di Solo sembra morire a causa di un macchinario che lo imprigiona nella carbonite. Ma fortunatamente ne Il ritorno dello Jedi l'eroe di Star Wars viene liberato da Luke Skywalker e Lando Calrissian. Il salvataggio avviene durante un momento cruciale, ovvero quando Jabba The Hutt uccide i propri prigionieri dandoli in pasto al mostro Sarlacc.
Tale episodio ricorda la scena post-credit della 1×08, durante la quale i russi danno in pasto al Demogorgone un prigioniero. Ciò renderebbe plausibile che il percorso narrativo di Hopper si ispiri a quello di Han Solo e che i due personaggi siano legati dal medesimo eroico destino.
In questo caso, l'omaggio di Stranger Things avrebbe profetizzato la sopravvivenza di Jim Hopper.
L'uomo potrebbe così ritornare nella nuova stagione, facendo tirare un sospiro di sollievo a chi si è già rassegnato all'assenza del burbero poliziotto. Questa teoria potrebbe essere confermata dalle stesse parole di Matt Duffer durante il podcast "Behind The Scenes: Stranger Things 3".
Abbiamo sempre parlato de L'impero colpisce ancora, abbiamo sempre voluto dare a Hopper un finale più tragico, un sacrificio alla Han Solo.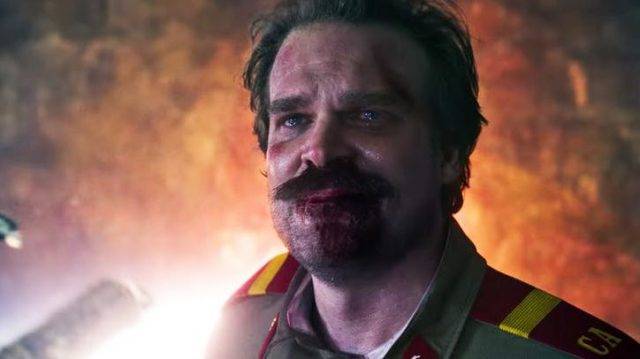 L'autore quindi non nega il riferimento alla pellicola cinematografica di George Lucas, che ritroviamo in più di un'occasione. Nel finale di stagione infatti, lo stesso Steve Harrington cita il film Il ritorno dello Jedi, durante il veloce colloquio di lavoro alla videoteca.
Non sappiamo ancora cosa ci riserverà la quarta stagione di Stranger Things, né se il destino di Hopper ripercorrerà fedelmente le orme dell'eroe di Guerre Stellari. In ogni caso, gli indizi relativi alla sua presunta sopravvivenza continuano ad aumentare, rendendo sempre più reale la possibilità che Hop sia ancora vivo.