Quando incappiamo in una serie che ha per protagonisti dei ragazzini come in Stranger Things, o degli adolescenti come The O.C. o Veronica Mars, è normale che tra i vari personaggi raccontati ci sia quello del bullo.
Non per mancanza di originalità, ma piuttosto per verosimiglianza con la realtà dello spettatore. Perché non importa chi siate o dove abitiate, anche voi avete avuto il compagno di scuola o il vicino di casa spaccone e manesco che speravate di non dover mai incrociare.
A volte soggetti del genere restano esattamente ciò che sono: bulli che riescono a relazionarsi solo con chi scelgono o con chi parla la loro stessa "lingua", ma a volte, in casi come quelli raccontati in alcune Serie, il bullo diventa uno di noi.
Spesso accade perché, come nel caso di Luke, il primo amore di Marissa Cooper in The O.C., il bullo in questione inizia a frequentare compagnie diverse. Magari a causa di un cambio di notorietà improvviso, vedi alla voce Logan Echolls, dove uno scandalo di famiglia ridimensiona gli agi della popolarità fino ad allora sfruttati.
Altre volte invece, come nel caso di Steve, perché ci si mettono esperienze trascinanti a cui è impossibile sfuggire che ti costringono a interagire e quindi a conoscere persone, nuove e diverse che magari eri il primo a sfottere tra i corridoi di scuola.
E ammetiamolo: quando in Stranger Things abbiamo visto il bullo diventare uno della gang ci è piaciuto da morire!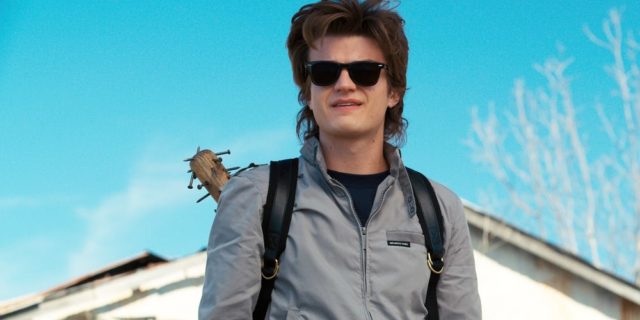 Ancora di più se, oltre a smettere di essere un bullo, diventa pure un pò imbranato.
Molte volte, anche nella vita vera, questo processo avviene perché il bullo stesso è il primo che è stato ferito, portandosi dietro delle fratture emotive che pensa di sentire meno infliggendole a sua volta agli altri.
Alcune serie invece ci hanno raccontato di come l'amore sia stato il fattore scatenante che porta al cambiamento di certe brusche abitudini. Dopotutto, l'amore è un motore che innesca inevitabilmente una crescita personale che mal si sposa con atteggiamenti infantili quali la crudeltà con coetanei indifesi e l'umiliazione.
Nella prima stagione di Veronica Mars vediamo Logan essere il primo a prendere di mira Veronica in molti modi differenti, e spesso ad alzare il tiro dello scherno se lei incassava con stile.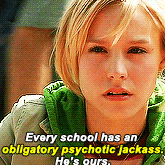 Come si scoprirà durante il corso della serie, però, Logan è a sua volta vittima di un bullo da cui però non è così semplice sfuggire come da quello che incroci in mensa o tra i corridoi di scuola.
Ci penserà Veronica a riportare luce nella sua vita così come l'amicizia e il senso di fratellanza saranno ciò che aiuterà Steve a capire che c'è qualcosa di più appagante della volubile e spesso inconsistente popolarità scolastica.
Cose che, come scoprirà già nel corso della prima stagione, non necessariamente garantiscono un successo duraturo.
Il nostro capelluto Steve, esponente esemplare della categoria ex-bulli/ neo-nerd, scoprirà sulla sua pelle che essere il bulletto fico e compiaciuto del liceo non ti assicura di tenerti stretta la ragazza dei tuoi sogni.
Anzi, scoprirà per ironia della sorte che la mancanza di sensibilità porterà a favorire chi, come Jonathan Byers, non era nemmeno stato contemplato come possibile rivale.
Questa nuova presa di coscienza porterà a un inevitabile sviluppo della personalità di Steve.
Il quale, grazie alla vicinanza con Dustin ma anche a quella di una probabile e sanguinosa morte precoce, lo spingerà a crescere e a tirare fuori il meglio di sé.