Concluso nel 2013, Spartacus: War of the Damned è il capitolo conclusivo delle serie sui gladiatori della casa Batiatus di Starz.
Dalla prima serie sono cambiate molte cose, molte dinamiche e anche personaggi.. addirittura il protagonista ha cambiato volto: purtroppo ad Andy Whitfield hanno diagnosticato un linfoma non-Hodgkin che l'ha portato alla morte un anno e mezzo dopo.
Liam McIntyre ha preso il suo posto, e nonostante tutto è riuscito a dare un'interpretazione notevole. Alla fine di questo viaggio nell'Antica Roma, con tutte le sue contraddizioni, mi trovo a riflettere sul finale, su cosa colpisce e su cosa delude, con il sapore che lascia sempre una serie quando arriva alla sua conclusione.. 
Ovviamente a seguito ci sono spoiler su tutta la puntata.
1) Spartacus ha fallito in tutto, ma è stato un ottimo stratega
Come Crixus che cade in battaglia contro i Romani in maggioranza numerica, anche Spartacus affronta da sempre in minoranza l' esercito della Res Publica. Dall'inizio della puntata alla fine, ci stupisce per quanto riesca ad elaborare strategie e contro-strategie vincenti: dal confondere gli ufficiali romani riguardo alla sua posizione attaccando diverse ville – facendo dire ai suoi uomini "I am Spartacus", il tutto in un'evidente tributo al finale della prima stagione – fino alla tattica di dividere le sue forze per attaccare sia di fronte che dalle retrovie dell'esercito romano. Lo fa talmente bene che abbiamo quasi sperato che potesse vincere, che in qualche modo potesse cambiare la storia: un vero peccato, ma d'altro canto se ce l'avesse fatta ci saremmo lamentati che non è accurato.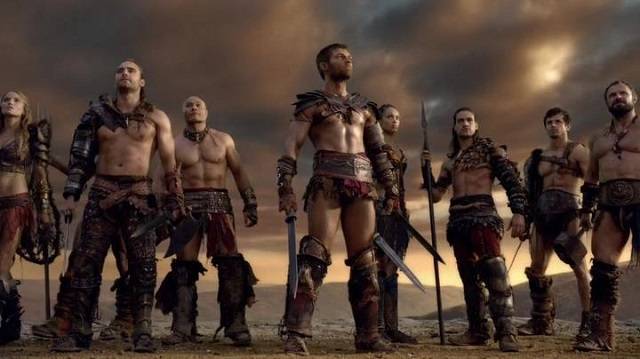 2) Anche Crasso e Cesare non scherzano però
Nonostante siano gli antagonisti di turno, Crasso e Cesare non sono affatto banali o stereotipati o ancora odiabili, anzi credo che questa serie abbia un'ottima capacità di strutturare i personaggi, anche nemici, e che ce li faccia sentire reali come lo sono stati al tempo. E allora incontriamo un giovane Cesare che ha la scaltrezza di mescolarsi coi gladiatori, anche se poi scoperto, che riesce in parte a direzionare i pensieri di Crasso verso ciò che vuole e lo aiuta molto nell'elaborazione delle tattiche militari. Crasso non è però facilmente manipolabile, più diretto e meno subdolo di Cesare, ha il controllo dell'esercito e resiste bene alle offensive di Spartacus. Suscita quasi rispetto nello spettatore ma lo perde a causa della cecità verso il figlio Tiberius.