[Spoilerofobi astenersi]
Essere eternamente relegati nella fase interstiziale tra scegliere e non, fingere di non vedere o capire l'eterna menzogna familiare che regge tutto, autoinfliggersi una perenne condizione di autocommiserazione o far implodere i sentimenti e gli ideali del proprio cuore e coscienza, assecondare l'essenza della propria natura o sopprimerla rifuggiandosi nel comodo compromesso. Subire lo scandirsi degli eventi o provare a fronteggiarli. Essere o non essere è il principio che regge l'indissolubile dubbio amletico shakespeariano. Nulla può meglio spiegare cosa turba, sconvolge ed inquieta l'anima del nostro principe Jax.
Tutto è racchiuso in questo dannato dubbio.
To be or not to be è il bivio che si presenta svariate volte sul tormentato sentiero del biondo Jackson Teller, principe dei criminali anarchici Samcro e figlio del defunto capostipite John . Per il protagonista del dramma Sons of Anarchy, essere o non essere, è almeno inizialmente, rappresentato dalla lettura del manoscritto del padre J.T. che ripropone il fantasma paterno che agitava il principe Amleto della famosa tragedia di William Shakespeare. Continuando a spiegare l'evoluzione del Jax-sentimento, si comprenderà che il dubbio amletico è in realtà infinitamente di più, è il sole attorno cui ruota tutto.
Il dubbio amletico è un maledetto debito di sangue, un testamento cartaceo che parla dal passato, lo sconvolgimento della propria coscienza, un sacrificio titanico per tributare la memoria ed il ricordo. Il dubbio muta in scelta e desiderio di pura vendetta, senza intermediazioni tra bene e male, è la distruzione del vecchio e l'ardua costruzione del nuovo. Per Jax-Amleto il dubbio diviene poi la scelta del sacrificio, della vendetta e dell'autodistruzione.
Questo maledetto e vitale dubbio, ha fatto commettere a Jackson, scelte giuste e follie imperdonabili, scelte che hanno permesso di salvare vite, annullarne o tributarne la memoria di altre. Mamma Gemma lo ha sempre ripetuto a Clay : "Il mio Jax è tormentato come suo padre", il compito di Clay era di plasmare a piacimento Jackson, allontanando gli ideali di John e la differente visione che il capostipite aveva sul futuro dei Sons. Clay il patrigno-usurpatore, ha compartecipato con l'amata Gemma, nella distruzione di John, l'ignominia della manomissione della moto trasformata in strumento di morte. Clay, anche se brutalmente ucciso dal principe Jax Teller, ha comunque reso quest'ultimo un violento carnefice, momento emblematico di quella vendetta che ti fa somigliare al tuo nemico. Anche in tal caso nessuna vittoria, solo sconfitte.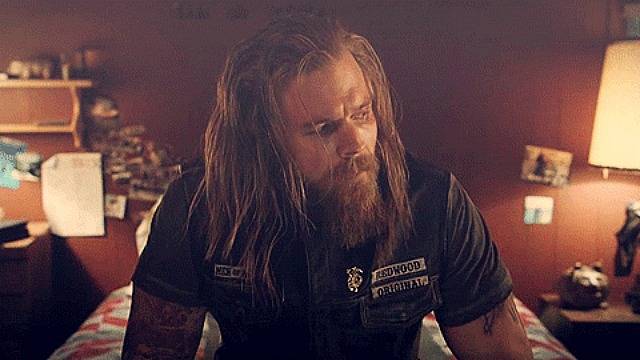 La tragedia personale dell'anima di Jax è solo un punto di quella spirale infinita che lega i suoi personaggi. Lo stesso Opie Winston (Orazio) all'inizio di questo capolavoro seriale, non sapeva se rientrare o meno a far parte della fratellanza Samcro, ma la stima e l'amore per il fratello Jax ed il padre Piney, lo spingono a ritornare. La stessa Tara non sapeva se sopprimere il riaccendersi della passione amorosa per il suo vecchio amore adolescenziale o rianimarla con forza. La forza indistruttibile delle emozioni.
Tutti sentimenti maledettamente non ignorabili, troppi legami resi ancora più vigorosi da un contesto criminale e violento, dove si vive, si soffre, si gioisce e si muore insieme…nonostante tutto. Proprio quell'ambiente di distruzione, violenza e crimine che cementifica una fratellanza e che accorcia i tempi vitali. La linea del tempo che si riduce, e quella del sentimento che si dilata. Questo dannato ed unico capolavoro, è Sons of Anarchy. Un crescente climax emotivo senza fine.
La riduzione del tempo ed il conseguente ampliamento del sentimento.
Jackson è stato una costruzione del binomio G-C, e di conseguenza solo Jax stesso può annientare quella sua stessa figura speculare, frutto dei dettami della matriarca Gemma e patrigno Clay. Jackson odia quel tipo di natura e sa che l'unica ed ultima strada percorribile è la sua stessa distruzione. Ritornano le tematiche di quel maledettismo e malessere, di cui recentemente si era discusso.
La tematica e le molteplici riflessioni sul suicidio, sono di nuovo una riproposizione di quell'imperituro dilemma amletico che regge ogni cosa di questa dannata vita…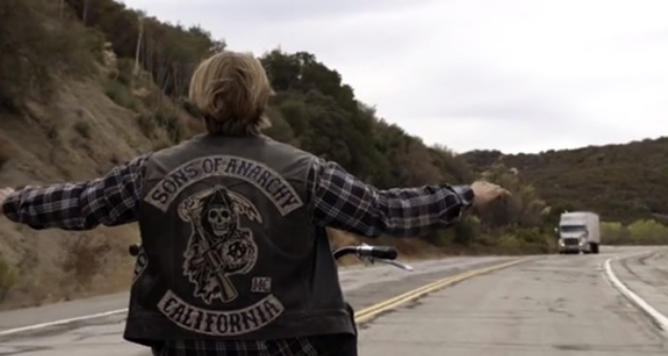 La scelta terminale di Jax, stavolta pende sul "non essere", che è in tale contesto una coraggiosa scelta, ricca di tragiche riflessioni. Suicidio come auto-annichilimento, suicidio come gesto estremo dettato dalla lucidità, suicidio come annullamento della parte corrotta e viziata. Quel suicidio inteso come sacrificio titanico, suicidio come ultimo atto d'amore per una moglie ed un padre che già riposano, suicidio come fraterna generosità e pace eterna. Solo per spiegare questo atto andrebbero scritti libri, non semplici articoli.
"I'm not a good man. I'm a criminal and a killer"
Jax Teller : un soggetto titanico, un criminale anarchico e fratello generoso, un padre amorevole ed un omicida, un character nell'olimpo dei migliori personaggi della storia seriale. Un padre che decide di chiudere la spirale demolitrice della famiglia Teller (emblematica in tal senso la dicitura del camion "Papa's goods"), un uomo che ripudia e vuole che venga cancellata la sua stessa memoria, con il fine di tener fuori i suoi piccoli ed innocenti figli.
"Ho bisogno che i miei figli crescano, odiando la mia memoria"
Terminando un'opera irragiungibile ed unica come SoA, lo stesso spettatore capisce di essere un'altra vittima sapientemente designata. La condivisione di quel dilemma eternamente irrisolto. Il dubbio si ripropone nella mente e nel cuore : come si può amare un sanguinario criminale ed un uomo violento come Jackson Teller ? L'immedesimazione, il punto di vista, il complesso contesto antropologico e la compassione, stravolgono il pensiero su questo dannato uomo dalla bionda chioma. L'imprevedibilità di un atipico ed irrazionale assioma : "spesso si ama chi si dovrebbe odiare e ripudiare". Basti pensare alla frase di Jax a Nero, riguardo la madre Gemma: "Io la amo ancora, nonostante tutto, lo sai ?!".
    L'incipit è l'epilogo…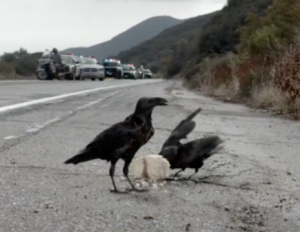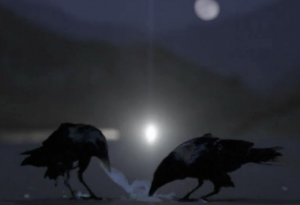 L'inizio è in netta antitesi con il finale, ma coincide alla perfezione. La serie presenta un Jax che sfreccia sulla sua moto in una selvaggia corsa notturna, orgoglioso e infallibile, giovane e vigoroso, ed il tutto è accompagnato da una musica adrenalinica. Lo straziante finale, invece, pone Jax sulla moto paterna in una poetica corsa finale alla luce del sole, con un Jackson ormai piegato da un destino già scritto. Tenebre e luce. Un Jax che per infiniti motivi non vuole più esistere. Finale strepitoso, magistrale, monumentale.
E sempre quei due maledetti corvi sul suo sentiero, troppo comodo rifuggiarsi in un simbolismo che vede un presagio di morte a lungo termine. Il parallelismo può andare oltre, e quel Sutter l'ha costruito come meglio non si può. Questi due corvi sul percorso del principe dei Samcro, possono benissimo rifarsi a Clay e Gemma, uniti nell'amore e nella menzogna, uniti nel fare di Jackson una loro pianificata costruzione. Il corvo come personificazione e metafora di due anime oscure, ciniche e spietate.
Il dolore e la tragedia, ci hanno mostrato Jax come una vittima, prima che un consumato criminale e abbiamo capito tutte le sue difficoltà e angosce. Il suo peso esistenziale è stato parte del nostro e tutti, volenti o nolenti, siamo vittime passive del Jax-sentimento.
Sons of Anarchy è proprio la condivisione di quel dilemma eternamente irrisolto.

Altre violente, impervie e dolorose vie per riecheggiare nell'eternità.
Forever Samcro, forever J.T.

Un saluto agli amici della pagina Sons of Anarchy Italia
Leggi anche :
– Sons of Anarchy : Shakespeare tra vendetta, morte e anarchia (no spoilers)
–5 Serie tv da vedere se sei in astinenza da Sons of Anarchy  di Andrea Lupo  (no spoilers)
– Il simbolismo in Sons of Anarchy, cosa rende SoA un capolavoro eterno(spoilers)