Quando si impara ad amare una coppia istrionica ed esplosiva come Benedict Cumberbatch e Martin Freeman, dopo averli visti insieme in Sherlock, ci si aspetta che il sodalizio sussista anche nella vita reale. Nulla di più sbagliato. È facile farsi condizionare dalla cifra recitativa e dall'affiatamento che le due star di Sherlock riescono a mostrare davanti alle cineprese. Quando però si spengono le luci scopriamo che l'unico calore tra i due era quello generato dalle migliaia di watt necessarie a illuminare la scena.
Già qualche tempo fa vi avevamo riportato le dure parole di Martin Freeman sulla difficoltà a reggere la pressione dei fan. Di quanto non si divertisse più nel doversi confrontare con le aspettative smisurate del pubblico.
Non è più divertente. Interpretare ancora Watson? È più probabile vedermi suonare vecchia musica jazz.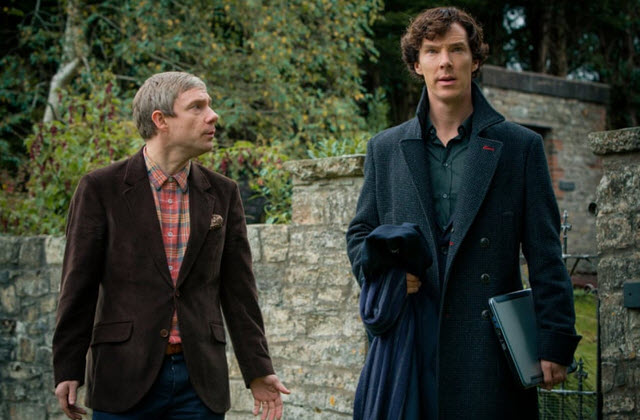 A queste parole la replica più dura, paradossalmente, non è stata quella dei fan né della produzione, ma proprio quella del compagno di molte avventure: Benedict Cumberbatch. L'uomo dietro Sherlock Holmes infatti si è sentito in dovere di replicare al collega:
È piuttosto patetico se ciò [la pressione dei fan, ndr] ti basta per non avere il controllo della tua realtà. Per cosa? Per colpa delle aspettative? Non so, non mi sento d'accordo.
Ovviamente l'avere due visioni antitetiche sulla questione non è motivo sufficiente per intuire una spaccatura tra i due. Ma la spaccatura c'è e le evidenze anche. Innanzitutto l'utilizzo del termine "patetico". Le parole hanno un peso, anche se al giorno d'oggi spesso si usano con maggior leggerezza. Prendendo una posizione distante da quella espressa da un eventuale amico difficilmente si vedrebbe usato il termine "patetico".
Ma abbiamo anche altre dichiarazioni a riguardo del rapporto tra i due che ci aiutano a capire come il gelo non sia dovuto a quest'ultima situazione ma tragga origine nel passato.
La guerra d'ego tra le due star britanniche inizia a emergere fin da quando furono scritturati dalla BBC per interpretare Sherlock Holmes e John Watson nel 2010. La loro relazione è stata da subito così gelida che gli addetti ai lavori che ruotano attorno alla produzione hanno fatto trapelare che il loro rapporto sia l'unica cosa che blocca l'idea di una quinta stagione. Molto più che non i reciproci impegni.
Benedict e Martin non saranno mai i migliori amici. Non sono nemmeno vicini a questo concetto. Sono rimasti professionali in pubblico perché la serie diventava sempre più popolare ma c'era costantemente una preoccupazione che il loro rapporto potesse far saltare tutto.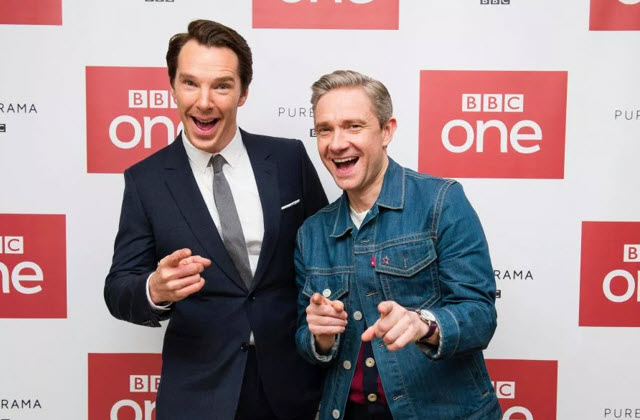 Benedict Cumberbatch e Martin Freeman hanno quindi cercato di sembrare amici, almeno in pubblico, ma il loro rapporto gelido alla fine è emerso. Come abbiamo notato nello scambio di battute sul tema "pressione dei fan". Si è venuto a sapere infatti che i due raramente arrivassero persino a parlarsi durante le riprese della serie. Ancor più raramente sono stati visti uscire assieme. Cosa molto comune invece tra protagonisti di altre serie tv.
La rivalità della coppia quindi è iniziata non appena sono stati chiamati alla ribalta dai creatori Mark Gatiss e Steven Moffatt. A quel tempo, entrambi avevano profili molto simili. Da un lato ovviamente desiderosi di prendere parte al progetto Sherlock, anche visto l'alto budget della serie, dall'altro consapevoli di quale fosse il ruolo che prometteva il maggior successo.
Entrambi sapevano che l'unico vero ruolo da prendere era il protagonista. Lo spettacolo non è chiamato Watson, dopotutto. Tutti e due si consideravano degni di questo e sapevano che chiunque l'avesse ottenuto avrebbe avuto un grande impulso alla propria carriera.
Inutile dire che entrambi si candidarono per il ruolo di detective. Tutti sappiamo come è andata a finire. La carriera di Benedict è decollata in modo straordinario: The Imitation Game, Star Trek e Doctor Strange solo per citare i film più famosi. Tutto ciò ha fatto di lui una delle star più ambite di Hollywood. E Martin?
Il suo curriculum, per quanto di tutto rispetto, non è altrettanto esplosivo. L'apice è ovviamente il ruolo di Bilbo Baggins nei tre film di successo de Lo Hobbit. Ha partecipato anche lui ai film Marvel, interpretando Everett K. Ross in Captain America: Civil War e Black Panther. Infine ha avuto un ruolo rilevante nella serie Fargo.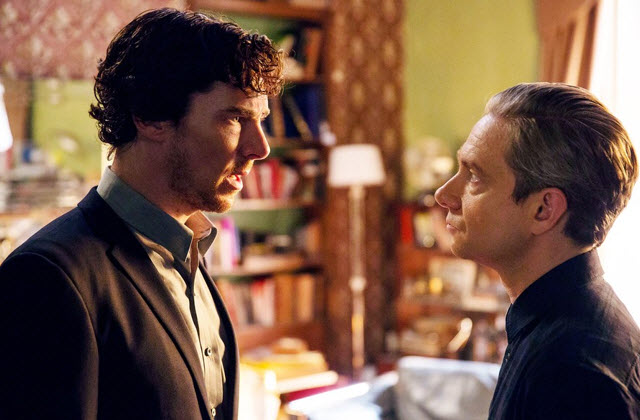 Però Martin è ben consapevole di chi sia diventato il vero protagonista del botteghino e questo ha generato i primi momenti di gelosia. Anche perché il cachet tra i due pende per più del doppio dalla parte di Cumberbatch. Parlando proprio del crescente successo del protagonista di Sherlock già nel 2014, lo stesso anno in cui uscì The Imitation Game, che ha fruttato a Benedict una nomination all'Oscar, Martin Freeman, aveva dichiarato:
L'ascesa di Benedict è molto estrema. È un successo meritato nel suo caso, perché è davvero bravo. Ma fino a questo punto? No, grazie. Mi piace essere un bersaglio mobile. Ho abbastanza pazzia nella mia vita senza dover essere sulla cresta dell'onda tutto il tempo.
Le voci vicino a lui però dicono che in realtà fosse livido d'invidia.
Il rapporto di Cumberbatch con i fan poi ha chiaramente irritato Martin. Infatti, l'attore e la sua allora fidanzata Amanda Abbington avevano snobbato un evento per i fan chiamato Sherlocked nell'aprile 2015, dove i seguaci più accaniti della serie potevano farsi fotografare insieme alle loro star preferite in cambio di donazioni per beneficenza. Una fonte vicina all'evento al centro ExCel di Londra dichiarò:
Martin è un attore molto serio e non voleva interpretare il secondo violino mentre Benedict avrebbe ricevuto tutta l'attenzione delle sue Cumberbitches [fan femminili, ndr].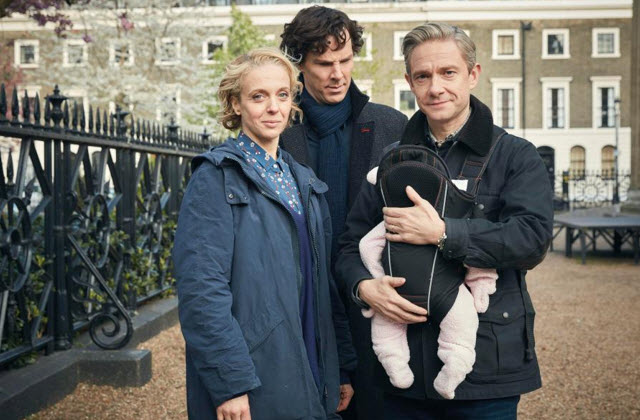 Tuttavia, Benedict non è sempre stato così accomodante con i fan. Nell'agosto 2015 si è rifiutato di firmare autografi fuori dal teatro Barbican di Londra dopo un'esibizione ad Hamlet. Con grande soddisfazione di Freeman. È da ricordare poi che Martin non è stato invitato al matrimonio tra Benedict e Sophie Hunter nel febbraio dello stesso anno.
E tutto questo cosa comporta? Semplicemente che la maggior parte dei fan cerca disperatamente di capire se vorranno e sapranno mettere da parte le reciproche differenze in tempo per filmare una quinta stagione di Sherlock. Ma come disse qualcuno della produzione:
Né Benedict né Martin hanno mai chiarito se torneranno indietro. Quindi se una quinta stagione potrà mai essere fatta rimane un mistero. Uno di quei misteri che persino Sherlock Holmes stesso avrebbe difficoltà a risolvere.