Dopo aver recitato accanto a Benedict Cumberbatch nella Serie Tv Sherlock per quattro stagioni, Martin Freeman dichiara di non divertirsi più. Perché? La colpa della troppa pressione dei fan. La Serie Tv adatta liberamente alcune delle storie più amate dello scrittore Arthur Conan Doyle. Divisa in quattro stagioni per un totale di tredici episodi, Sherlock è molto amata dalla critica e dal pubblico. Tuttavia il giovane John Watson non si diverte più. Purtroppo però questa quarta stagione ha subito un leggero calo portando dei dubbi su una quinta possibile stagione.
Parlando con The Telegraph, Martin Freeman si è lasciato andare sullo scomodo attaccamento dei fan nei confronti della Serie Tv:
Per essere assolutamente onesto, era impossibile. Sherlock è sempre stato di alta qualità fin dall'inizio. E quando inizi così in alto è piuttosto difficile mantenere l'entusiamo. Essere in quello spettacolo, è una cosa dei mini-Beatles. Le aspettative della gente, alcune non sono delle più divertenti. Non è una cosa per cui gioire, è una cosa del tipo: "Farai meglio a farlo altrimenti sarei uno scemo". Non è più divertente. Interpretare ancora Watson? È più probabile vedermi suonare vecchia musica jazz.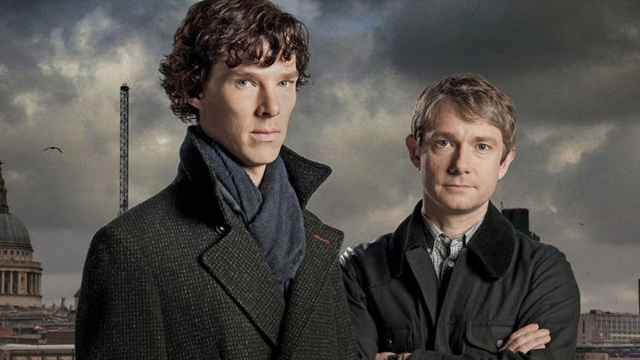 Freeman ha interpretato il ruolo di Tim Canterbury nella versione inglese di The Office e da allora ha ricoperto ruoli in film come Love Actually e Lo Hobbit. Però gli amanti di Sherlock lo ricorderanno sempre per il ruolo di John Watson. La Serie Tv rimane comuque una delle più chiacchierate. I creatori Mark Gatiss e Steven Moffat hanno dichiarato che se dovesse esserci una quinta stagione, uscirà almeno tra due anni. Ma se questa dovesse essere la fine per Cumberbatch e Freeman, almeno la coppia potrà essere ricordata per aver partecipato ad uno dei migliori adattamenti di Sherlock Holmes.
Con la quarta stagione abbiamo assistito alla fine di tutte le storyline, che motivo avrebbero Gatiss e Moffat di fare una quinta tenendo anche conto del pensiero di Freeman?