Quando si pensa alla serie Sex and the City è impossibile non pensare alla quattro bellissime protagoniste che abbiamo imparato ad amare, immedesimandoci nelle loro vicende amorose in tutti questi anni.
Eppure non tutti sanno che tra le attrici il rapporto è tutt'altro che idilliaco.
Anche se passavano tutto il tempo a chiacchierare, aiutarsi e confidarsi, nella vita reale non è proprio così.
Da quando la serie si è conclusa, con altrettanti film connessi, tanti nodi sono venuti al pettine. Una trama più avvincente dello stesso show è la faida tra Kim Cattrall e le sue, ormai, ex colleghe e amiche, in particolar modo Sarah Jessica Parker.
Nel 2017 Kim Cattrall ha sconvolto tutti quando ha dichiarato che non avrebbe mai più interpretato Samantha Jones se ci fosse stata anche la collega Sara Jessica Parker. Addirittura, durante il mese di febbraio l'attrice si è scagliata contro la Parker sui social dopo il decesso del fratello. 
«La tua continua falsità è un doloroso promemoria di quanto realmente crudele tu fossi allora e adesso (…) Lascia che lo metta BENE in chiaro (se non l'ho già fatto). Tu non sei la mia famiglia, non sei mia amica, quindi ti scrivo per dirti un'ultima volta di smettere di sfruttare la nostra tragedia per ripristinare la tua immagine di 'bella persona'».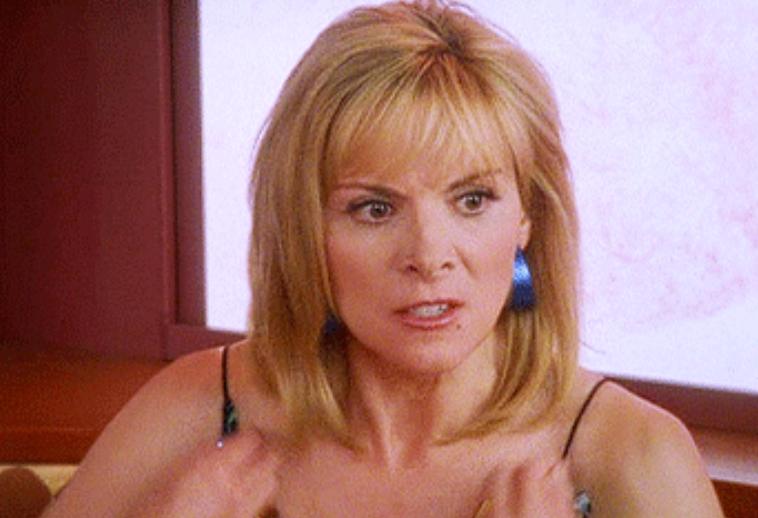 Di certo la Cattrall non le manda a dire.
Lo scrittore e produttore esecutivo dello show Michael Patrick King, ha fatto una sottile considerazione sulla tensione tra le attrici. Secondo lui tutto parte da una questione economica e si conclude con una continua competizione sotto i riflettori. Inoltre, ha tenuto a spiegare che la serie ha preso vita grazie alla protagonista indiscussa, cioè la Parker e che deve molto a lei:
«Lo show non esisterebbe se Sarah Jessica non fosse stata la stella bionda della serie, è la numero 1. Kim non era al culmine della sua carriera, Kristin era sotto di lei in termini di notorietà, Cynthia era un'attrice teatrale – e i loro contratti rispecchiavano questo status (…) Mentre la serie progrediva, i personaggi sono cresciuti, è diventata una famiglia. Kristin, Cynthia e Sarah Jessica sono diventate un gruppo e Kim non si è mai unita a loro mentalmente»
Ma ciò che lo ha fatto infuriare è stata poi la dichiarazione di Kim:
«Un giorno Kim si è impuntata e ha detto: 'Sono la preferita di tutti'. Ma tutti sappiamo che il nome di Jessica era contrattualmente, legalmente, virtuosamente, l'unico nome sul poster, il che è dovuto al fatto che era una star del cinema nel 1998 quando la serie iniziò e fece un salto nel buio prendendo parte a uno show sul sesso su HBO. Suppongo che a Kim non importasse, ma non ci sarebbe mai potuta essere parità»
Come se non bastasse, la stessa Parker ha fatto di tutto per mostrare alla Cattrall l'importanza di quest'ultima nello show, soprattutto in funzione dell'ultimo film. Ma questo non è bastato, difatti i produttori hanno detto: "Non possiamo soddisfare le sue richieste, non siamo in grado di farlo, non hanno senso per noi".
«Quindi è finita, ma non è un assassinio di personaggi, è solo il modo in cui funziona l'industria cinematografica»
Le dichiarazioni finali della Parker sono state molto chiare: «Non sono in guerra con nessuno, non ho mai pubblicamente detto qualcosa di poco amichevole, sgradevole su Kim perché non è quello che provo per lei». Ha inoltre confutato l'idea che gli anni trascorsi nello show fossero stati costellati di litigi con la sua coprotagonista, dal momento che «non avremmo potuto funzionare, avrei avuto mal di stomaco ogni giorno».
Anche Amy Harris, scrittrice e produttrice della serie, è rimasta molto delusa e amareggiata dal comportamento della Cattrall, definendo il post d'accusa contro la protagonista dello show "incredibilmente ingiusto": 
«Ho davvero tanta empatia per ciò che Kim stava attraversando, ma ho pensato che la sua scelta e quello che ha fatto fosse sbagliato. Non capisco perché l'abbia fatto perché qualunque fosse il passato, quelle erano quattro donne che tenevano l'una all'altra, e ho capito da dove provenisse la sua rabbia in termini di ciò che stava passando, ma non so perché abbia scelto di scagliarsi contro Sarah Jessica»
In conclusione, purtroppo, la produttrice ha dovuto ribadire che un terzo film su Sex and the City non ci sarà. Non potrà esserci in virtù del rifiuto categorico di Kim Cattrall ad abbassare le proprie pretese.
Inutile dire che i fan sono rammaricati di tutto questo. La speranza di rivederle per un atto conclusivo, purtroppo, è sfumata. Ma, proprio perché siamo speranzosi, ci auguriamo che qualcosa cambi!