1. Solitudine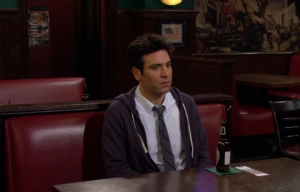 Ci sono momenti in cui un vero Serie Addicted si ritrova solo, solo in mezzo a tutti. Perché? Perché, quante volte vi è capitato di trovarvi in mezzo a degli amici e sparare una super battuta relativa alle serie, oppure di fare una citazione PERFETTA, e trovarvi 10 occhi puntati addosso che dicono: "Ma questo che si è fumato?"
2. Spoiler Alert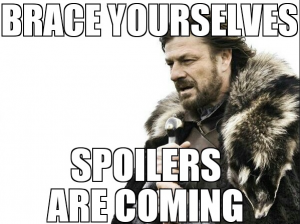 Esce la nuova puntata del tuo telefilm preferito, che segui sulla programmazione americana ma ieri sera hai bevuto quel vinellino di troppo all'aperitivo quindi non ce l'hai proprio fatta a tornare a casa in tempo per guardarla. Tanto hai la puntata registrata quindi tutto ok, lo guarderai stasera dopo cena. Alla fine sì, è una serie super seguita ma quanti saremo mai a seguire la programmazione attuale dai!
Arrivi in metro, ti siedi accanto a due ragazze qualunque e non indossi le cuffie (tanto per due fermate), quando una delle due apre bocca e a squarciagola dice:" OMMIODDIO!!!! Non hai visto la puntata ieri? Mimmo uccide Aldo, Mariaconcetta ha fatto voto di castità dopo il tradimento di Josuè e Mike ha fatto una rapina con Ludmilla! PUNTATONE!!!!"
E a te sale un DRAKARYS che manco Daenerys Targaryen nata dalla tempesta, regina dei Sette Regni, Khaleesi del grande mare d'erba, la non bruciata, madre dei Draghi, regine degli Andali e dei primi uomini, E BACIATEMI I SANDALI C***!!!!!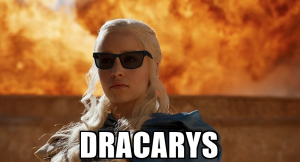 3. Vita Sociale
Ci sono ragazze che si fanno belle per conquistar un ragazzo in discoteca. Ci sono ragazzi che escono perché vogliono andare all'apertura di ogni nuovo locale. Ci sono gruppi di amici che si ritrovano per andare in giro per la città.
Poi ci sono quei ragazzi che decidono di rinunciare a uscire il sabato sera perché vedono la domenica come un extra di ore in cui studiare.  Ci sono anche quelle persone che stanno a casa con la famiglia perché è una cosa importante. E poi ci siamo noi che non possiamo permetterci di uscire e avere una vita sociale perché
DOBBIAMO GUARDARE TUTTE LE SERIE TV CHE ESISTANO AL MONDO E LO DOBBIAMO FARE SUBITO!
4. Gusti particolari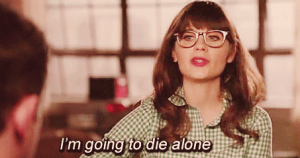 In un mondo di relazioni lampo, in un mondo in cui è sempre più difficile accontentarsi, in un mondo in cui per incontrarsi c'è chi usa Tinder, per noi amanti selle Serie Tv la cosa si fa ancora più difficile. Eh sì perché trovalo un ragazzo che ha i tuoi stessi gusti e che si mette a guardare con te Una Mamma per Amica, o una ragazza che guarda Sons of Anarchy fino notte fonda (ovviamente le serie e il genere sono interscambiabili). La storia si fa complessa: da ora in poi quando vi presentano una/o vanno chiarite subito le cose.
"Ciao, piacere! Quanti anni hai? Mi manderesti una mail con tutte le serie che hai guardato  in ordine di preferenza, grazie?"
5. Alte Aspettative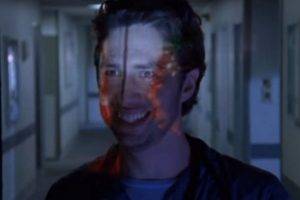 Abbiamo visto Maggie innamorarsi di Glenn, abbiamo visto Meredith sopravvivere a qualsiasi calamità possibile immaginabile, abbiamo vito le feste universitarie più assurde di Greek, abbiamo visto risolvere i casi più misteriosi in How to Get Away With a Murder, abbiamo assistito alle performance di cover più strane che esistano con Glee, abbiamo esplorato il mondo delle fiabe in Once Upon a Time, and so on…
Insomma, ne abbiamo viste proprio tante, e adesso ci aspettiamo altrettanto dalla vita, non ci sappiamo più accontentare, ed è proprio così che le Serie Tv non ci danno più drammi ma punti di partenza per raggiungere i migliori degli happy ending.