Le serie tv ci hanno regalato molte coppie sorprendenti. Se da un lato è stato il loro sfrenato romanticismo a catturare la nostra attenzione, dall'altro è stata anche la curiosità che ci ha tenuto incollati alla tv per capire come sarebbero finite certe relazioni che nella realtà non avrebbero avuto scampo. Storie d'amore nate tra dottore e paziente terminale, tra un'innocua umana e un alieno, tra un'agente governativo e un terrorista, perfino la pupa e il secchione di The Big Bang Theory sono convolati a nozze!
Guardiamo queste coppie e pensiamo: ma come è possibile che stiano insieme se il mio ex mi ha lasciata dicendomi che eravamo troppo diversi solo perché io compro il tonno al naturale?
Eppure anche le coppie tv più diverse hanno retto a intere stagioni e decine di episodi. Complice l'arrivo di San Valentino, abbiamo pensato di stilare una lista delle 10 migliori coppie romantiche ma anche peggio assortite nella storia delle serie tv.
1) Buffy e Angel (Buffy l'ammazzavampiri)
Prima di Twilight, i cuori dei giovani adolescenti battevano per un'altra coppia impossibile: Buffy (Sarah Michelle Gellar) la cacciatrice di vampiri che ha salvato il mondo per 7 stagioni a cavallo del nuovo millennio, e Angel, vampiro bellissimo e romantico. A volte lei cercava di uccidere lui, altre volte lui di mordere lei. Però i due erano inseparabili e innamorati persi. I fan si sono sempre divisi su chi volessero vedere vicino alla loro beniamina tra Spike e Angel, ma quest'ultimo è sempre stato quello il più amato.
2) Izzie e Danny (Grey's Anatomy)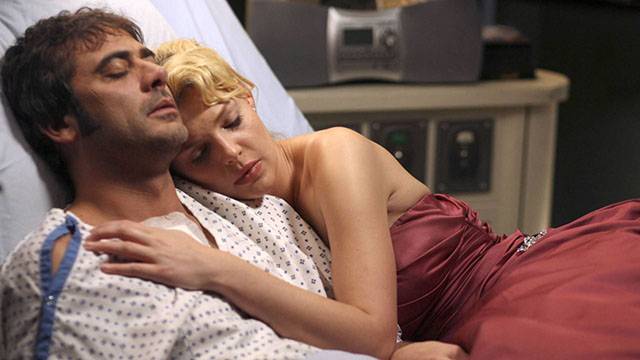 Ora parliamo di un amore nato tra le stanze di un ospedale, che ha fatto versare fiumi di lacrime agli spettatori di Grey's Anatomy: quello tra Danny Duquette (Jeffrey Dean Morgan) e Isobel "Izzie" Stevens (Katherine Heigl). Lei dottoressa, lui paziente. Danny è un cardiopatico in attesa di trapianto che si innamora follemente della bionda specializzanda del Seattle Grace Hospital. Quando le sue condizioni si aggravano, lei ruba letteralmente un cuore per lui, e dopo l'operazione l'uomo le chiede di sposarlo. Se non fosse che poche ore dopo la proposta, Danny muore tra le braccia di Izzie: tutto così drammatico, ma anche terribilmente romantico. Sebbene poco longeva, rimane una delle coppie più famose del medical drama.
3) Scully e Mulder (X-Files)
Dana Scully (Gillian Anderson) e Fox Mulder (David Duchovny) hanno tenuto incollati alla tv milioni di fan ogni domenica sera per anni. Saranno stati i misteri, la fantascienza e il paranormale ma la vera domanda che tutti si facevano non era se credere o no agli alieni, ma quando finalmente si sarebbero baciati! Non c'erano dubbi che le differenze tra i due, lei medico ed empirista, lui filosofico e credulone, alla fine si sarebbero incastrate perfettamente e sarebbero finiti insieme. Infatti dopo una lunga attesa nella settima stagione finalmente arriva il bacio, poi anche un figlio.
4) Liz e Max (Roswell)
Comunque aveva ragione Fox Mulder, gli alieni esistono e sono pure dei gran bei teenager. Roswell, il teen-drama fantascientifico, ha raccontato le travagliate vicende di tre alieni catapultati tra gli studenti di un liceo del New Mexico a seguito dell'incidente di Roswell del 1947. Liz Parker (Shiri Appleby), cameriera umana con le antenne finte, e Max Evans (Jason Behr), alieno per davvero ma senza grandi occhi neri o pelle verde, sono stati la coppia di adolescenti più smielata della tv. I genitori, gli ex, perfino l'FBI hanno cercato di separarli ma nessuno c'è mai riuscito.
5) Penny e Leonard (The Big Bang Theory)
Se The Big Bang Theory è una delle serie comedy più viste e apprezzate al mondo, è anche grazie a Leonard (Johnny Galecki) e Penny (Kaley Cuoco), una delle coppie più divertenti dello show.
Lei, bionda e bellissima, è una cameriera aspirante attrice che crede fermamente nell'oroscopo e nel soprannaturale. Lui, invece, è un fisico laureato a Princeton, appassionato di storia, fumetti e giochi: è un vero nerd, insomma. Due personaggi agli antipodi, più diversi che mai, eppure lui ha un colpo di fulmine per Penny appena la vede sul pianerottolo di casa, mentre lei si innamorerà lentamente, ma poi non potrà più fare a meno di lui. Romantici a tal punto che i due sono diventati una coppia anche nella realtà per circa due anni. Se non è vero amore questo!
6) Piper e Leo (Streghe)
E dopo The Big Bang Theory, passiamo a un classico degli anni '90.
Tra le coppie memorabili delle serie tv non potevamo dimenticare di inserire nella lista la strega Piper Halliwell (Holly Marie Combs) e l'angelo bianco Leo Wyatt (Brian Krause). La televisione non ha mai avuto un amore più contrastato: un angelo bianco, infatti, ha il compito di proteggere le streghe e la relazione con Piper era ritenuta contraria a tutte le leggi umane e magiche. Leo però rinuncia ai suoi poteri e diventa umano pur di avere una storia d'amore e invecchiare con Piper.
7) Lorelai e Luke (Una mamma per amica)
Camicia di flanella, berretto al contrario e un pessimo caratteraccio: così abbiamo conosciuto Luke (Scott Patterson) fin dal primo episodio, quando appare chiaro che sia innamorato cotto di Lorelai Gilmore (Lauren Graham). Lei invece è bella, intelligente, dai modi affabili e di buona famiglia. Il suo contrario, appunto. Lorelai episodio dopo episodio gli sfila d'avanti con uomini diversi, senza mai accorgersi di chi sia l'unico che le rimanga accanto senza sparire con la nuova stagione. Alla fine anche lei aprirà gli occhi e inizierà una romantica storia con Luke.
8) Lucifer e Chloe (Lucifer)
Quando il diavolo e un'ex attrice diventata detective si ritrovano per le strade di Los Angeles a risolvere omicidi e rapimenti, è inevitabile che nasca l'amore tra i due. Sarà l'avvenenza di Lucifer (Tom Ellis) o le sue battutine taglienti e ironiche, certo che la carica elettrica che si respira quando entrambi sono nella stessa stanza non poteva che farli finire uno tra le braccia dell'altra. Il rapporto sentimentale tra il signore degli inferi e Chloe (Lauren German) è un elemento fondamentale per la serie e resisterà alle peggiori orde di demoni, alle maledizioni e anche all'apocalisse.
9) Carrie e Brody (Homeland)
La relazione tra Carrie (Claire Danes) e Brody (Damian Lewis) si può classificare come un vero amore impossibile. Carrie, un'analista della CIA, vorrebbe usare Brody per catturare il leader di una cellula terroristica, mentre lui, convertito all'islam durante la prigionia in Iraq, è passato proprio al servizio di al-Qaida. Entrambi usano l'altro per i loro scopi, fino però ad innamorarsi, coinvolgendo il pubblico che si ritrova a tifare per questa strana coppia. La storia funziona ed ha anche dei risvolti romantici, soprattutto con il finale della terza stagione, quando è impossibile non emozionarsi.
10) Sabrina e Harvey (Le terrificanti avventure di Sabrina)
Sabrina (Kiernan Shipka) e Harvey (Ross Lynch) hanno passato la prima stagione della serie avvinghiati, intenti a sbaciucchiarsi. Purtroppo lei era un strega rivendicata dagli inferi e lui l'ultimogenito di una famiglia di cacciatori… proprio di streghe. Quindi l'idillio tra i due si è concluso prima del previsto. Tuttavia ai fan della coppia non sono passati inosservati i vari riferimenti a un sentimento latente ma ancora forte tra i due nell'arco di tutte le stagioni, e sono sicuri che la loro eroina tornerà dall'aldilà senza portarsi dietro quel bambolotto di Nicholas Scratch per ricadere tra le braccia di Harvey. Vedremo.