Il punto di forza di ogni comedy che si rispetti sono i personaggi. Alcuni funzionano meglio da soli, altri invece brillano in gruppo, altri ancora realizzano tutto il loro potenziale quando sono in coppia con un altro personaggio. Questa classifica si occuperà di quest'ultima categoria, cercando di decretare quali sono le 10 migliori coppie comiche nella storia delle serie tv. I personaggi presenti non sono necessariamente i più divertenti o memorabili in assoluto (altrimenti sarebbe inspiegabile la mancanza di Sheldon Cooper di The Big Bang Theory, o Phoebe Buffay di Friends o ancora l'incredibile Gina Linetti di Brooklyn Nine-Nine), bensì quelli che danno il loro meglio in coppia e che ci hanno regalato alcuni dei momenti più spassosi nella storia delle comedy televisive.
Da The Big Bang Theory a Friends e molte altre, ecco la classifica delle 10 serie tv che hanno beneficiato di una perfetta coppia comica.
10) Grace e Frankie (Grace and Frankie)
Grace (Jane Fonda) e Frankie (Lily Tomlin) si conoscono da oltre quarant'anni, eppure non diventano amiche fino a quando una sventura comune le unisce. Grace è una donna in carriera, severa e inflessibile, laddove Frankie è il suo esatto opposto, uno spirito libero che detesta le regole e non disdegna di rilassarsi con metodi non convenzionali. Se è vero che gli opposti si attraggono, non dovremmo stupirci del profondo e divertentissimo rapporto di simbiosi che si instaura tra le due donne, improvvisamente diventate l'una il centro del mondo dell'altra a settant'anni suonati. Due donne molto diverse che diventano non solo migliori amiche, ma anche socie in affari: tra vibratori per anziane, lubrificanti e water a prova di artrosi, Grace and Frankie non ha paura di osare e di mettere le sue protagoniste in (esilaranti) situazioni scomode.
9) Karen e Jack (Will & Grace)
La serie tv potrà anche chiamarsi Will & Grace, ma chiunque l'abbia vista sa bene che i veri protagonisti sono loro, Jack (Sean Hayes) e Karen (Megan Mullally).
Fin dal loro primo incontro, abbiamo capito che avrebbero rubato la scena ai personaggi principali e col progredire delle stagioni è stato proprio il loro rapporto a salvare la serie dal pericolo di diventare eccessivamente ripetitiva. Karen e Jack sono esuberanti, si rifiutano di obbedire a qualsivoglia regola della società e questo li rende imprevedibili, insieme funzionano non solo per la chimica tra i due attori, ma perché sono sempre in grado di sorprendere lo spettatore, di superare se stessi. Non esistono tabù quando si parla di loro due e questa è una ventata di freschezza nel panorama televisivo, tanto più se pensiamo che Will & Grace è andata in onda per la prima volta ben 22 anni fa.
8) Troy e Abed (Community)
"Troy Barnes and Abed Nadir. Friends so close, they once graced the cover of 'Friends Weekly,' a pretend magazine of their own design."

"Troy Barnes e Abed Nadir. Amici così intimi da essersi conquistati la copertina di 'Friends Weekly', un settimanale fittizio di loro invenzione"
All'interno dei 7 di Greendale, l'eterogeneo gruppo di studio di Community, vi è una coppia di amici che tutti abbiamo imparato ad amare, quella composta da Abed Nadir (Danny Pudi), stralunato amante della cultura pop, e Troy Barnes (Donald Glover), indulgente ex giocatore di football. I due conduttori di "Troy e Abed in the morning" (il talk show fittizio più amato nella storia della televisione) sono a dir poco codipendenti (come Raj e Howard in The Big Bang Theory) e la loro comicità deriva proprio da questo. Insieme i due si trasformano in bambini, instaurando dinamiche di gioco e fungendo da motore per molti degli episodi migliori di Community, nei quali la loro amicizia simbiotica diventa il perfetto escamotage per trasformare momenti di tensione in gag irresistibili.
Spoiler: dopo la partenza di Troy dal Greendale e la conseguente fuoriuscita di Glover dal cast, il personaggio di Abed perde molta della sua comicità e complessità, diventando sempre più simile a una macchietta. Questo a dimostrare come fosse proprio la dinamica tra i due a far funzionare i loro personaggi e a consacrare Community nell'Olimpo delle comedy.
7) Jake e Charles (Brooklyn Nine-Nine)
C'era una volta Charles Boyle (Joe Lo Truglio), detective di polizia che incontra il suo principe azzurro sul cavallo bianco: il collega Jake Peralta (Andy Samberg).
L'ossessione di Charles per Jake è spesso ai limiti dello stalking, ma il suo migliore amico non sembra preoccuparsene e anzi non perde occasione per mettersi in mostra ai suoi occhi. La dinamica tra i due funziona perché attraverso lo sguardo di Boyle lo spettatore può vedere Jake Peralta proprio come quest'ultimo vorrebbe essere visto, ossia come l'eroe di una rocambolesca saga cinematografica, sempre pronto all'azione. Quando è con Charles, Jake diventa Jake all'ennesima potenza: non si pone limiti, trascina l'amico nelle situazioni più assurde, tra inseguimenti in mezzo al traffico e operazioni di spionaggio. Tutta la forza di Brooklyn Nine-Nine in quanto action comedy viene esaltata proprio quando a dividere la scena ci sono Boyle e Peralta, perfettamente complementari e per questo dotati di una grande alchimia in termini di comicità.
6) Raj e Howard (The Big Bang Theory)
Inutile negarlo, The Big Bang Theory è la serie di Sheldon Cooper (Jim Parsons).
La banda di nerd si costruisce intorno a Sheldon e malgrado Sheldon, che è il protagonista indiscusso della stragrande maggioranza degli episodi. Eppure vi è una relazione che, più di tutte le altre, prescinde dal protagonista ed è diventata il simbolo di The Big Bang Theory: quella tra Rajesh Koothrappali (Kunal Nayyar) e Howard Wolowitz (Simon Helberg). Diciamo relazione perché l'amicizia tra i due assume spesso i caratteri di un vero e proprio rapporto amoroso, con tanto di gelosie e scaramucce. Nel corso delle 12 stagioni di The Big Bang Theory sono numerosi i personaggi che fanno riferimento allo strano rapporto tra i due, che il matrimonio di Howard con la meravigliosa Bernadette riesce solo parzialmente ad allentare. Tra litigate improvvise e sessioni musicali, Raj e Howard riescono sempre a strappare una risata allo spettatore, che si sente sempre più coinvolto nel loro rapporto tanto tossico quanto esilarante.
5) Kelso e Cox (Scrubs)
La maggior parte delle coppie presenti in questa lista sono coppie di grandi amici, che insieme si divertono e ci fanno divertire. Bob Kelso (Ken Jenkins) e Perry Cox (John C. McGinley) sono l'eccezione.
Quello che rende i due una vera e propria coppia comica è anzi la dinamica conflittuale che li contraddistingue per le prime sette stagioni di Scrubs, lo scontro continuo tra il dottor Cox, burbero dal cuore d'oro, e Kelso, il primario che sembra preoccuparsi solo di soldi e carriera. Gli scontri tra i due sono frequenti ed esilaranti, i personaggi non trattengono certo gli insulti e ci trascinano in un vortice di schermaglie e battutine che rende impossibile non scoppiare a ridere. Il loro rapporto evolve con il passare delle stagioni e, quando i due diventano finalmente amici, le risate non diminuiscono affatto. Anzi, aumentano proprio per l'effetto contrastante che lo spettatore avverte rispetto alle loro precedenti interazioni, dimostrando la capacità di Scrubs di saper gestire perfettamente i tempi comici dei propri personaggi (e non solo: ecco alcuni dei momenti che hanno reso Scrubs un capolavoro).
4) Ted e Barney (How I Met Your Mother)
Trovare una sola coppia comica che si distingua all'interno di How I Met Your Mother è difficile e forse la scelta è un po' arbitraria, dal momento che la serie tv si basa principalmente su dinamiche di gruppo e vede nell'amicizia tra i 5 protagonisti il motore principale della narrazione. Tuttavia, Ted (Josh Radnor) e Barney (Neil Patrick Harris) col progredire delle stagioni hanno ottenuto un ruolo sempre più predominante sia come singoli che in coppia. Barney Stinson non avrebbe di per sé alcun bisogno di dividere la scena con nessuno, è un personaggio che funziona benissimo da solo, ma in realtà quando ha Ted al suo fianco brilla ancora di più. Per tutta la durata della serie, Barney e Ted sono l'uno la spalla dell'altro, servendosi a vicenda assist che si realizzano in gag divertentissime. Insomma, situazioni ordinarie che i due fanno diventare legen – wait for it – dary.
3) Jerry e George (Seinfeld)
Come poteva mancare in questa lista la capostipite di tutte le comedy moderne (da Friends a The Big Bang Theory e oltre)?
Seinfeld ha rivoluzionato il mondo della televisione, rendendo un gruppo di amici protagonisti, laddove prima di allora il panorama sembrava dominato da parenti e colleghi. Tra i personaggi, un posto d'onore spetta a Jerry Seinfeld e George Costanza (Jason Alexander), amici del cuore fin dai tempi della scuola. Jerry è stabile e controllato, la voce della "ragione" in grado di fuoriuscire da ogni situazione per quanto assurda. George, invece, è una mina vagante, spesso dipinto come un perdente, messo in difficoltà persino dalle cose più semplici. Sono personaggi complementari, in grado di mettere l'uno in risalto tutto il potenziale comico dell'altro. Jerry e George funzionano così bene insieme perché sono gli amici che vorremmo, per cui proviamo empatia, i cui iconici botta e risposta strappano sempre un sorriso allo spettatore.
2) Chandler e Joey (Friends)
Come How I Met Your Mother, anche Friends è una serie tv che si basa soprattutto su dinamiche di gruppo, la cui vera forza comica deriva proprio dalla complementarietà dei sei protagonisti.
Ogni coppia di personaggi di Friends funziona e questa è una delle ragioni che rendono la serie un classico senza tempo delle commedie televisive. Non si può negare però che fra queste coppie ce n'è una che funziona più delle altre: quella composta da Chandler Bing (Matthew Perry) e Joey Tribbiani (Matt LeBlanc). Come Abed e Troy faranno dopo di loro, anche Chandler e Joey tirano fuori l'uno il lato più infantile dell'altro. I due coinquilini sono per certi versi agli antipodi (l'insicuro e cinico Chandler contrapposto al dongiovanni mai cresciuto Joey) eppure sono sempre pronti a prendersi cura l'uno dell'altro. Attraverso di loro Friends ci regala alcuni dei momenti più divertenti della serie e lo fa concedendo ai due di essere bambini, di tralasciare le responsabilità e semplicemente di lasciarsi andare. Chandler e Joey ci hanno insegnato a mollare il pedale del freno e divertirci e noi non potremmo essergliene più grati.
1) Michael e Dwight (The Office)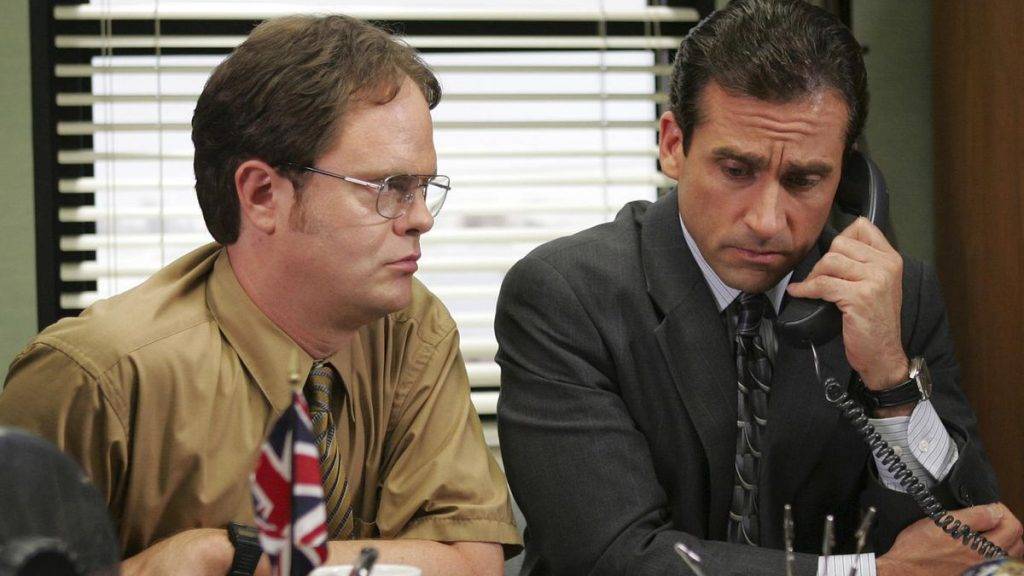 Qualcuno è sorpreso da trovare al primo posto di questa classifica Michael Scott (Steve Carell) e Dwight Schrute (Rainn Wilson)? Se lo siete è perché, probabilmente, non avete mai visto il remake americano di The Office (in tal caso che cosa state aspettando?).
La coppia formata dal manager regionale e dall'assistente (del) manager regionale della filiale di Scranton della Dunder Mifflin è di gran lunga la più disfunzionale, fuori dagli schemi e meglio assortita nella storia delle serie tv.
Basterebbe citare alcune delle loro avventure per giustificare la loro salda presenza al primo posto, come quando si mettono in testa di dimostrare che la depressione è un killer più pericoloso dei macchinari del magazzino, o il loro videoclip musicale per presentare Scranton ai nuovi impiegati. Ma la verità è che la loro forza comica sta proprio nell'essere riusciti a rendere compatibili Michael e Dwight, due personaggi che in altre comedy sarebbero relegati a rivali, proprio perché entrambi così eccentrici e capaci di divertire anche da soli. The Office riesce a prendere due teste di serie e ad unirle senza farle scontrare, riuscendo così a creare la coppia comica più divertente nella storia delle serie tv.