Grace and Frankie è tornata. I tredici nuovi episodi della serie con Jane Fonda e Lily Tomlin sono ora disponibili su Netflix. L'attesa è durata appena un anno, ma ai fan è sembrata un'eternità. Perché Grace and Frankie è una commedia dal fascino irresistibile. Di grande carisma, frizzante e sarcastica, la serie ideata da Marta Kauffman è stata definita una delle migliori serie comiche in circolazione. Ha come protagoniste due settantenni un po' sui generis – una snob e cinica, l'altra anticonformista e profondamente hippy – che insieme formano una coppia esplosiva e inarrestabile, con cui abbiamo attraversato i momenti più divertenti e quelli più amari dello show.
Come tutte le buone commedie, anche Grace and Frankie è un po' agrodolce.
Passa dalla risata alla lacrimuccia in un attimo, con quel sottile tocco umoristico che la rende assolutamente travolgente. Sa far ridere di gusto, ma spinge anche a riflettere. Sulla vita, sulla vecchiaia, sull'amicizia, sui legami tra le persone.
Per la sesta stagione, nonché la penultima dello show, le aspettative sono alte. Perché, come tutte le cose belle, anche Grace and Frankie migliora con il passare del tempo.
Ma prima di tuffarci a capofitto in un binge watching sfrenato dei nuovi episodi, proviamo a ripercorrere i momenti più divertenti e spassosi delle prime cinque stagioni. Dai focus group per testare i nuovi vibratori per anziane alla rapina subita in casa, dai battibecchi tra Brianna e Bud alle marachelle di Sol e Coyote, passando per momenti esilaranti e completamente fuori di testa.
10) Frankie è morta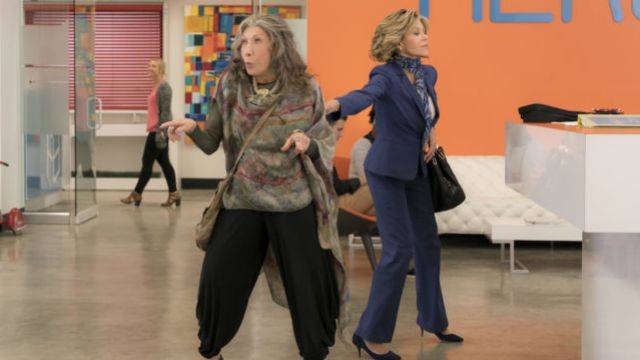 No, non realmente morta. Solo legalmente.
Quando prova a sostituire la sua carta di credito bruciacchiata, Mindy, la sarcastica donna dello sportello, comunica a Frankie che per lo Stato lei è deceduta e non ha diritto a fare nuove operazioni.
Frankie prova a ribattere, ma sa che la colpa stavolta è solo la sua. Qualche tempo prima, per non pagare 60 dollari per una nuova chiave della cassetta della posta, aveva messo in piedi tutta una messinscena per fingersi morta dichiarando davanti a un'agenzia federale il proprio decesso. Così Frankie per lo Stato è ufficialmente morta.
Come le ripete sempre Grace, quando fai una stronzata, la fai sul serio.