# #
Lo scandalo Harvey Weinstein ha scosso le fondamenta di Hollywood, scoperchiando un mostruoso calderone di molestie sessuali, ricatti, violenze fisiche e psicologiche e anche la cerimonia dei Golden Globe non poteva rimanere indifferente.
# #
Sta cambiando qualcosa?
Difficile a dirsi, considerata l'omertà dell'ambiente e quante e quali difficoltà stanno attraversando le vittime che si decidono a denunciare soprusi e violenze.
# #
Come una fogna a cielo aperto, a seguito dei racconti delle violenze sessuali subite da Rose McGowan e Ashley Judd da parte del produttore Harvey Weinstein, uno tra gli uomini più potenti sulla scena, le denunce si sono accumulate in una pandemia di confessioni, coinvolgendo produttori, attori, registi, sceneggiatori: pare che chiunque abbia avuto un qualsiasi minimo potere a Hollywood abbia approfittato della propria posizione per prendersi libertà inappropriate con i rispettivi sottoposti.
La lista è clamorosamente lunga e coinvolge nomi di punta come Kevin Spacey, Andy Dick, Ed Westwick e Steven Seagal, ma anche giornalisti famosissimi, comici, registi, produttori esecutivi, politici e chi più ne ha, più ne metta.
E, via via, sempre più donne e uomini hanno incominciato a raccontare le proprie traumatiche esperienze.
Anche la cerimonia dei 75° Golden Globe è stata caratterizzata da una difesa in blocco delle vittime più deboli da parte dei ricchi e famosi, che hanno deciso di dar voce a chi l'aveva persa da tempo. Anticipata su Twitter dagli hashtag diventati in breve tempo virali #timesup e #whywearblack la stragrande maggioranza dei partecipanti alla cerimonia si è presentata sul red carpet vestita in total black, per sollevare un velo di omertà sul problema e per dimostrare solidarietà alle vittime di molestie e violenze sessuali.
Scelta da alcuni contestata, perché ritenuta ipocrita (d'altra parte, molti addetti ai lavori erano a conoscenza della fama che si era guadagnato Weinstein nel corso degli anni, ma hanno preferito non vedere e far finta di nulla), apprezzata da altri perché è una chiara presa di posizione a favore di uomini e donne vittime di abusi e soprusi, così da offrire loro una voce per denunciare le violenze e i ricatti.
Vincono a man bassa anche due Serie Tv di denuncia, The Handmaid's Tale e Big Little Lies, molto diverse tra loro, ma accomunate dal fatto di essere "dalla parte delle donne".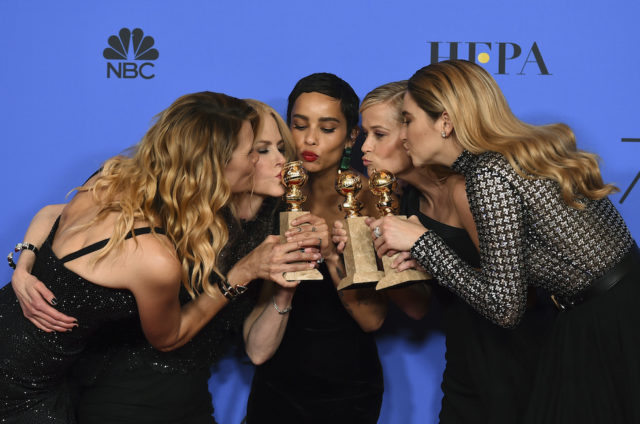 The Handmaid's Tale è l'agghiacciante visione distopica di una società futuristica in cui lo stupro è autorizzato dal governo, mentre in Big Little Lies sono protagoniste un gruppo di donne diversissime che si coalizzano per superare i singoli problemi e, in particolare, quello apparentemente insormontabile di una di loro.
Vincono anche gli attori di queste due Serie Tv: la protagonista di The Handmaid's Tale, Elisabeth Moss, che soffia il premio alla vincitrice annunciata Caitriona Balfe, e Nicole Kidman e Alexander Skårsgard che in Big Little Lies interpretano rispettivamente vittima e carnefice. Vince anche Laura Dern, spettacolare nella sua versione di mamma isterica e robotica che cambia completamente sul finale della Serie.
Rimangono, invece, a bocca asciutta le Serie Tv più mainstream, come Game of Thrones, Stranger Things e addirittura Twin Peaks.
Nel corso della serata, Natalie Portman denuncia sorniona, glaciale ed elegantissima la totale assenza di registi donne nella cinquina dei nominati a miglior regia.
Ci pensa infine Oprah Winfrey, che ritira il premio Cecil B. DeMille alla carriera, a esplicitare il tema della serata, con un emozionante discorso con cui ha ricordato Recy Taylor, vittima di uno stupro di gruppo nel 1944 e Rosa Parks, portavoce e simbolo della lotta al razzismo.
"For too long, women have not been heard or believed if they dare speak the truth to the power of those men. But their time is up. Their time is up."
È veramente finito il tempo degli orchi?