5) Quando il gioco vale la candela (Sons of Anarchy)
I Sons sono seriamente minacciati sia dalla mafia irlandese che dalla polizia, nelle persone del crudele Jimmy O'Phelan e di quell'arpia dell'agente Stahl. Come sempre, quelli che solo in apparenza potrebbero essere visti come dei primitivi motociclisti, si dimostrano degli strateghi finissimi e riescono a far secchi entrambi i rivali, trovando anche il tempo di concedere delle succulente vendette personali a Chibs ed Opie. Il prezzo? Qualche mese di carcere, ma lo si fa molto volentieri visto i benefici enormi che hanno permesso al club di sopravvivere! Ragazzi, che Serie Tv clamorosa è Sons of Anarchy?!
4) L'ascesa di Frank Underwood (House of Cards)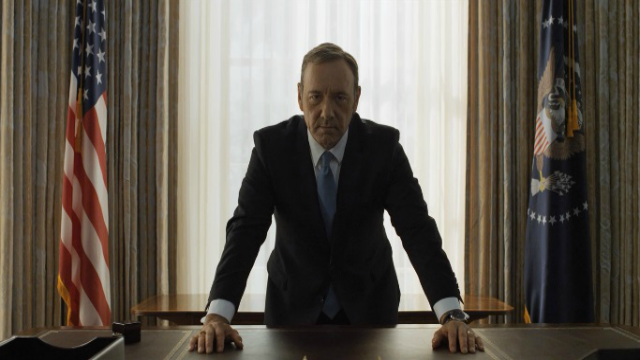 Frank Underwood aveva un solo modo per riuscire ad arrivare allo Studio Ovale: usare la porta di servizio. Conscio fin dal primo secondo che il Presidente Walker fosse influenzabile e manipolabile, il malefico personaggio interpretato da Kevin Spacey si è fatto strada e da membro del Congresso è riuscito addirittura a conquistarsi il posto di Vice Presidente degli Stati Uniti. Fatto ciò, è stato un gioco da ragazzi forzare il giovane Garrett alle dimissioni, vendicarsi dell'onta subita da quest'ultimo con la scelta di Michael Kern e ovviamente conquistare quello che Underwood sognava da sempre: il potere smisurato!