Negli ultimi anni la televisione ha riscoperto il fascino delle produzioni antologiche, ovvero quelle serie tv che di stagione in stagione (a volte anche da un episodio all'altro) cambiano trama, ambientazione e personaggi. Questo tipo di format era molto forte negli anni Novanta quando The Twilight Zone e Alfred Hitchcock Presents erano tra gli show più seguiti e apprezzati dal pubblico. Le puntate erano un concentrato di suspense, mistero e intrigo, spesso i fatti rimanevano inspiegabili e per questo motivo catturavano ancor di più l'attenzione degli avidi spettatori. 
L'idea di uno show antologico si è rifatta viva grazie a Ryan Murphy che con il suo American Horror Story ha riportato in auge il format. Ogni stagione presenta una storia diversa e lo stesso cast (con alcune variazioni) va a interpretare differenti ruoli di anno in anno. Una piccola rivoluzione che ha aperto la porta al ritorno delle produzioni antologiche. Persino The Twilight Zone è stato rispolverato e infuso di nuova vita.   
Una serie tv antologica presenta numerosi vantaggi sia dal punto di vista del fruitore sia da quello dello scrittore. Per il pubblico diventa difficile annoiarsi, quando si incomincia ad abituarsi a personaggi e storie ecco che si deve ricominciare tutto da capo, per lo scrittore, invece, diventa più facile raccontare una storia senza perdersi strada facendo. Una serie antologica diventa quasi un film per struttura e narrazione, più intensa  rispetto a una lunga produzione seriale. Le serie tv antologiche più famose e a noi contemporanee sono American Horror Story, American Crime Story, True Detective, Black Mirror e Fargo. Nell'articolo di oggi vogliamo lasciare spazio a produzioni meno famose ma altrettanto valide e di qualità che molto spesso vengono messe in ombra dalle ben più famose "sorelle". 
Ecco quindi 5 serie tv antologiche poco famose che dovreste assolutamente recuperare! 
1) AMERICAN CRIME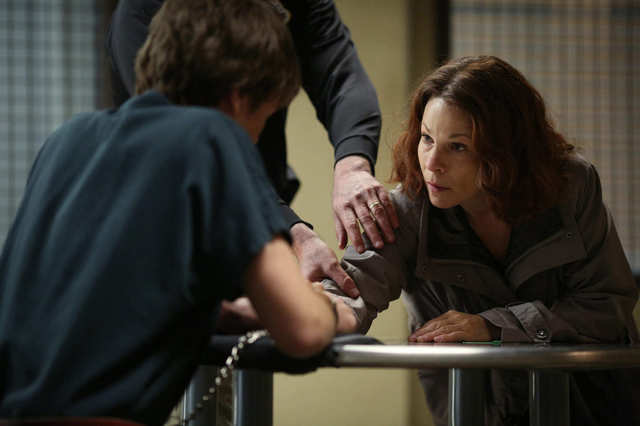 Tra le serie tv antologiche che meriterebbero maggiore attenzione bisogna annoverare sicuramente American Crime. La serie di ABC, premiata agli Emmy, non è famosa quanto dovrebbe e viene magari scambiata per la più nota American Crime Story. Lo show affronta ogni stagione un crimine diverso e si concentra soprattutto sull'aspetto emotivo e sociale. Ambientate ai giorni nostri, le stagioni si occupano di temi molto importanti come il razzismo, il bullismo e le terribile conseguenze che possono derivare da questi due mali. 
Contrariamente a una serie tv come True Detective, American Crime non perde mai il contatto con la realtà, tenendo salda la presa su temi caldi e presenti che (purtroppo) fanno parte della nostra quotidianità. Brillantemente recitato e diretto, American Crime è una serie tv antologica che fa riflettere molto. 
2) PHILIP DICK'S ELECTRIC DREAMS 
L'influenza di Philip K. Dick nel mondo della fantascienza presenta strascichi che continuano ancora oggi. La mente dietro Blade Runner, Minority Report e Total Recall è stata una fonte di ispirazione insostituibile per grandi classici come Matrix, Donnie Darko, The Tuman Show, Inception e molti altri. Era quindi arrivato il momento di rendere ancora omaggio a questo genio letterario dedicandogli un'intera serie tv. 
Una serie tv antologica che adatta alcune delle storie più inquietanti e folli di Dick, una passeggiata lungo il viale degli allucinati sogni dello scrittore. Quella che all'apparenza potrebbe sembrare una copia di Black Mirror (anche il canale è lo stesso), è in realtà un prodotto molto più filosofico e meno ansiogeno. Electric Dreams è un omaggio a uno dei padri della science fiction, un' esplorazione di quei possibili futuri immaginati da Dick e non una discesa negli oscuri incubi del nostro presente, come è appunto Black Mirror.  Un cast eccezionale (Bryan Cranston, Steve Buscemi, Anna Paquin, per dirne alcuni) completa il quadro di una serie antologica da vedere tutta d'un fiato. 
3) CHANNEL ZERO 
La serie tv di Syfy è uno dei prodotti horror che vi capiterà di trovare nel mondo seriale, non una serie adatta a tutti ma se volete mettervi alla prova questo è lo show fatto per voi. Ogni stagione di Channel Zero trae spunto da una famosa creepypasta (il termine deriva da "copy and paste", ovvero "copia e incolla" dato che queste storie venivano diffuse dagli stessi lettori proprio attraverso questo metodo): dal programma televisivo che non si trova più alla casa senza fine, dai cannibali del quartiere all'amico immaginario con tendenze omicide.
Tutte le stagioni sono spaventose, assurde e sembrano nate direttamente dai nostri peggiori incubi. Conclusasi con la quarta stagione, Channel Zero è una serie tv non adatta ai deboli di cuore che trascina il suo pubblico da un incubo all'altro. Quale sia il peggiore è ancora da decidere. 
4) GENIUS 
La serie tv antologica, creata in collaborazione con National Geographic, racconta le vite dei grandi personaggi della storia, quei geni, appunto, che hanno rivoluzionato il mondo in cui viviamo con la loro arte, la loro musica o la loro scienza. La prima stagione si incentrava sulla figura di Albert Einstein, interpretato da Geoffrey Rush (candidato a un Emmy) e Johnny Flynn. Ripercorrendo due periodi diversi della vita del fisico, la prima stagione di Genius va dalla giovane che lottava per ottenere un incarico da docente al genio riconosciuto per l'elaborazione della teoria della relatività. 
La seconda stagione, incentrata sulla figura di Picasso, si divide anch'essa in due blocchi. Gli inizi e la scoperta del proprio talento nella prima parte, il prezzo della fama nella seconda parte. Antonio Banderas veste i panni del celebre pittore che cambiò per sempre il modo di fare e concepire l'arte. 
5) FEUD 
Il talento di Ryan Murphy e la sua creatività non si esauriscono mai. Ecco quindi che accanto a Glee, American Horror Story, American Crime Story e Scream Queens sbuca una nuova creatura. Anche in questo caso di tratta di una serie tv antologica ma di certo più ambiziosa di altre del suo repertorio. Ogni stagione di Feud racconta di una celebre faida della storia, potrebbe sembrare un po' altisonante, ma… vedere per credere. La prima stagione ruota attorno alla rivalità tra Bette Davis e Joan Crawford, due giganti del cinema di una volta, interpretate da due giganti del cinema moderno: Susan Sarandon e Jessica Lange.
La performance straordinaria di queste attrici, impegnate non solo a dar vita a quella famosa diatriba ma anche ai demoni che vivevano all'interno dei rispettivi personaggi, è stata la chiave di volta per lo straordinario successo di Feud. La seconda stagione si incentrerà, invece, sul difficile rapporto fra il principe Carlo e la principessa Diana. 
Insomma, non perdetevi questi gioiellini e straordinarie serie tv antologiche.