Solo una manciata di giorni fa vi abbiamo annunciato la morte di Verne Troyer (leggete qui la nostra news a riguardo), conosciuto in primis per i suoi ruoli cinematografici, ma che ricordiamo anche per quelli seriali. Verne è purtroppo solo l'ultimo di una lunga serie di attori di Serie Tv che negli ultimi anni ci hanno lasciati. Per noi semplici spettatori, nel nostro piccolo, è molto triste quando veniamo a conoscenza della dipartita di queste celebrità del piccolo schermo. Ovviamente il dolore che noi addicted proviamo non è nemmeno lontanamente paragonabile a quello dei loro familiari, ma resta il fatto che questi addii molte volte portano a evidenti ripercussioni nelle Serie, che di colpo si ritrovano doppiamente orfane.
Nell'articolo di oggi leggiamo le dolorose storie di 9 attori di Serie Tv morti nel periodo in cui recitavano nello show che li ha resi popolari.
1) John Ritter – 8 semplici regole
Fu lunga e prolifica la carriera di questo attore davvero sfortunato. Da protagonista partecipò a molte Serie Tv, come Tre cuori in affitto e 8 semplici regole (non dimentichiamoci anche il suo divertente ruolo in Scrubs, in cui interpretava lo scapestrato papà di J.D.). Ritter fu anche protagonista di alcune pellicole come Piccola Peste o il film per la Tv It, il cui personaggio era Ben nella sua versione adulta. Proprio mentre si trovava sul set del suo ultimo show per le riprese, l'attore si sentì male. Un arresto cardiaco a soli 54 anni, dovuto alla dissecazione dell'aorta, gli fu fatale.
La produzione, scossa dalla perdita del suo main character, cambiò il titolo della Serie (da 8 Simple Rules… for Dating My Teenage Daughter a 8 Simple Rules) e decise di far morire il suo personaggio in un incidente in un supermarket, procedendo comunque per altre due stagioni.
Un attore che aveva ancora molto da dare!
2) Andy Whitfield – Spartacus
Abbiamo dedicato ad Andy un intero articolo centrato sulla sua vita, ma cerchiamo qui di riassumerne la storia. L'attore si stava godendo l'enorme successo della stagione di debutto di Spartacus, quando, a seguito di alcuni controlli medici, gli fu diagnosticato un linfoma in stadio avanzato. La produzione della Serie Tv all'inizio si fermò e poi decise di creare una mini-serie senza di lui, Spartacus: Gods of Arena, per permettere ad Andy di riprendersi. Purtroppo una recidiva della malattia rese tutto inutile.
L'attore fu così costretto ad abbandonare il set della seconda stagione dello show, dove era stato confermato. Morì l'11 settembre del 2011, poco prima di compiere 40 anni. La Starz fu quindi obbligata a un recasting e il ruolo del guerriero trace andò a Liam McIntyre, mentre Spartacus: La Vendetta fu dedicata alla memoria di Whitfield.
Andy, ci manchi!
3) e 4) Vadim Schneider e Jaclyn Linetsky– 15/Love

Nel 2003 i due giovanissimi interpreti della Serie Tv si stavano recando sul set per girare la tredicesima puntata della prima stagione, quando il minivan su cui si trovavano ebbe un grave incidente. Vadim venne sbalzato dal mezzo, morendo sul colpo. Jaclyn invece fu estratta viva ma in gravi condizioni e morì poche ore dopo in ospedale, a causa delle tremende lesioni. Il cast e la troupe rimasero ovviamente scioccati e fermarono le riprese per un paio di mesi. Di comune accordo con i genitori delle vittime, la prima stagione di 15/Love fu  comunque mandata  in onda e ne seguirono successivamente altre due.
La produzione rifiutò fermamente l'idea del recasting, così nella storyline i personaggi interpretati da Vadim e Jaclyn morirono a causa di un incidente aereo.
Vicenda tremenda, difficile aggiungere altro.
5) Cory Monteith – Glee
La notizia della morte di Cory, che di lì a breve avrebbe dovuto girare la quinta stagione della Serie Tv di Ryan Murphy, unì gli addicted di tutto il mondo. Poco importa che fossero fan di Glee o meno. Non c'è in pratica cosa che non sia stata detta, gridata o scritta in merito alla sua triste vicenda. La giovanissima età dell'attore e le cause della sua morte (un mix letale di alcol ed eroina), resero questo evento ancora più straziante e difficile da digerire. L'interprete di Finn aveva ancora tutta una vita davanti e almeno due stagioni di Glee in cui presenziare.
Inutile ora stare qui a chiederci come e se le cose sarebbero potute andare diversamente. Cory, nonostante tutto, ci ha lasciato in dono molti episodi che lo hanno visto protagonista ed è così, felice e intenso mentre canta e balla, che vogliamo ricordarlo!
Ma per i fan di Glee pare non esserci pace. Come in molti sapranno, solo pochi mesi fa si è tolto la vita Mark Salling, in seguito (pare) a problemi giudiziari che avevano scioccato noi addicted.
6) Michelle Thomas – Otto sotto un tetto
Forse a primo impatto, il nome e la foto di questa attrice potrebbero non dirvi nulla. Eppure Michelle Thomas partecipò a due tra le Serie Tv 'vintage' più celebri: I Robinson e Otto sotto un tetto. Durante le riprese di quest'ultimo show, la Thomas iniziò ad accusare dei dolori e le fu diagnosticata una rara e maligna forma di cancro allo stomaco. Si sottopose a due interventi chirurgici ma rifiutò inizialmente le cure chemioterapiche, a detta di alcuni per non compromettere la sua possibilità di avere un bambino in futuro.
Continuò a recitare il ruolo di Myra Monkhouse (la ragazza follemente innamorata di Steve Urkel e 'rivale' di Laura) fino allo stremo delle forze, per questo le sue apparizioni si fecero via via più sporadiche durante l'ultima stagione. Quando Michelle cambiò idea e si sottopose ai cicli di chemio, era ormai troppo tardi. Morì pochi mesi dopo, all'età di 30 anni.
Fino all'ultimo le fu vicino proprio l'interprete di Theo ne I Robinson, Malcolm-Jamal Warner, suo compagno anche nella vita reale. Tremendo.
7) Lee Thompson Young – Rizzoli & Isles
Era l'agosto del 2013 e la troupe attendeva l'arrivo dell'attore per completare le scene della nuova stagione della Serie Tv. Allarmata da un ritardo così eccessivo, venne immediatamente richiesto l'intervento della polizia, che si recò nell'abitazione di Lee Thompson Young. L'uomo venne ritrovato privo di vita, ucciso da un colpo d'arma da fuoco. Fu il suo stesso agente a confermare poco dopo che si trattava di un suicidio. Ciò che più sconvolse amici e colleghi era che, in passato, non aveva mostrato segni di depressione o problemi psicologici che potessero spiegare la tragedia. Le cause che lo hanno spinto a uccidersi rimangono ancora ignote.
La produzione di Rizzoli & Isles interruppe per un periodo le riprese. Si pensò anche all'eventualità di cancellarla, ma lo show decise di proseguire fino alle settima stagione.
Il personaggio di Lee, Barry Frost, venne fatto morire nella quinta stagione per via di un incidente automobilistico.
8) Redd Foxx – Sanford and Son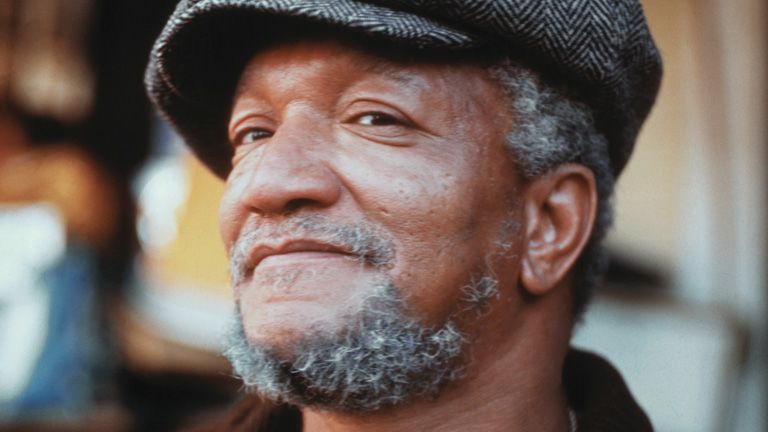 Molti di voi potrebbero non sapere chi sia questo attore, ma sicuramente avrete quantomeno sentito parlare della Serie Tv Sanford and Son, che gli fece vincere nel 1973 un Golden Globe. Nel corso delle riprese di un altro show, The Royal Family, Redd Foxx stramazzò a terra. Il resto del cast e la coprotagonista Della Reese risero, pensando alla gag «Elizabeth! Sto arrivando!», nella quale l'attore simulava un falso infarto come era solito fare in Sanford and Son. 
Non si trattava però di un siparietto comico, ma di un vero attacco cardiaco che non gli lasciò scampo. Foxx morì quasi sul colpo, senza mai riprendere conoscenza.
Forse per un attore comico andarsene così, provocando risate involontarie, è la fine migliore che si possa augurare.
9) Jon-Erik Hexum – Cover Up

Attore tristemente noto più per il terribile incidente che ne segnò la fine, che per la Serie Tv semi-sconosciuta di cui era protagonista. In un momento di pausa tra un ciak e l'altro della prima stagione, Hexum prese una pistola caricata a salve e per 'gioco' se la puntò alla tempia, premendo il grilletto. Nonostante non ci fosse un vero proiettile, il colpo creò una pressione tale da perforargli il cranio. Venne immediatamente trasportato in ospedale dove subì un delicato intervento chirurgico, che risultò vano. Dopo sei giorni di coma morì e la famiglia autorizzò l'espianto degli organi per la donazione.
Le registrazioni ripresero dopo un mese circa e il personaggio di Marc Harper venne ucciso in azione. Il ruolo del nuovo protagonista venne poi affidato all'attore britannico  Antony Hamilton.
Cover Up, segnata da questa tragedia, non godé di successo e venne cancellata poco dopo.
Insomma, un'autentica valle di lacrime! Oltre a rendere omaggio a questi attori, raccontando le loro storie tristi e sfortunate, non possiamo far altro che tenerci strette le Serie Tv dove hanno brillato e che ce li ricorderanno per sempre.