Il 2019 sarà un anno fatidico per le serie tv. Ci aspettano i grandi ritorni degli assenti del 2018 e nuovi show pronti a premere l'acceleratore per accaparrarsi la corona della serie più vista. Ma ci saranno anche svariati addii, primo fra tutti quello di Game of Thrones. Ma prima di salutare l'anno siete sicuri di avere una conoscenza a 360° delle serie tv 2018?
Non è ancora tempo di fazzoletti, riponeteli fino ad aprile, e nel frattempo recuperate quello che vi siete persi. Perché c'è più roba di quel che credete!
Come ad esempio: la terza stagione di Insecure, serie tv dal sapore dramedy che tocca temi sociali e razziali, esplorando la vita di due ragazze di colore. Composta attualmente da tre stagioni, le prime due sono disponibili sui Box Sets di Sky!
Oppure la chiacchierata miniserie The Little Drummer Girl: trasposizione televisiva del libro di John Le Carré (tradotto in La tamburina) ancora inedito in Italia. Una miniserie con una regia favolosa e un cast di tutto punto, sostenuto da una trama intricata e sofisticata che rende perfettamente onore alla sua origine cartacea.
Queste erano giusto l'antipasto! Qui di seguito troverete una carrellata di serie tv 2018 di nicchia e/o ancora non sbarcate sul suolo italiano. Let's start!
1) Derry Girls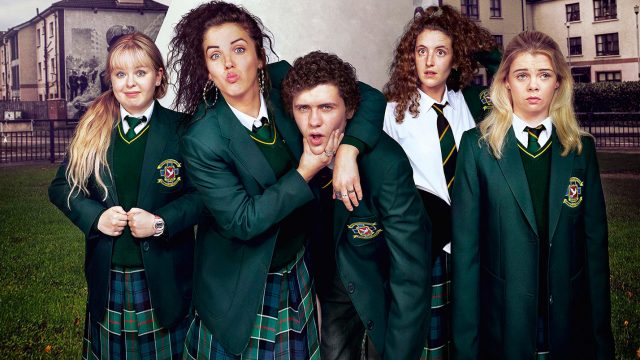 Derry Girls è la serie tv più simile a Gossip Girl, se le ragazze fossero state irlandesi, senza un soldo e ubriacone.
Una comedy che non ti aspettavi, che ignoravi perché pensavi fosse troppo teen drama per i tuoi gusti. Rinsavisci e corri a guardarla! Genuinamente divertente e fresca, regala delle sane risate senza tralasciare un messaggio di fondo per nulla banale. Un'ottima serie di formazione, irriverente e con un background per nulla sempliciotto: infatti le vicende si svolgono nel 1992, in un periodo ancora in pieno conflitto nazionalista irlandese.
A Derry vivono Erin (Saoirse-Monica Jackson), sua cugina Orla (Louisa Harland) e le loro amiche Clare (Nicola Coughlan) e Michelle (Jamie-Lee O'Donnell), presentate come un piccolo gruppo di assolute sfigate. Le ragazze frequentano una scuola per sole femmine, guidata da una suora burbera ed essenzialmente stufa dalla vita. La serie ci racconta le disavventure tragicomiche di queste cinque adolescenti bizzarre, alle prese con la loro reputazione a scuola o con la ricerca dei soldi per la gita scolastica, normalizzandole a tal punto da sembrare fuori contesto rispetto all'ambientazione, che sembrerebbe sull'orlo perenne di una guerriglia tra protestanti e cattolici.