6) Brickleberry
Ambientata nel parco nazionale americano di Brickleberry, gestito da una serie di incompetenti, razzisti, omofobi, ninfomani, erotomani, gerontofili, completi idioti e chi più ne ha, più ne metta, questa Serie Tv cartoon fa un passo oltre ai Simpson, ormai quasi per educande, o ai prodotti di Seth MacFarlane.
Sì, perché qui si parla tranquillamente di stupri, omicidi, incesti, violenze di tutti i tipi, il linguaggio è da censura, insomma, tutto ciò che fa politicamente scorretto.
Solo che è eccessivo e sfonda quindi il muro del trash, perché Brickleberry va ben oltre il trash ed è solo per stomaci veramente forti.
7) The Orville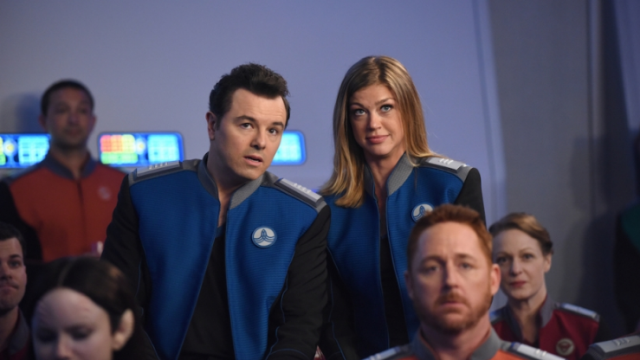 Pur da grandissima fan di Seth McFarlane, mi duole dirlo, ma The Orville è trash: sembra che neanche gli stessi attori siano completamente convinti di essere lì, sono rigidi, impacciati e, per quanto l'idea sia geniale, non è stata sviluppata come si deve.
Le battute sono trash, non fanno ridere, ma ti lasciano lì come quando qualcuno tenta di raccontarti una barzelletta che non fa ridere e tu rimani lì, con quel sorriso finto di cortesia che mette in imbarazzo tutti. Ecco il senso del trash di questa Serie Tv.