L'odio non è solo l'altra faccia dell'amore, ma a quanto pare anche dell'amicizia. È ciò che insegnano alcuni rapporti delle serie tv a cui la sceneggiatura ha assegnato risvolti totalmente inaspettati rispetto a quelli che sono stati i loro albori. Scrubs, The Walking Dead, The Good Place: sono solo alcuni dei casi che hanno visto due personaggi passare da una condizione di ostilità e diffidenza reciproche a una, diametralmente opposta, di accettazione, collaborazione e addirittura affetto, palesato in maniera più o meno esplicita. Dov'è successo di assistere a un cambiamento così radicale da parte di legami partiti decisamente con il piede sbagliato?
Scopriamolo con la lista dei sette nemici delle serie tv che sono diventati amici fraterni.
1) Clarke Griffin e Bellamy Blake (The 100)
All'inizio di The 100 Clarke Griffin e Bellamy Blake sembrano destinati ad essere cane e gatto. Responsabile e razionale lei, sconsiderato e ribelle lui, sin dal giorno dell'approdo sulla Terra finiscono per scontrarsi sulle strategie da adottare e le decisioni da prendere per garantire la sopravvivenza dei loro compagni. Ne derivano faccia a faccia tenuti a muso duro, provocazioni e addirittura minacce. Con il tempo quelle che sembravano differenze insanabili diventano i bordi tramite cui avviene un incastro insospettabilmente perfetto. Complice la maturazione a cui Bellamy va incontro, lui e Clarke instaurano un rapporto di fiducia e rispetto che li porterà a diventare leader sinergici e complementari. La mente e il cuore, come loro stessi affermano in merito al loro operato. Clarke e Bellamy si sostengono a vicenda, si equilibrano e nutrono l'uno per l'altra un bene a cui l'ultima stagione non ha decisamente reso giustizia.
2) Michael e Eleanor Shellstrop (The Good Place)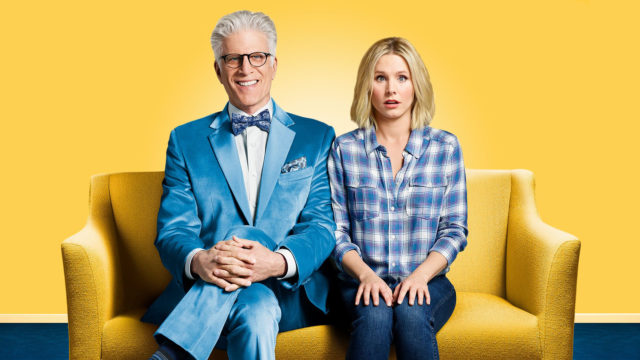 Può un'anima dannata diventare amica del demone che si è divertito a torturarla? Michael e Eleanor di The Good Place ci insegnano che, in barba a ogni previsione, la risposta all'interrogativo è sì. Michael è l'architetto che ha costruito la cosiddetta parte cattiva, fatta passare per parte buona con coloro che vengono smistati al suo interno. È proprio Eleanor a scovare l'inganno, facendo saltare il meccanismo posto alla base dell'ingegnoso sistema. Nel momento in cui avviene la rivelazione il suo rapporto con Michael sembra configurarsi come il più classico degli antagonismi, eppure evolve in qualcosa di completamente differente. Di fatto, i due diventano il catalizzatore dei reciproci percorsi di evoluzione: Michael aiuta Eleanor a guadagnarsi l'accesso alla parte buona (quella vera) e Eleanor guida Michael alla scoperta di quell'umanità nascosta dentro al suo involucro demoniaco, facendogli conoscere una versione di sé più vera e indubbiamente migliore rispetto alla precedente.
3) Bob Kelso e Perry Cox (Scrubs)
Parliamo di quello che unisce due dottori indubitabilmente iconici di Scrubs: Bob Kelso e Perry Cox. Sin dalle prime battute Scrubs li dipinge come poli opposti. Kelso è il medico infido e arrivista interessato al denaro prim'ancora che alla salute dei pazienti; Cox, al contrario e a dispetto del cinismo dietro cui si scherma, è quello che esercita la professione con il cuore oltre che con gli arnesi da lavoro, quello a cui importa. Lo scontro prosegue fino a quando Cox non diventa il primario di chirurgia del Sacro Cuore. La nuova posizione che la promozione lo porta a occupare gli permette di comprendere meglio Kelso e le motivazioni da cui è mosso, motivazioni meno egoistiche di quanto gli sia sembrato fino a quel momento. I due cominciano a condividere serate, esperienze e riflessioni; Cox trova in Kelso una guida inaspettata e Kelso individua in Cox il suo degno erede.
4) Grace Hanson e Frankie Bergstein (Grace e Frankie)
Dopo Scrubs, ecco un'altra serie che ha portato ad avvicinarsi due personaggi posti agli antipodi.
Si tratta di Grace e Frankie e delle sue istrioniche protagoniste: Grace Hanson e Frankie Bergstein. Le due donne sono come il giorno e la notte e tra gli estremi che incarnano sembrano non poter esserci punti di incontro. La svolta è portata dal coming out dei loro mariti: soci in affari da oltre vent'anni, confessano di essersi sempre amati in segreto e di voler uscire allo scoperto unendosi in matrimonio. Per il tramite della convivenza forzata che si ritrovano a intraprendere dopo i rispettivi divorzi, Grace e Frankie passano dalla rivalità a un amore – platonico sì, ma pur sempre tale – che nessuna delle due si sarebbe aspettata di arrivare a nutrire. A farlo nascere è la consapevolezza di poter contare l'una sull'altra nonostante i trascorsi non idilliaci che hanno alle spalle.
5) Arya Stark e Sandor Clegane (Il Trono di Spade)
Una fonte di guadagno e un nome da spuntare dalla lista dei suoi nemici. È questo che Arya Stark e Sandor Clegane sono l'uno per l'altra all'inizio del travagliato rapporto che li vediamo instaurare in Game of Thrones; ma in mezzo all'avversione e alla diffidenza si fa strada un sentimento diverso, un misto di empatia e rispetto reciproco che nel momento del ricongiungimento li porta a deporre le armi e camminare fianco a fianco verso i rispettivi obiettivi. È proprio il Mastino a convincere Arya a cambiare strada, indirizzandola lontano da quei propositi di vendetta che lo hanno consumato per tutta la vita e che lo condurranno alla morte. Sarebbe stato impossibile prevederlo, al tempo in cui le loro strade si sono incrociate, ma le ultime parole che Arya rivolge a Sandor sono una sentita espressione di gratitudine e fotografano alla perfezione l'evoluzione che il rapporto tra i due ha subito nel corso del tempo.
6) Emma Swan e Regina Mills (Once Upon A Time)
A Emma Swan la trama di Once Upon A Time assegna un compito preciso: liberare gli abitanti di Storybrooke dal sortilegio di cui sono vittime e rispedirli nel regno delle favole. Ad aver lanciato l'incantesimo è la Regina Cattiva, che nel mondo reale ha assunto l'identità di Regina Mills, sindaca della cittadina. I ruoli di Emma e Regina sembrano seguire il più classico dei canovacci disneyani, quello che vede l'eroina di turno scontrarsi con la sua nemica designata in una riproposizione dell'eterna lotta tra bene e male. Emma e Regina ristrutturano totalmente quest'impostazione, passando dalla rivalità a un rapporto fatto di stima, collaborazione e affetto rispetto al quale Henry, figlio naturale di Emma che Regina ha adottato, rappresenta il collante.
7) Daryl Dixon e Rick Grimes (The Walking Dead)
Tra Rick Grimes e Daryl Dixon di non è stato amore a prima vista. All'inizio di The Walking Dead i due ricoprono un ruolo molto diverso rispetto all'economia del gruppo che lotta per la sopravvivenza. Rick si afferma come capo dei superstiti, mentre Daryl è un outsider dall'animo solitario che avrà bisogno di tempo per integrarsi. Sin da subito però riconosce e accetta la leadership di Rick, e questa legittimazione rappresenta il primo passo di quel percorso che lo porterà a diventare il suo braccio destro. Non si tratta solo di lavoro di squadra: nel corso delle stagioni Rick e Daryl si avvicinano a tal punto da arrivare a considerarsi fratelli e da fare qualsiasi cosa per l'altro.
Una curiosità: Andrew Lincoln e Norman Reedus, gli attori che prestano il volto ai due personaggi, a furia di anni passati a condividere il set sono diventati amici altrettanto stretti.