Grace and Frankie è una brillante serie tv comedy del 2015. Nasce dalle mani sapienti di Marta Kauffman, che è stata anche la produttrice della serie tv Friends. Grace and Frankie racconta la vite due donne settantenni, interpretate magistralmente da Jane Fonda (Grace) e Lily Tomlin (Frankie), che viene stravolta dalla relazione dei loro due mariti. Dopo anni passati a fingersi semplici colleghi di lavoro e amici occasionali, Sol e Robert decidono di organizzare una cena insieme alle loro mogli per dire la verità una volta per tutte. Si sono sempre amati in segreto e ora non vogliono più nascondersi, anzi vogliono sposarsi. Grace e Frankie si sono frequentate grazie ai loro mariti, ma non avevano assolutamente nulla in comune, anzi. Il loro rapporto è sempre stato basato su frecciatine e prese in giro sottili. Hanno un carattere diametralmente opposto ed è anche questo a rendere comica la loro accoppiata. Grace è una donna chic e raffinata, amante del bello e dell'eleganza, mentre Frankie è una donna sopra le righe, stravagante e anche po' squinternata.
Grace and Frankie ritrae la difficile costruzione di un'amicizia.
Il gioco di contrappesi che si crea tra queste due donne è ciò che porta avanti tutta la serie. Si ritrovano sole, divorziate e senza più certezze. L'ultima persona alla quale avrebbero mai pensato di rivolgersi è invece quella che si rivela un'ancora di salvezza. Rivelazione non di certo divina, ma con qualcosa di provvidenziale. La costruzione però della fiducia reciproca, come dell'amicizia vera e propria, implica un grande sforzo che all'inizio né Grace né Frankie sembrano voler compiere. Nei primi episodi della prima stagione, si trovano casualmente entrambe nella casa al mare e mal sopportano le abitudini reciproche. Frankie ha allestito un angolo spirituale in cui fare yoga e fumare marijuana che Grace vorrebbe vedere sparire il più presto possibile. Un piccolo momento di svolta arriva pochi episodi dopo, quando Grace si fa male scivolando per terra e si rende conto che ad aiutarla ci sarebbe solo Frankie. Immagina le cure premurose, seppur sempre stravaganti e anticonvenzionali, che questa hippie eccentrica le rivolgerebbe. L'amicizia di una persona altruista e sincera è quanto di meglio Grace potrebbe mai sperare.
Grace and Frankie ci dimostra quindi quanto bisogna essere disposti a trovare dei compromessi per far sì che una relazione funzioni. Iniziano a vivere insieme controvoglia ed è tutt'altro che una convivenza facile, ma proprio perchè non è tutto rose e fiori che queste donne trovano la tenacia e la forza di andare avanti. Continuano a punzecchiarsi e a trovare insopportabili dei comportamenti reciproci, ma con il passare del tempo si rendono conto che ormai possono contare solo l'una sull'altra.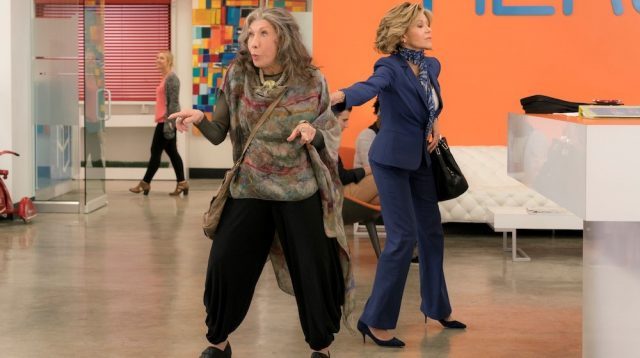 Grace and Frankie ci ha anche regalato un enorme scavalcamento di stereotipi. L'amicizia tra donne viene a volte rappresentata, anche nelle serie tv, come un rapporto superficiale. Le amiche delle serie tv, come nello stereotipo più comune, parlano solo di borse e di make up oppure sono invidiose e in continua competizione l'una con l'altra.
Grace and Frankie ci dimostra invece come essere diversi sia possibile.
Non c'è superficialità nel loro rapporto perché entrambe stanno attraversando una tempesta inaspettata che le cambierà per sempre. Non c'è nemmeno gelosia o rancore perché sono talmente diverse che pensano di appartenere a due pianeti differenti.
Insieme alla difficoltà di vedere il proprio compagno di una vita prendere un'altra strada, per loro si aggiunge la complicazione dell'età. Non sono più due ragazzine con una vita davanti, anzi sono vicine agli ultimi giri di boa. Anche la vecchiaia in questa serie viene affrontata in modo divertente e sarcastico, senza sfociare mai nei luoghi comuni e nella banalità. Man mano che l'età avanza, Grace and Frankie ci ricorda di come la femminilità non sia qualcosa a cui si deve rinunciare. Entrambe riscoprono il loro essere donne, l'attrazione fisica e cosa significhi venire corteggiate. Prendersi cura di se stesse, anche in quanto donne, è qualcosa che le nostre protagoniste scoprono con il tempo. Iniziano a mettere al primo posto, per la prima volta in tutta la vita, solo loro stesse. Di nuovo, gli acciacchi dell'età però si fanno sentire e ignorarli a lungo andare è controproducente, oltre che estremamente comico. Loro però ne fanno tesoro ed imparano, l'una dall'altra, ad accettare l'inevitabile.
L'amicizia speciale che lega Grace e Frankie non è basata su un'affinità personale, come già detto, altrimenti le due si respingerebbero come poli opposti. Tuttavia il loro legame è davvero forte, allora quale può essere la causa?
Sono le uniche al mondo a vivere questa strampalata situazione. Nessun altro, compresi i loro figli, è in grado di comprendere che cosa significhi scoprire, dopo più di vent'anni, che tuo marito vuole sposare un altro uomo. Ed è stata questa la prima breccia, la più importante, che ha permesso ad un piccolo varco di aprirsi. Entrambe, nel loro dolore, riconoscevano di essere sole. Finché non hanno aperto gli occhi e trovato, proprio lì accanto a loro dove non se l'aspettavano, qualcuno che portava lo stesso fardello.
La loro amicizia nasce così. Essendo ormai tardi per stravolgere la propria vita una seconda volta, si ritrovano l'una con l'altra. L'amicizia si trasforma poi in amore, come accade spesso, quando ti rendi conto che senza l'altra persona sei perduto. Grace non potrebbe più tornare a casa senza sentire l'odore di incensi di Frankie, le parrebbe innaturale e così viceversa. Hanno anche provato a separarsi, a prendere strade diverse, ma non è più possibile. Frankie si trasferisce a Santa Fe insieme a Jacob e nonostante la possibilità di liberarsi di Grace, ormai quella a Santa Monica è casa sua e le manca troppo.
Hanno bisogno l'una dell'altra in ogni modo possibile. Ed è così tanto diverso da ciò che si prova a stare con la persona che si ama? Probabilmente, no. A differenza dei loro mariti Grace a Frankie non hanno nessuna intenzione di fare coming out. Eppure basta leggere un po' tra le righe per vedere come sia sempre e comunque l'amore a muovere il sole e le altre stelle e ad avere regalato a queste due donne eccezionali un'amicizia altrettanto unica.