Non tutte le scelte che vengono fatte all'interno di una serie tv sono volute. A volte accadono per problemi interni, altre volte a causa di errori. A volte però, come abbiamo vissuto quest'anno con il lockdown dovuto alla pandemia, il tutto avviene a causa di fattori esterni.
Poco più di un decennio fa, esattamente il 5 novembre 2007, iniziò uno degli eventi che più avrebbe segnato il mondo delle serie tv. Colossi come Breaking Bad, Prison Break, solo per fare due nomi si trovarono impossibilitati a proseguire regolarmente. Ma spieghiamo bene i fatti.
Quello che oggi viene ricordato come lo "Sciopero degli sceneggiatori del 2008" (o 2007-2008) fu un evento iniziato a seguito di mancati accordi dei sindacati delle due Writers Guild Of America: East e West (WGAE e WGAW), con la Alliance of Mortion Picture and Television Producers (AMPTP), un'associazione che rappresentava 397 delle più famose case di produzione cinematografica e televisiva degli Stati Uniti.
Senza scendere troppo nel dettaglio, gli sceneggiatori chiedevano un incremento dei benefici degli sceneggiatori proporzionalmente agli introiti delle produzioni.
Lo scioperò durò per un totale di 14 settimane e due giorni, concludendosi il 12 febbraio 2008 dopo quattro giorni in cui venne steso ed approvato un accordo tra le parti. Fu uno sciopero di proporzioni incredibili non tanto per il numero di persone che vi parteciparono, oltre dodicimila, ma per il suo grande impatto economico.
Quelle 14 settimane vennero a costare all'industria dell'intrattenimento una perdita stimata di 1,5 miliardi di dollari. Serie come Supernatural, The Big Bang Theory o How I Met Your Mother subirono la diminuzione di episodi per la stagione successiva. Un qualcosa a cui andarono contro quasi tutti i prodotti in preparazione in quel periodo.
Ma cosa hanno di speciale queste cinque serie tv che andremo ad analizzare?
Su questi cinque prodotti, lo sciopero del 2008 creò delle vere e proprie reazioni a catena che si tramutarono in lati positivi, negativi o addirittura in entrambi. Quindi partiamo subito e vediamo nel pratico
1) Scrubs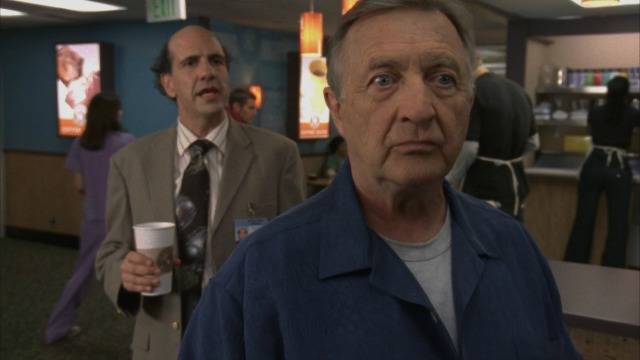 L'iconica comedy di Bill Lawrence subì le conseguenze nella sua settima stagione. Ed è forse uno dei prodotti che ha più saputo lavorare sul massimizzare i lati positivi.
La settima stagione di Scrubs, ristretta nei suoi undici episodi, riuscì a dare il meglio di sé concentrandosi su un argomento ed un personaggio in particolare: Bob Kelso.
La scarsa quantità di puntate tra quando si scoprì che era prossimo al pensionamento e il suo effettivo addio, diedero un forte senso di rapidità al tutto. Gli spettatori si trovarono in un vortice di emozioni canalizzato nella puntata dell'addio al Sacro Cuore.
Inoltre, tutti gli argomenti che avrebbero dovuto essere affrontati nel resto delle puntate, vennero convogliati nell'ottava stagione. Regalando agli spettatori diciannove episodi, ognuno pregno di contenuti, argomenti e significati. Probabilmente una delle, se non proprio la, stagione più bella e amata dello show.