La Casa de Papel, Buffy l'ammazzavampiri, 13 Reasons Why. Serie diversissime tra loro per trama, protagonisti e villain da affrontare (leggete qui se volete scoprire la classifica di quelli che non siamo mai riusciti a dimenticare) che però hanno qualcosa in comune lo stesso.
Ovvero: un personaggio talmente noioso da mettere a dura prova il nostro coinvolgimento con la serie.
In alcuni casi si tratta solo di un personaggio marginale, in altri è proprio il protagonista stesso a farci sbadigliare più del necessario o la sua conquista sentimentale. Fatto sta che in alcune serie avremmo gioito volentieri della fuoriuscita dal cast di uno di questi soggetti e in alcuni casi siamo stati addirittura accontentati!
Colpevoli di averci ammorbato con pipponi senza fine sulle loro turbe amorose (vedi alla voce Dawson's Creek) o di averci stressato con deleteri e inconcludenti colpi di testa (La Casa de Papel docet), eccoli tutti raccolti di seguito nella lista nera della noia seriale!
10) Clay Jensen – 13 Reasons Why
Inauguriamo questa classifica con il pallido e tormentato Clay.
Va bene che 13 Reasons Why non è American Pie e non si può di certo pretendere che il suo protagonista abbia chissà quale vitalità Stifleriana da esibire in scena, ma neanche che già in un telefilm che parla di bullismo, stupri e suicidio ci si metta anche un protagonista piatto come l'addominale della Ratajkowski.
Almeno al filo conduttore della serie gli autori potevano concedere un po' di grinta in più ecco.
9) Dawson Leery e Joey Potter – Dawson's Creek
Continuiamo con un duo inossidabile se si parla di noia e serie tv.
Questa coppia qui sopra è colpevole di aver triturato la nostra pazienza adolescenziale con un'infinità inutile di sermoni sulla serietà sentimentale in età puberale che il salto da Piccoli problemi di cuore a Piccoli Brividi è stato cortissimo.
Volevamo sceglierne solo uno in rappresentanza della serie più melensa che gli anni Duemila ricordino ma decretare il più noioso tra i due è come tentare di dimenticare il meme dove Dawson Leery piange disperato sul molo dopo l'ennesimo bidone di Joey. Impossibile farlo.
8) Riley Finn – Buffy l'ammazzavampiri
Il clou della fantascienza raggiunto in Buffy l'ammazzavampiri è stato quando hanno voluto farci credere che la Cacciatrice, dopo le montagne russe con Angel e il continuo amore/odio flirtereccio con Spike, potesse davvero trovare entusiasmante la relazione con Ken versione Marines dell'occulto.
Monoespressivo ed eccitante come un rogito notarile, l'amore universitario di Buffy sembrava essersi ritrovato per sbaglio sul set della Cacciatrice mentre cercava la strada per quello di Settimo Cielo.
Sicuramente l'unica volta in cui i sussulti amorosi di Buffy non ci sono mancati affatto.
7) Andrea Zuckerman – Beverly Hills 90210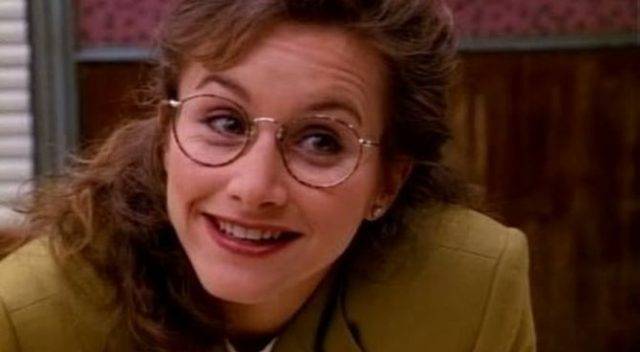 L'entrata in scena della brillante e studiosa Andrea in Beverly Hills 90210 era sempre il momento perfetto per assentarsi dalla visione dell'episodio della serie più popolare degli anni '90 per correre a prendere qualcosa da mangiare o per fare pausa bagno.
Non fraientendeteci, gli autori hanno fatto solo che bene a diversificare l'universo femminile rappresentato nella celebre serie californiana affiancando il personaggio della Zuckerman a quelli più stereotipati di Kelly, Brenda e Donna.
Detto questo potevano anche non vestirla come una testimone di Geova in ogni occasione e smettere di farla polemizzare pure sugli omaggi in profumeria.
Andrea e i suoi predicozzi da quarantenne non erano credibili né per una sedicenne né per una quarantenne che guardava la serie cercando di ritrovare le emozioni del suo passato trovandoci invece le ramanzine di sua madre.
6) Marissa Cooper – The O.C.
La scatenata principessa di Newport Beach ha finito per stare sulle palle a metà dei fan di The O.C. a causa di tutti i suoi crolli emotivi, le sue folli ribellioni contro tutto e tutti e le sue trasgressioni da bad girl incompresa.
Come il parente che ad ogni matrimonio si ubriaca senza controllo finendo per fare sempre qualcosa di epicamente imbarazzante, anche Marissa le prime volte rendeva i suoi exploit adolescenziali degni di nota finendo poi per diventare un cliché scontato e ripetitivo.
Nonostante fosse in fin dei conti il perno su cui ruotava buona parte dello show – e andandosene ne ha decretato infatti la prematura chiusura – il personaggio di Marissa, così sempre estremamente fuori controllo, aveva finito per annoiare e infastidire nonostante la sua vita scalmanata fosse tutto fuorché noiosa.
5) Tokyo – La Casa de Papel
Eccone un'altra che come la biondina che la precede in classifica ha iniziato a darci sui nervi con tutti i suoi prevedibili colpi di testa.
Ormai l'equazione ne La Casa de Papel:
Professore / Piano+Rapina = Tokyo defenestra un ostaggio perché ha Saturno contro
L'abbiamo imparata tutti a memoria. Il giorno che la procace criminale riuscirà a rispettare un piano, mantenere la calma e non cercare sempre di far scattare una rissa nel pieno di una rapina nazionale in mondovisione, potremo dire che la protagonista de La Casa de Papel ha smesso davvero di annoiarci. Spoiler: quel giorno non esiste.
4) Caroline – New Girl
Di tutte le conquiste di Nick Miller, la sua ex storica Caroline è proprio quella che non ci spieghiamo affatto.
Insipida e noiosetta aveva la peculiarità di riuscire sempre a incombere sulla vita di Nick nel momento meno opportuno proiettando anche sull'inquilino più imprevedibile della nostra Jess un'aurea di noia borghese insopportabile.
Senza dimenticare che risultava sempre come l'elemento estraneo che tentava di dividere l'indimenticabile gruppo del loft di Los Angeles.
3) Matt Donovan – The Vampire Diaries
Il povero Matt, per quanto ci abbia provato, non è mai stato capace di sganciarsi dall'immagine del belloccio sensibile ma sfortunato, costantemente rimbalzato dalle bellone della serie innamorate dei cattivi ragazzi, finisce 9 volte su 10 per fare la parte dell'ostaggio da salvare.
Noia. Noia maledetta noia ogni volta.
2) Clark Kent – Smallville
Sarà stato anche il protagonista di una delle serie teen più seguite degli anni 2000, ma amici… che palle questo ragazzo.
Stessa espressione qualunque cosa facesse nella vita. Volare, cadere dal terzo piano, sventare una rapina, baciare la più bella della scuola.
In favore della stantia e soporifera ideologia del bravo ragazzo umile e timido sempre e comunque, Clark Kent non si scomponeva mai. Tutte gli morivano dietro al liceo – ci credo era alto come un canestro e aveva due spalle larghe come un frigorifero – eppure ci arrivava sempre per ultimo a capirlo e tassativamente si faceva da parte in favore dello stronzetto che poi avrebbe messo la bella di turno nei guai.
Stereotipato fino al piattume caratteriale, di tutte le versioni della storia di Superman il Lex Luthor Team non è mai stato più gremito come negli anni in cui Tom Welling gigionava davanti allo schermo per dieci minuti abbondanti prima di prendere anche la più semplice delle decisioni.
1) Bran e Sansa Stark – Game of Thrones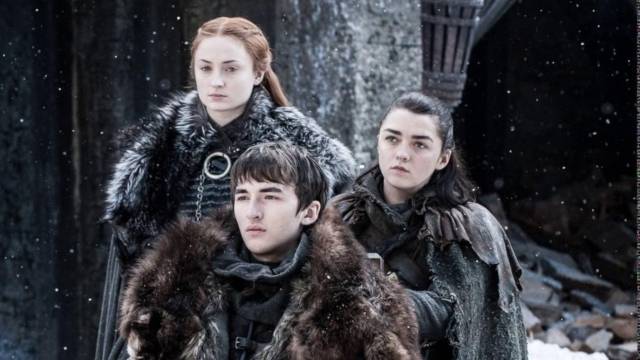 Difficile decidere chi tra questi due sia meritevole in pieno del primo posto di questa ingloriosa classifica.
Urge anche fare qualche precisazione a distanza di un anno bello pieno dalla fine della serie più chiacchierata degli ultimi dieci anni.
Sansa ha meritato il titolo di Regina della lagna e della noia per ben cinque stagioni ma dobbiamo ammettere che dalla sesta in poi qualcosa nell'animo della rossa di Grande Inverno si è finalmente smosso, regalandoci infine emozioni davvero indimenticabili.
Il discorsetto fatto con la stessa espressione impassibile di Miranda Priestly a Ditocorto sul tema "La prima volta che mi freghi è colpa mia, la seconda è colpa tua e faccio sbranare la tua carcassa dai metalupi" giusto un attimo prima che la sorella lo sgozzi all'apericena ha fatto storia.
Senza dimenticare la sua partecipazione decisiva dietro le quinte alla Battaglia dei Bastardi, le frecciatine a Daenerys in tempi di guerra, il primo premio alla fiera dello Spifferone Invernale ai danni del cugino Jon Snow e la presa di posizione all'assemblea d'istituto al grido di il Nord è mio e tieni giù quelle mani Brandon che te le taglio.
È quindi doveroso assegnare il premio proprio a lui, al fratello minore che ha fatto il percorso inverso della sorella maggiore. È partito con della spinta e ha finito per dormire e proferire quattro parole in croce in due stagioni intere.
Nemmeno l'incoronazione più contesa di tutti i Sette Regni lo ha convinto a mostrare un accenno di entusiasmo, neanche quello sufficiente a farlo partecipare alla puntata!