Ricreare atmosfera e sensazioni di una serie tv? Molti hanno tentato l'impresa attraverso gli spin-off. Rendere protagonista un personaggio che nella serie madre è secondario, però, può rivelarsi una scelta infelice. Un esempio è proprio Joey, nato dalla sitcom più celebre e amata di sempre. Fare leva e stuzzicare l'attenzione dello stesso pubblico del prodotto principale non è semplice e spesso non basta a garantirne la sopravvivenza. Altre volte, invece, il successo delle serie secondarie è imprevedibilmente positivo, basti pensare a Better Call Saul o a The Originals, così tanto amate da essere paragonati alla loro serie madre.
Ricostruire una storyline principale coerente e appassionante senza essere ripetitivi o scadere nel "già visto" e nel banale è complicato. Gli spin-off che vi presentiamo in questo articolo, purtroppo, non sono riusciti a eguagliare l'originale da cui sono state tratte finendo, nella maggior parte dei casi, nel cassetto delle serie da dimenticare.
Oltre a Joey, ecco a voi la classifica dei 10 peggiori spin-off nella storia delle serie tv.
10) The Golden Palace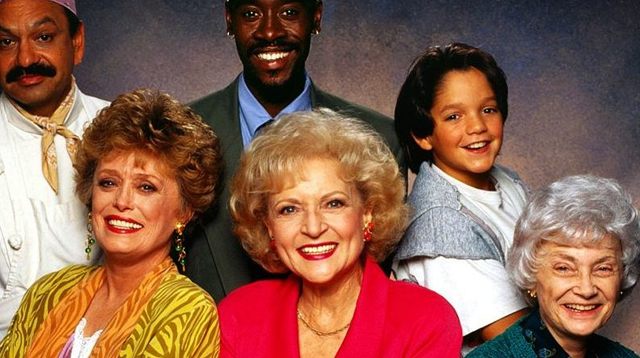 Composta da una sola stagione andata in onda tra 1992 e 1993, The Golden Palace (Cuori al Golden Palace) è lo spin-off di The Golden Girls. A causa di un deludente indice d'ascolto, la CBS è stata costretta a bloccare la produzione della seconda stagione, fino a cancellare del tutto la serie. Concepito inizialmente come un sequel, The Golden Palace si concentrava sulle protagoniste di The Golden Girls e sul loro complicato tentativo di gestire un albergo. Un primo esempio di come non sia sufficiente accalappiare il pubblico con personaggi conosciuti e amati se non si è in grado di sviluppare le loro storie nel migliore dei modi.
9) Once Upon a Time in Wonderland
È facile capire già dal titolo come questa serie sia lo spin-off di Once Upon a Time, i cui creatori hanno di recente presentato per Disney+ la nuova serie sulle favole, Epic (qui trovate tutti i dettagli). Trasmesso nel 2013 dall' ABC, questa serie ha come protagonista Alice che, però, non ha alcun ruolo nella serie madre. Catapultata nell'Inghilterra vittoriana dopo essere stata nel Paese delle Meraviglie, la giovane si trova ad affrontare tutte le conseguenze del suo viaggio fantastico. Nonostante sia stata cancellata dopo una sola stagione, la serie è autoconclusiva, grazie al sesto senso dei produttori che, forse, avevano già previsto un calo di ascolti.
8) Young Americans
Eguagliare Dawson's Creek, serie adolescenziale che ha segnato la vita di generazioni di ragazzi non è impresa da poco e, purtroppo, il suo spin-off Young Americans ha fallito miseramente. Andata in onda nel 2001, Young Americans è differente dalla serie da cui è tratta. Protagonista è Will Krudski, studente vincitore di una borsa di studio per una scuola estiva, già comparso nella terza stagione di Dawson's Creek. Con un giovanissimo Ian Somerhalder e una Kate Moennig altrettanto adolescente, lo spin-off non ha comunque saputo rendere giustizia al suo originale, di cui gli mancava la capacità di coinvolgere emotivamente un pubblico abituato a ridere e piangere con Dawson, Joey, Pacey e Jen. Dopo solo 8 episodi, infatti, è stato cancellato.
7) Joey
Noto a quasi tutti i fan di Friends, Joey è stato un infelice tentativo di dare più spazio a un personaggio tanto amato per l'ironia e la leggerezza con cui affronta la vita. Andato in onda subito dopo la fine di Friends, questo spin-off si concentra sulla vita di Joey Tribbiani che, dalla Grande Mela, si trasferisce a Los Angeles per fare carriera come attore. Nonostante la prima stagione non avesse soddisfatto le aspettative, i produttori hanno deciso di provare con una seconda, a seguito della quale, però, la serie è stata cancellata. Impossibile non sentire la mancanza di Chandler, Monica, Ross e Rachel e della complicità di un gruppo così affiatato di amici.
6) The Carrie Diaries
Un altro tentativo di ricreare l'atmosfera della serie madre è The Carrie Diaries, spin-off della celebre Sex and the City, sulla vita da adolescente della bellissima Carrie Bradshaw (AnnaSophia Robb). Andata in onda tra 2013 e 2014, The Carrie Diaries si basa sull'omonimo romanzo di Candace Bushnell, in cui Carrie, giovane liceale e aspirante scrittrice, sogna di andare a New York per raggiungere i propri obiettivi. Dopo solo 2 stagioni, però, lo spin-off di Sex and the City, divenuto niente più che una banale teen drama, è stato cancellato.
Come per Joey è stato difficile far sopravvivere una serie tanto famosa in un'altra così priva di personalità.
5) Ravenswood
Trasmessa nel 2013 dopo la puntata di Halloween della serie originale, Ravenswood è lo spin-off di Pretty Little Liars, ambientato proprio nella città di Ravenswood (nome che richiama Rosewood, città di Aria, Spencer, Alison, Emily e Hanna). Questa volta protagonista è il giovane Caleb, che si ritrova a dover affrontare i misteri paranormali di una cittadina quasi maledetta. Sono bastati dieci episodi per far cancellare Ravenswood, considerata banale e non in grado di reggere il confronto con Pretty Little Liars, nonostante si tratti di una serie non priva di momenti trash (qui abbiamo raccolto i migliori 5).
4) Caprica
Questa volta parliamo del prequel di Battlestar Galactica, ambientato ben 58 anni prima della distruzione di Kobol da parte dei robot Cyloni, di cui si mostra la loro creazione da parte degli uomini. Nel 2010 Caprica è stato mandato in onda per la prima volta ma non è stato capace di soddisfare le alte aspettative dovute all'apprezzamento e al successo che, invece, aveva avuto Battlestar Galactica, acclamato dagli appassionati del genere fantascientifico. Nessun coinvolgimento emotivo per il pubblico di Caprica, che ha smesso di seguire lo spin-off provocando un calo di ascolti e la cancellazione della serie dopo una sola stagione formata da 18 episodi.
3) The Lone Gunmen
Sono i Pistoleri solitari (The Lone Gunmen) i protagonisti dell'omonima serie spin-off di X-Files, loro che hanno accompagnato molte volte le indagini di Fox Mulder e Dana Scully. Nella serie madre, i protagonisti di The Lone Gunmen compaiono per la prima volta nella prima stagione. Nonostante Melvin, John e Richard siano tre nerd molto amati dal pubblico, la serie andata in onda nel 2001 non ha avuto una lunga durata, rimanendo bloccata al numero di 13 episodi. Nonostante il rating di ascolti nei primi episodi fosse molto alto, durante l'ultima puntata il numero degli spettatori è calato drasticamente, portando alla cancellazione definitiva di questo spin-off.
2) Time of Your Life
Spin-off della celebre serie drama Party of 5 (Cinque in Famiglia), che dal 1994 al 2000 ha descritto la vita dei cinque fratelli Salinger e lanciato la carriera di attori come Matthew Fox e Jennifer Love Hewitt, Time of Your Life si riallaccia alla storia di Sarah Reeves. La donna si trasferisce a New York per scoprire di più sulla propria vita e i propri genitori. Difficile, però, continuare una serie tv priva del calore che trasmettevano i protagonisti del prodotto da cui è stata tratta. Infatti, Time of Your Life ha registrato ascolti molto bassi, tanto da far trasmettere solo 12 dei 15 episodi previsti.
1) Baywatch Nights
Il posto di peggiore spin-off in assoluto se lo aggiudica Baywatch Nights, tratto dalla famosissima serie di Baywatch. Mitch Buchannon (David Hasselhoff) è protagonista anche della serie secondaria, che si sviluppa dalla sesta e settima stagione di Baywatch, quando Mitch decide di aprire un'agenzia di investigazioni per fare soldi. La trama per nulla convincente, che cerca in modo imbarazzante di introdurre elementi sovrannaturali, ha contribuito al drastico calo di ascolti, fino a portare alla cancellazione definitiva dello spin-off dopo la seconda stagione. La fama di Baywatch non è bastata a far sopravvivere un prodotto mediocre e assolutamente non necessario.