Guardare Serie Tv è bellissimo, ma purtroppo non sempre abbiamo tante ore a disposizione. Motivo per cui a volte desistiamo, pensando che l'impresa possa risultare troppo impegnativa. Ma questo rischia di farci perdere dei bellissimi prodotti televisivi, che invece potremmo goderci comodamente seduti sul divano di casa nostra e senza perderci troppo tempo. Anche perché alcuni show non solo sono di altissima qualità, ma possono essere visti in sole tre ore. Come un film particolarmente lungo, insomma. Un esempio su tutti? I'm not okay With This. Malgrado sia una Serie Tv con diverse puntate, queste sono state pensate per essere particolarmente brevi. Un vantaggio non da poco.
Ma I'm Not Okay With This non è l'unica Serie Tv che può essere vista in meno di tre ore.
Anzi, se si sfoglia il catalogo delle piattaforme streaming ci si rende conto che l'offerta è piuttosto ampia. Ecco che abbiamo raccolto qui per voi le cinque migliori Serie Tv di breve durata. Che, vi garantiamo, possono essere gustate al meglio nell'arco di un solo pomeriggio, o serata.
1) I'm Not Okay With This
I'm Not Okay With This è una piccola perla firmata Jonathan Entwistle, lo stesso regista di The End of The F****ing World e tratta dal fumetto di Charles Forsman. La serie ha come protagonista Sidney (interpretata dalla bravissima Sophie Lillis), una "noiosa diciassettenne bianca", come lei stessa si definisce cinicamente. E in effetti la sua vita non è certo rose e fiori: il padre è morto suicida e la sua migliore amica si mette insieme al belloccio della scuola. Evento che nel mondo di un'adolescente può essere un vero e proprio dramma, dato che da quel momento Sidney si sente sola e priva di supporto.
I'm Not Okay With This sembrerebbe il classico teen drama, ma non è così.
La vera particolarità dello show è il risvolto surreale: ben presto, Sidney si accorge di avere degli strani superpoteri, che cambieranno la sua vita e il suo modo di approcciare con il mondo.
Come in The End of The F***ing World, si guarda con affetto agli adolescenti un po' sbandati e outsider, che devono affrontare un difficile percorso di crescita personale nella realtà dei sobborghi americani. La serie Netflix merita davvero una visione e non richiede neanche troppo tempo. La durata complessiva della prima (e unica) stagione è di soli 156 minuti.
2) Crashing
Come After Life, Crashing è una vera garanzia: sarà che l'autrice e protagonista è Phoebe Waller-Bridge, prima che venisse consacrata al successo internazionale grazie a Fleabag
Crashing è una serie al cento per cento british, dalla sceneggiatura brillante e la giusta dose di umorismo. Lo show si svolge in uno scenario inusuale: un ospedale abbandonato. I protagonisti sono sette ragazzi, che in qualità di property guardian vivono all'interno dell'edificio. Naturalmente la convivenza forzata ha delle inevitabili conseguenze sulle vite dei ragazzi, che si intrecciano in complessi legami affettivi e amorosi.
Crashing è una dramedy decisamente interessante, sia per l'originalità del concept di base, sia per la freschezza delle sceneggiatura e infine per la bravura degli interpreti, perfettamente in parte. Le dinamiche relazionali che si creano fra loro ricordano molto da vicino Friends, o How I Met Your Mother, ma con una punta di british humor che non guasta mai.
3) Dieci Piccoli Indiani
Questa miniserie Sky non ha certo bisogno di presentazioni. Si tratta nientemeno che della trasposizione televisiva dell'omonimo capolavoro di Agatha Christie, la geniale giallista "mamma" di Hercule Poirot e Mrs. Marple. E già questa premessa dovrebbe essere una garanzia.
In questo caso, la scelta di trasporre un testo letterario in Serie Tv non può che risultare vincente: il romanzo, infatti, per quanto breve è denso di eventi. Un film, pertanto, rischierebbe di sminuirne il valore, dal momento che alcuni particolari andrebbero inevitabilmente tagliati per una questione di resa cinematografica. Uno show televisivo a puntate, invece, consente di raccontare la trama fin nei minimi dettagli, che, si sa, in un giallo sono fondamentali.
Dieci Piccoli Indiani è una miniserie che merita davvero la visione, perché non solo riesce a rendere alla perfezione la splendida atmosfera del romanzo della Christie, ma è anche particolarmente godibile. In questo senso, un parziale complice è la sua breve durata: esattamente tre ore.
4) Special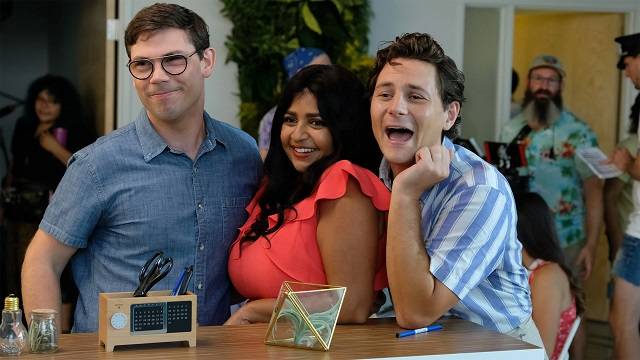 Special è una miniserie decisamente coraggiosa, basata sul libro autobiografico I'm Special: And Other Lies We Tell Ourselves di Ryan O'Connell, anche autore dello show. Il protagonista Ryan, è affetto da una lieve paralisi cerebrale ed è stanco di dover sottostare alle rigide regole di sua madre (interpretata dalla bravissima Jessica Hecht) . Oltre a ciò, non ne può più del pietismo che suscita in quelli che lo circondano e decide di dire una piccola bugia per poter cambiare radicalmente la sua vita.
Special racconta dunque la difficile condizione di un ragazzo disabile e omosessuale, che deve far i conti con la sua identità e combattere contro chi lo giudica "diverso". La serie tratta dunque delle tematiche molto delicate e complesse, ma lo fa con una leggerezza che la rende unica ed estremamente godibile. D'altronde, è prodotta da Jim Parsons, il mitico Sheldon Cooper di The Big Bang Theory. Cosa volete di più? E la durata è davvero esigua: appena 116 minuti.
5) Qualcuno Deve Morire
Qualcuno Deve Morire è un'affascinante miniserie dalle tinte cupe, ambientata nella Spagna degli anni Cinquanta. Il protagonista, Gabino Falcón , è il giovane rampollo di una famiglia facoltosa. I genitori si aspettano che lui compia il suo dovere, sposando la bella Cayetana, figlia del partner d'affari del padre. Quello che però i Falcón non sanno è che Gabino intende ribellarsi al loro volere. Il ragazzo, infatti, ha una relazione con il ballerino Lazaro. La serie Netflix tratta dunque la difficile condizione di un omosessuale all'interno di una società conservatrice e repressiva, oltre alle drammatiche conseguenze innescate dal forte atto di ribellione del protagonista.
Le atmosfere dark di Qualcuno Deve Morire indubbiamente catturano l'attenzione dello spettatore e lo aiutano a perdersi in mondo ormai perduto. Attenzione, però: l'immersione è di appena 149 minuti.