Il piacere, come il bello, è spesso soggettivo. Nei mille meandri della mente, la moltitudine di cellule grigie e i miliardi di neuroni analizzano stimoli e ricezioni sensoriali che provengono dall'esterno. Se questi impulsi vengono recepiti allo stesso modo da tutti, lo stesso discorso non vale per come vengono rielaborati dal cervello di ognuno, è da li che nasce il gusto, la soggettività. Da questa differenza, quindi, si crea anche la distinzione tra gli uomini. Per fare un esempio a noi vicino, alcuni di noi sono Barney, altri Marshall e altri ancora Ted, nel grande mondo immaginario di How I Met Your Mother.
Proprio le serie tv, come sempre, saranno lo sfondo di questo nostro articolo e lo stesso discorso riguardo la soggettività può essere utilizzato proprio nelle produzioni per piccolo schermo. Ci sono capolavori della serialità oggettivamente incontestabili, ma quando si va a scavare a fondo, nel grande limbo delle buone produzioni, la soggettività prende il sopravvento. A volte alcune scelte scatenano polemiche enormi e, in questo caso, a essere coinvolte sono anche e soprattutto i grandi capolavori. Forse per le grandi aspettative, forse per i milioni di fan che seguono serie tv come Game of Thrones, si innesca un meccanismo di protesta che si va a scagliare contro alcune decisioni. In questo articolo cercheremo di raccontarvi 7 di queste scelte, quelle più contestate.
1) Il finale di Lost
Partiamo subito forte, con uno di quei colossi seriali che vengono contestati non per quello che rappresentano, ma per le scelte compiute dagli autori in alcune fasi precise del plot. Lost ha rappresentato un punto di svolta, un crocevia per la storia della serialità contemporanea. Il suo finale, atteso da milioni di fan, ha rappresentato per tanti un boccone agrodolce. Un retrogusto amaro contenuto nell'ultimo pezzetto di quella torta perfetta che è stata Lost. Le polemiche, però, non cancelleranno mai il capolavoro nato dalla mente di J. J. Abrams.
2) Il cambiamento di Daenerys in Game of Thrones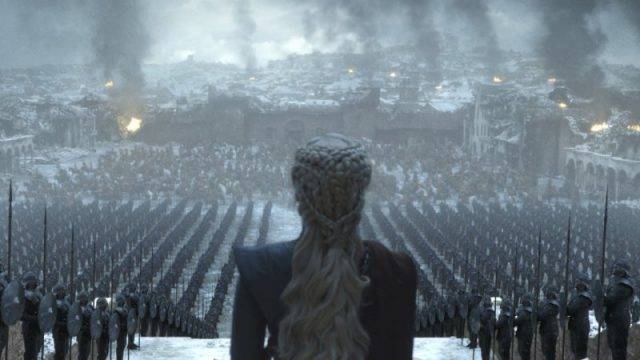 Si tratta forse della polemica più recente. Parliamo di una delle serie che hanno fatto la storia: Game of Thrones. La scelta più discussa dell'ottava stagione è stato il cambiamento che ha caratterizzato la khaleesi Daenerys (qui parliamo del legame tra Emilia Clarke e il suo personaggio). Da liberatrice di popoli e sovrana morigerata, a regina folle e spietata. Gli autori hanno optato per questa brusca mutazione e milioni di fan di Dany non l'hanno presa per niente bene. Scelta sbagliata oppure decisione che segue una logica seriale? Trovare un punto di accordo è impossibile.
3) La morte di Derek in Grey's Anatomy
Tutti, ma proprio tutti, conoscono Grey's Anatomy e tutti, ma proprio tutti, conoscono il Dottor Stranamore, Derek Shepherd. La sua dipartita ha scatenato tantissime polemiche tra i fan semplicemente per quello che rappresentava il suo personaggio nell'economia della serie tv. La morte di Derek è stata orribile sia dal punto di vista di come è stata scritta, sia dal punto di vista della trama. Un fulmine a ciel sereno che ha sconvolto i fan e ha fatto impazzire l'internet. Una scelta sbagliata che ha scatenato numerose critiche da parte del pubblico e della critica televisiva.
4) La rivelazione dell'omicida di Laura Palmer in Twin Peaks
Anche in questo caso parliamo di una colonna portante della storia della serialità. I protagonisti stavolta sono Twin Peaks e il suo creatore David Lynch. La scelta di rivelare l'omicida di Laura Palmer tra la prima e la seconda stagione è stata totalmente folle e ha creato un vespaio di contestazioni. La verità è che in quel preciso momento Lynch e i suoi produttori avevano visioni diametralmente opposte tra loro e addirittura Lynch era stato allontanato dal set. Questo ha portato a conseguenze come la decisione di svelare chi fosse l'ospite di Bob.
5) Il Finale di How I Met Your Mother
Abbiamo atteso la bellezza di nove stagioni, per un totale di 208 episodi, seguendo le avventure dell'architetto Ted Mosby, un romantico ragazzo di New York che, nel 2025, ormai ingrigito, inizia a narrare ai propri figli la storia di come ha conosciuto la madre.
Ted, rivolgendosi ai suoi figli dice di voler raccontare loro "how I met your mother".
L'episodio finale però ha fatto rimanere a bocca aperta, in senso negativo, molti fan. La grande epifania di The Mother è trattata troppo velocemente e superficialmente, per poi concludersi con una chiusura affrettata che strizza l'occhio al fan service, toppando anche la scelta, visto che i fan non hanno gradito per niente. Sicuramente 40 minuti sbagliati non intaccano il valore di 9 stagioni quasi perfette, ma le polemiche, giustamente, sono state tante.
6) Il cambiamento di Andy Bernard in The Office 9
Passiamo a una serie tv meno conosciuta forse, ma non per questo meno importante. Certo, non parliamo di un colosso come How I Met Your Mother, ma The Office ha rappresentato per molti una serie tv godibile e scritta bene. In questo caso vogliamo parlare precisamente della nona stagione, quella che ospita un cambiamento quanto mai repentino e forse sbagliato. Quello di Andy Bernard, il venditore partito dal Dunder Mifflin e arrivato a occupare lo scranno di Regional Manager dall'ottava stagione in poi. Nella successiva, però, cambia totalmente e troppo velocemente, considerando che il suo character developement è stato uno dei migliori della serie. Tanti spettatori, giustamente, hanno criticato questa scelta.
7) Il finale di Dexter
Ecco l'ultima serie tv che vogliamo proporvi. Se l'avete vista, sapete già a cosa ci riferiamo quando parliamo di polemiche. I fan che sono riusciti ad apprezzare il finale della serie sul serial killer dei serial killer si contano davvero sulle dita di una mano. Dexter barbuto e con la camicia da boscaiolo? Ma davvero? Per non parlare poi delle scelte su Debra e sulla tempesta che colpisce lo stesso Dexter. Molte scelte sbagliate che hanno fatto infuriare i fan e che hanno danneggiato una serie tv capolavoro.