È inevitabile affezionarci ai personaggi delle Serie Tv che più amiamo. Vuoi per il loro carisma, per la loro storia, per la loro personalità o semplicemente per il loro aspetto. Entrano nella nostra vita e diventano per noi "reali". Quando ci lasciano è quasi come se fosse venuta a mancare una persona a noi cara. La loro morte ci fa provare un dolore tale da essere veramente autentico. E viene da chiedersi: come faremo adesso senza di lui/lei? Solo il tempo può curare questa ferita. Inutile quindi rivolgersi ai medici di Grey's Anatomy!
Morire non è mai bello, questo è un dato di fatto. Ma dobbiamo ammettere che c'è modo e modo di lasciare questo mondo. Alcuni metodi sono più veloci, indolore e fulminei. Altri, invece, sono lunghi, dolorosi, terribili e tremendamente sbagliati.
Ed è proprio quest'ultima categoria che affrontiamo nel presente articolo, elencandovi in ordine sparso i 10 personaggi che sono morti peggio.
SPOILER: NON SONO TUTTI DI GREY'S ANATOMY!
1)  Oberyn Martell (Game of Thrones)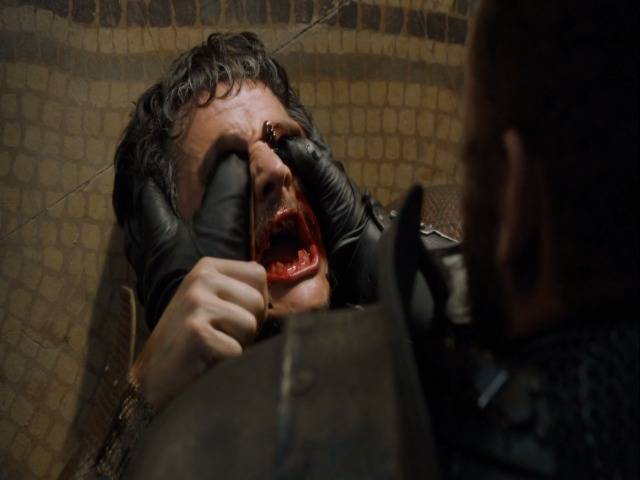 Di personaggi morti male in Game of Thrones ce ne sono davvero tantissimi: bruciati, pugnalati, sbranati dai propri cani… e poi c'è Oberyn Martell. Nella quarta stagione assistiamo al suo combattimento contro La Montagna. Il principe di Dorne si batte con coraggio, senza paura. Le sue azioni sono mosse più dalla verità e dalla vendetta che dal tentativo di salvare la vita di Tyrion. Indimenticabili le sue parole durante il duello, ripetute e scolpite nella mente di tutti:
Elia Martell! L'hai violentata. E l'hai uccisa. E poi ucciso i suoi figli.
Oberyn si espone troppo e ciò consente al suo avversario di ottenere un vantaggio determinante. Per un attimo abbiamo davvero creduto che Davide – o meglio la Vipera – potesse battere Golia, cioè la Montagna. Le nostre speranze si sono frantumate proprio come il cranio di Oberyn in una delle scene più cruente nella storia delle Serie Tv.