È inevitabile affezionarci ai personaggi delle Serie Tv che più amiamo. Vuoi per il loro carisma, per la loro storia, per la loro personalità o semplicemente per il loro aspetto. Entrano nella nostra vita e diventano per noi "reali". Quando ci lasciano è quasi come se fosse venuta a mancare una persona a noi cara. La loro morte ci fa provare un dolore tale da essere veramente autentico. E viene da chiedersi: come faremo adesso senza di lui/lei? Solo il tempo può curare questa ferita. Inutile quindi rivolgersi ai medici di Grey's Anatomy!
Morire non è mai bello, questo è un dato di fatto. Ma dobbiamo ammettere che c'è modo e modo di lasciare questo mondo. Alcuni metodi sono più veloci, indolore e fulminei. Altri, invece, sono lunghi, dolorosi, terribili e tremendamente sbagliati.
Ed è proprio quest'ultima categoria che affrontiamo nel presente articolo, elencandovi in ordine sparso i 10 personaggi che sono morti peggio.
SPOILER: NON SONO TUTTI DI GREY'S ANATOMY!
1)  Oberyn Martell (Game of Thrones)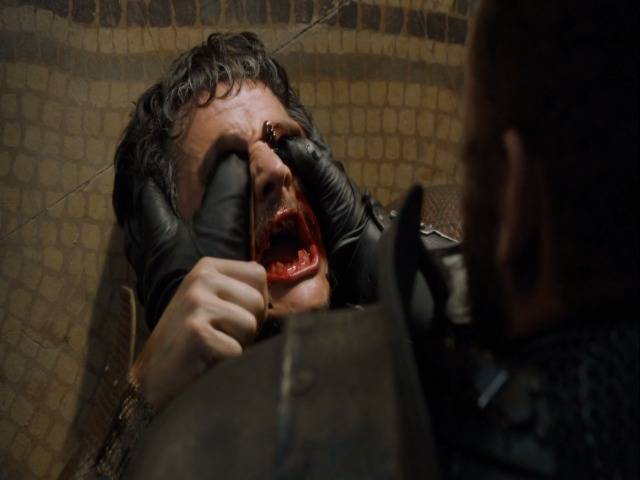 Di personaggi morti male in Game of Thrones ce ne sono davvero tantissimi: bruciati, pugnalati, sbranati dai propri cani… e poi c'è Oberyn Martell. Nella quarta stagione assistiamo al suo combattimento contro La Montagna. Il principe di Dorne si batte con coraggio, senza paura. Le sue azioni sono mosse più dalla verità e dalla vendetta che dal tentativo di salvare la vita di Tyrion. Indimenticabili le sue parole durante il duello, ripetute e scolpite nella mente di tutti:
Elia Martell! L'hai violentata. E l'hai uccisa. E poi ucciso i suoi figli.
Oberyn si espone troppo e ciò consente al suo avversario di ottenere un vantaggio determinante. Per un attimo abbiamo davvero creduto che Davide – o meglio la Vipera – potesse battere Golia, cioè la Montagna. Le nostre speranze si sono frantumate proprio come il cranio di Oberyn in una delle scene più cruente nella storia delle Serie Tv.
2) Marissa Cooper (The O.C.)
La morte di Marissa Cooper ha lasciato a bocca aperta tutti i fan di The O.C. Il decesso della reginetta della scuola arriva al termine della terza stagione. I ragazzi protagonisti della Serie Tv sono tutti felici, spensierati, eccitati all'idea di cominciare una nuova avventura come l'università. Marissa ha lasciato Volchock ed è tornata con il suo storico gruppo di amici. Inoltre ha deciso di accettare un lavoro su una barca, offerto da suo padre, per un periodo di prova.
Mentre Ryan la sta accompagnando all'aeroporto, Volchock li segue in auto. Quest'ultimo non si rassegna al fatto di essere stato mollato e ubriaco si scaglia contro l'auto di Ryan, buttandola fuori strada. Ad avere la peggio sarà proprio la ragazza. Lui riesce a portarla via prima che il veicolo vada in fiamme e vorrebbe chiamare aiuto. Marissa, però, lo implora di restare lì con lei: morirà fra le sue braccia.
3) George O'Malley (Grey's Anatomy)
In Grey's Anatomy le morti sono innumerevoli e all'ordine del giorno. Tra coloro che sono passati a miglior vita malamente non possiamo dimenticare il povero George. Specializzando al Seattle Grace Hospital, decide di arruolarsi nell'esercito come medico di emergenza per le missioni di guerra. Un sogno che non riuscirà mai a realizzare.
Nell'ultima puntata della quinta stagione di Grey's Anatomy arriva uno sconosciuto che, per salvare una ragazza, è stato travolto e poi trascinato per quasi un isolato da un autobus. L'impatto è stato così devastante che nessuno, nemmeno i suoi amici, riescono a riconoscerlo. Sarà proprio Meredith a scoprire la sua identità. Nonostante tutti i tentativi di salvarlo, le condizioni di George sono troppo gravi e lui muore. L'episodio si conclude con una scena in cui lui e Izzie si incontrano in un ascensore, lui vestito da militare e lei con il vestito rosa che aveva la sera della morte di Denny.
VI GIURO CHE È L'UNICO DI GREY'S ANATOMY IN QUESTA LISTA… ANCHE SE AVREBBE POTUTO NON ESSERE IL SOLO!
4) Ragnar Lothbrok (Vikings)
Con l'uscita di Ragnar da Vikings, questa Serie Tv ha perso qualcosa. Non fraintendetemi, è sempre molto bella ma le manca un tassello importante. La morte del vichingo ha scioccato tutti, soprattutto per come è avvenuta. Ragnar è sempre stato padrone della sua vita, lui ha scelto come viverla e come porle fine. Lui deciderà come farlo, in una sorta di sfida con se stesso.
Nel quindicesimo episodio della quarta stagione, dopo essersi consegnato a re Ecbert, viene portato da re Aelle per essere giustiziato. Trasportato in Northumbria dentro una gabbia di ferro, viene poi torturato dal vendicativo monarca. Rinchiuso nella sua prigione in posizione sopraelevata, Ragnar annuncia di morire senza rimpianti e dice di essere felice di lasciare il mondo. Il vichingo viene poi lasciato cadere in una fossa piena di serpenti, dove lentamente morirà.
5) Glenn Rhee (The Walking Dead)
Dopo l'uccisione di Abraham, Negan miete un'altra vittima illustre. Daryl si è scagliato contro di lui per farlo smettere di torturare Rosita. Il nuovo nemico ha dovuto punire questa insubordinazione e ha deciso di calare Lucille su uno a caso. La sorte ha voluto che fosse Glenn.
La scena della sua morte ha lasciato a bocca aperta tutti gli spettatori. A differenza di quella di Abraham, i fan hanno potuto vedere tutto, rimanendo bloccati e in lacrime di fronte alla potenza distruttiva di Lucille. Una morte mostrata in tutta la sua crudeltà e impatto visivo, avvenuta esattamente come era descritta nel fumetto. Questo rendeva Glenn la vittima più probabile e quindi anche la meno probabile. Le sue ultime parole sono state ovviamente per la moglie: "Maggie, io ti troverò", una promessa di speranza e amore eterno. Da Glenn non potevamo aspettarci niente di meno!
6) Jane Margolis (Breaking Bad)
Nell'episodio 2×12 assistiamo alla morte della ragazza di Jesse in una scena in perfetto stile Breaking Bad: cruda, amara e tremendamente realistica. Jane era la proprietaria della casa in cui viveva per l'appunto Jesse. Inizialmente distaccati, i due finiranno per diventare una coppia. Ex tossicodipendente, Jane subisce l'influenza del suo inquilino e ricomincia a drogarsi.
Walter è quindi costretto a mandare avanti gli affari da solo. Si rifiuta di dare a Jesse la sua parte di soldi a meno che non si ripulisca. Jane allora lo ricatta e ottiene così il denaro. I due innamorati vogliono solo ripulirsi e scappare, prima però decidono di farsi per un'ultima volta. Walter nel frattempo si reca a casa di Jesse per parlagli ed è lì che scopre Jane in preda alle convulsioni. Non la aiuterà ma si limiterà a guardarla mentre muore soffocata.
7) Poussey Washington (Orange Is the New Black)
La morte della detenuta più adorabile del carcere di Litchfiled è un vero colpo al cuore per tutti noi. Una morte stupida, sciocca, che quindi ci fa maggiormente innervosire. Siamo nella quarta stagione (qui la recensione del primo episodio della sesta) e nella dodicesima puntata le detenute salgono in piedi sui tavoli e minacciano di restare lì finché il capo delle guardie non si fosse dimesso. Una protesta pacifica per ottenere un miglioramento del loro trattamento finisce nel peggiore dei modi. 
Suzanne, ancora scossa dalla rissa della sera prima, ha un attacco di panico e si avventa contro una guardia. Poussey cerca di fermarla ma è atterrata a sua volta da Baxter che nella confusione non si accorge che la sta soffocando con il proprio peso. La puntata si chiude con una afflitta Taystee che piange sul corpo dell'amica morta. La giovane viene lasciata esanime sul pavimento, per ore, come un sacco della spazzatura.
8) Bob Newby (Stranger Things)
La seconda stagione di Stranger Things ci ha lasciato con una morte a dir poco terribile. Dopo i tristi e oscuri avvenimenti accaduti nella prima, la cittadina di Hawkins e i suoi abitanti cercano un modo per lasciarsi il passato alle spalle, soprattutto la famiglia Byers. A portare una ventata d'aria fresca ci pensa Bob Newby, una vecchia conoscenza di Joyce e suo nuovo compagno.
Bob viene presentato come un gigante buono: è adorabilmente goffo, divertente e sempre amorevole sia con Joyce che con i figli Will e Jonathan. Non meritava di morire in nessun modo, tantomeno a causa di un "democane". È gloriosamente caduto sul campo di battaglia, divorato da un orrendo mostro nel tentativo di salvare i suoi amici e la donna che ama. E volete sapere la beffa? Mancava veramente poco all'uscita. Bob, però, secondo i produttori, sarebbe dovuto morire prima.
9) Paulo e Nikki (Lost)
Questi moderni Bonnie e Clyde non erano tra i personaggi più amati o più importanti di Lost, forse molti non si ricordano nemmeno delle loro facce. Del resto, non erano proprio dei ragazzi modello: l'unica cosa che interessava  ai due era di trovare i diamanti nascosti nell'Isola. Una ricerca che finirà letteralmente per ucciderli.
I due amanti vengono morsi da un ragno Medusa, il cui veleno li paralizza e li fa cadere in uno stato di morte apparente. Gli altri sopravvissuti, non capendo la causa della loro dipartita, decidono di seppellirli. Non si accorgono che, mentre lo stanno facendo, l'effetto del veleno termina e Nikki apre gli occhi. Sawyer scopre che tra loro c'era una disputa causata da questi gioielli, i quali vengono seppelliti insieme ai due truffatori ancora vivi.
10) Eden Spencer (The Handmaid's Tale)
La ragazzina data in sposa a Nick non sapeva a cosa stava andando incontro varcando la soglia di casa Waterford. Dolce, educata ma troppo ingenua per Gilead. In fondo Eden è soltanto un'adolescente di appena 15 anni a cui è stata strappata la spensieratezza fanciullesca sotto forma di un matrimonio voluto dalla sua famiglia e visto come un dono di Dio. Lo stesso Dio che lei cerca di comprendere leggendo illegalmente le sacre scritture.
Le parole di June smuoveranno qualcosa dentro la ragazza. Fugge con il suo amante Isaac ma i due novelli Romeo e Giulietta vengono presto catturati. Eden potrebbe salvarsi ma con riesce a rinnegare il suo "peccato". La morte è ciò che l'aspetta. Una morte angosciante e terribile: con le mani ammanettate a un peso viene gettata in una piscina. Non ha possibilità di salvarsi e mentre si divincola sentiamo l'acqua che le riempie i polmoni, piangiamo e urliamo con il pubblico presente.