Siamo abituati a vedere rappresentato in televisione ogni tipo di rapporto, dall'amore più sincero all'odio più puro. Cosa succede tuttavia quando la relazione tra due o più personaggi appare più sfumata? Cosa succede quando, complice la crescente complessità narrativa che caratterizza le serie tv contemporanee, si decide di portare sullo schermo un rapporto che – all'apparenza positivo – si rivela in realtà più malato che altro? È il caso delle amicizie tossiche, relazioni centrali in tante delle serie tv più famose, soprattutto se andiamo a esplorare il mondo dei teen drama di cui Gossip Girl e Pretty Little Liars sono esempi emblematici.
Le amicizie tossiche sono tali perché, a fronte di un legame che si dice basato su affetto e comprensione reciproca, sono invece fonte di sentimenti negativi per chi le vive, spesso finendo per ingabbiare i personaggi che ne fanno parte in un rapporto che oscilla tra la co-dipendenza e una competizione malata da cui è difficile che qualcuno esca davvero vincitore.
Vi riportiamo qui la nostra classifica delle 10 amicizie che, per ragioni diverse ma spesso ricorrenti, riteniamo essere le più tossiche nella storia delle serie tv.
10) McAfee, James e Skye (The Politician)
Uno degli episodi più brillanti della seconda stagione di The Politician (Una rivelazione consapevole, 2×02) è incentrato proprio sui tentativi di McAfee di fuoriuscire dalla relazione con i suoi migliori amici e colleghi Skye e James, diventata ormai tossica. Infatti i tre hanno sviluppato un rapporto di totale co-dipendenza, fino al punto in cui sono diventati incapaci di vivere la propria vita in modo autonomo ciascuno dagli altri due. I tentativi di McAfee di distanziarsi anche solo per qualche ora dai suoi amici sono però del tutto vani, sia perché James e Skye non le lasciano lo spazio necessario, sia perché inconsciamente la ragazza continua a tornare da loro.
9) Rue e Fez (Euphoria)
Quella tra Rue e Fez è un'amicizia tossica per definizione, essendo di fatto la relazione tra uno spacciatore e una tossica. Infatti è proprio il ragazzo il primo a vendere droga a Rue dopo la morte del padre, dunque è parzialmente responsabile della sua dipendenza. Fez inizia a sentirsi in colpa, smette di vendere droga a Rue, vuole riportarla sulla strada da cui lui stesso ha contribuito a farla deviare, le vuole bene ma quello che prima era un rapporto di amicizia è ormai basato sulla droga e sulla dipendenza di Rue.
Seppur tossico, il rapporto tra Fez e Rue si trova in basso in questa classifica perché una redenzione di quest'amicizia è ancora possibile, e il rimorso di Fez ne è la prova.
8) Alex e Mitch (The Morning Show)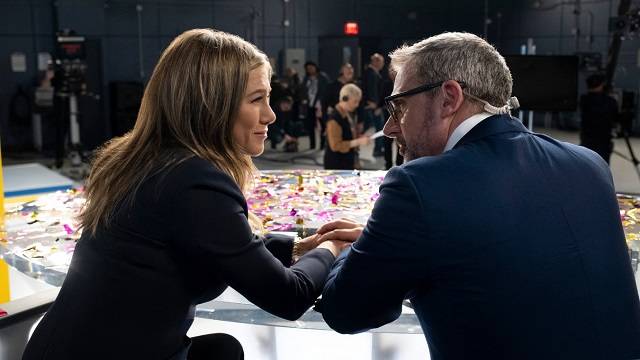 Alex Levy e Mitch Kessler sono colleghi e amici intimi da 15 anni quando Mitch viene travolto dallo scandalo sessuale che porterà al suo licenziamento. Pur consapevole, inconsciamente ma nemmeno troppo, dei comportamenti che l'amico teneva sul set del Morning Show, prima dello scandalo Alex lo aveva sempre coperto. Alex è incapace di riconoscere, prima di tutto con se stessa, che la sua amicizia con Mitch le ha impedito di vedere chiaramente cosa stesse succedendo proprio sotto i suoi occhi, di vedere il dolore e le molestie che il suo partner ha continuato a provocare per anni. Alex non riesce a emanciparsi nemmeno dopo che le molestie compiute da Mitch diventano di pubblico dominio, continua a proteggerlo fino a che le sarà possibile farlo e solo alla fine riuscirà finalmente ad accettare la verità.
7) Karma e Amy (Faking it)
Cosa fareste se la vostra migliore amica fin dall'infanzia vi dichiarasse improvvisamente il suo amore per voi? Molto probabilmente cerchereste di darle spazio, magari per qualche tempo ridurreste i vostri contatti, aspettereste che i sentimenti pian piano svaniscano. Eppure questo modo di comportarsi non sembra essere contemplato da Karma, una delle protagoniste della non del tutto riuscita Faking it.
Quando la sua migliore amica Amy le dichiara il suo amore, Karma decide egoisticamente di non poterla perdere e quindi non soltanto la assilla giorno e notte, obbligandola a passare tutto il suo tempo libero insieme, ma cerca anche in tutti i modi di combinarle appuntamenti perché superi forzatamente i suoi sentimenti per lei. Non concedendo ad Amy spazio e tempo per elaborare i suoi sentimenti, Karma si rivela un'amica tossica ed egoista, ben lontana dall'ideale di amica con cui si vuole proporre agli altri.
6) Lila e Lenù (L'amica geniale)
Quello della competizione malsana tra amiche è un tema che ricorre in serie tv molto diverse tra loro, come ad esempio L'amica geniale e Gossip Girl.
Lila e Lenù, Lenù e Lila. Amiche dall'infanzia, in competizione da sempre. Il rapporto tra le due giovani protagoniste della serie tv L'amica geniale è basato tanto sull'affetto più profondo, quanto su un intreccio di co-dipendenza e antagonismo impossibile da sbrogliare. Per ogni piccolo passo avanti compiuto da una delle due, l'altra soffre, si rabbuia, cerca in ogni modo di raggiungere l'altra. Amiche che vivono in simbiosi, eppure nemesi una dell'altra, Lila e Lenù non riescono a fare a meno di paragonarsi tra di loro, di elevare l'altra su un piedistallo da cui non vorrebbero fare altro che rimuoverla con ogni mezzo possibile.
5) Jen e Judy (Dead to Me)
Cosa c'è di più tossico di un'amicizia nata perché una delle due amiche di sente in colpa per la morte del marito dell'altra? Semplice, un'amicizia che germoglia anche dopo che, venuta a sapere del ruolo dell'amica nella morte del marito, l'altra decide fondamentalmente di ricambiarle il favore.
Sebbene chiaramente il rapporto di Jen e Judy in Dead to Me, piccolo gioiello grottesco di Netflix, sia ben più profondo e complesso di quanto descritto sopra, ciò non toglie che gli avvenimenti che hanno consolidato il loro legame difficilmente potessero portare allo stabilirsi di una relazione che non fosse tossica. Anche in questo caso tra le due si sviluppa un rapporto di co-dipendenza che va ulteriormente a rafforzare la parte malata dell'amicizia tra Jen e Judy, che proprio come dichiarato dal titolo italiano di Dead to Me diventano "amiche per la morte".
4) Bryce e Justin (13 Reasons Why)
Sportivi e popolari, Justin e Bryce si presentano all'inizio di 13 Reasons Why come i re assoluti della scuola. Peccato che i due nascondano diversi scheletri nell'armadio, uno dei quali in particolare fa sì che il loro rapporto sia del tutto malato.
Infatti non solo Justin è consapevole degli abusi che l'amico ha perpetrato su diverse ragazze, ma ha anche assistito senza intervenire alla violenza di Bryce ai danni di Jessica, ai tempi ragazza di Justin. Un'amicizia che dunque porta Justin a vergognarsi di se stesso, a tacere qualcosa che non avrebbe mai dovuto essere taciuto e che si rivela infine in tutte le sue malsane fondamenta.
3) BoJack e Sarah Lynn (BoJack Horseman)
Coltivare un rapporto con BoJack Horseman è difficile, molto difficile. Infatti alcuni legami che Bojack intraprende durante la serie si possono definire tossici, e ce n'è uno che spicca su tutti, quello con Sarah Lynn.
Due disperazioni che si incontrano, che si comprendono, che si sfuggono. La relazione complessa che i due instaurano nel corso dei decenni in cui si conoscono è malata come lo sono loro, segnati dalla solitudine e dalla dipendenza. Sarah considera Bojack il suo punto di riferimento, una figura paterna, ma BoJack le mente, dice di volerle bene eppure la cerca solo quando ha bisogno di lei.
BoJack è responsabile del dolore di Sarah Lynn, lui che non si è preoccupato né è stato capace di proteggerla, che si è approfittato di lei, che l'ha portata sulla strada sbagliata ancora e ancora fino a condurla alla morte. Insomma, quella tra BoJack e Sarah è un'amicizia così tossica da guadagnarsi facilmente il gradino più basso del podio.
2) Alison e le Liars (Pretty Little Liars)
Il giorno della scomparsa di Alison DiLaurentis è anche il giorno in cui le sue migliori amiche ricominciano a vivere.
Alison, ape regina che non ama essere messa in discussione, instaura con Aria, Hanna, Spencer ed Emily quattro legami diversi, eppure tutti ugualmente basati sulla capacità della leader del gruppo di fare leva sulle debolezze altrui, di far sentire le amiche allo stesso tempo indispensabili eppure facilmente rimpiazzabili. Tra ricatti e segreti, Alison terrorizza e fidelizza le Liars, che anche dopo la sua scomparsa continueranno a lungo a sentire il fantasma di Alison che ricorda loro quanto fallibili e inadeguate possano essere.
1) Serena e Blair (Gossip Girl)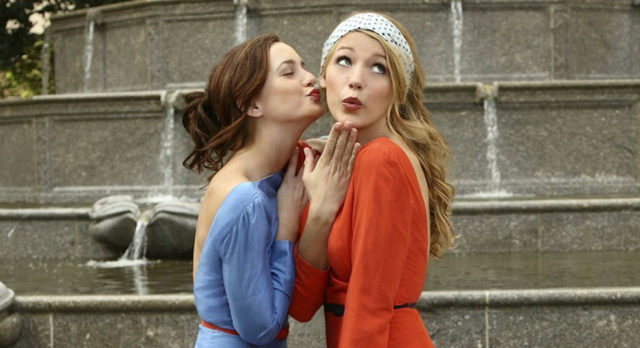 Alzi la mano chi guardando Gossip Girl da adolescente non ha invidiato l'amicizia tra Blair e Serena o la storia d'amore tra Chuck e Blair.
Alcune volte guardare con occhi nuovi serie tv che abbiamo adorato da ragazzini fa sì che ci si accorga di quanto non avevamo pienamente compreso la prima volta. Il caso di Gossip Girl è esemplare. Infatti il teen drama, complici la trama accattivante, gli outfit sfavillanti e una quantità di drammi degna delle migliori telenovele, ci ha tenuti incollati allo schermo per anni senza che ci rendessimo davvero conto di quanto malsane fossero le relazioni rappresentate nella serie.
In particolare, l'amicizia tra Blair e Serena altro non era che una competizione continua, con le due "migliori amiche" impegnate a sabotarsi l'un l'altra, a sminuirsi, rubarsi ragazzi e opportunità senza esclusioni di colpi. Durante le sei stagioni di Gossip Girl le due litigano e fanno pace un milione di volte, si riavvicinano e si professano amore eterno ogni due puntate giusto in tempo per sferrarsi un altro colpo basso nel giro di 5 minuti. Quella che nei piani originali dei creatori di Gossip Girl doveva essere un'amicizia epica e invidiabile e pertanto spesso presentata in queste luce, è invece – proprio perché raccontata come molto positiva – la più tossica in assoluto.