Il mondo è un posto orribile. Ogni giorno siamo bombardati di notizie tragiche, che spaziano dai disastri naturali a catastrofici incidenti, dall'ennesima bancarotta alla morte dei nostri idoli d'infanzia. Questo 2020 non si è affatto risparmiato e purtroppo ci ha colpito nei modi peggiori, perciò abbiamo disperatamente bisogno di ridere. E cosa c'è di meglio di una serie tv che ci faccia ridere proprio delle tragedie? Da Arrested Development a Dead to Me, passando per Misfits, It's Always Sunny in Philadelphia, The Mick e The End of the F***ing World, il genere della dark comedy è ciò di cui non sapevamo di avere bisogno: una magia che ci permette di esorcizzare la paura, di ridere dei drammi .
La dark comedy, nota anche come black comedy o in italiano come umorismo nero, non è per tutti. Anzi, ci sono persone che, davanti alla rappresentazione tragicomica del dolore, si indignano. Ma per coloro che invece vedono in questa interpretazione della sofferenza, dell'imprevisto, della tragedia un modo per affrontare al meglio la complessità della vita, la dark comedy è una vera e propria liberazione.
Intrappolati tra l'incertezza del reale e i buoni sentimenti che regnano sovrani in diverse produzioni, tra cui una larga fetta delle comedy televisive, abbiamo bisogno di una valvola di sfogo, di un luogo in cui possiamo dare sfogo alla nostra frustrazione trasformandola in risate. Questa oasi (in)felice per sfuggire al caos del mondo reale sono proprio loro, le dark comedy, dove se una cosa può andare male lo farà e la confusione fa da padrona.
Nella realtà quotidiana ridere delle disgrazie altrui ci rende cattive persone. Quando accade un qualsiasi imprevisto, grande o piccolo che sia, ci sentiamo obbligati a compatire, a soffrire, a mostrarci vulnerabili. E, lasciatecelo dire, ci sono situazioni in cui il doverci mostrare nella nostra fallibile umanità è persino più insopportabile di qualsiasi cosa ci abbia in origine obbligati a farlo.
Invece nel mondo della dark comedy il codice di comportamento delle brave persone non si applica, non c'è alcuno spazio per la compassione e l'empatia, bensì vale una straordinaria regola aurea: se la disgrazia non è accaduta a me, allora sono autorizzato a riderne di gusto, persino a scherzarci su. Non si tratta soltanto della concretizzazione del motto mors tua vita mea, ma di un vero e proprio liberarsi dalla catene del giudizio morale. Perché l'unica vera certezza nel caotico mondo di queste commedie è che essere delle brave persone non porta a nulla, se non a farsi ridere in faccia.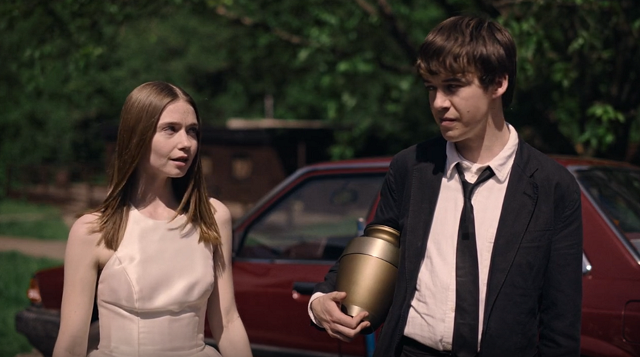 Prendiamo come esempio Misfits, serie televisiva britannica trasmessa per la prima volta da E4 ormai 11 anni fa e ancora oggi considerata un cult del genere. I protagonisti della serie sono cinque misfits, letteralmente cinque disadattati, delinquenti di basso livello condannati a compiere lavori socialmente utili che acquisiscono poteri magici in seguito a una tempesta.
Se vi aspettate una serie sui supereroi, o persino sui supercattivi, Misfits deluderà le vostre aspettative. Se però avete intenzione di scoprire come usare i vostri poteri, ma anche le vostre ordinarie capacità, nel peggior modo possibile, continuando a incappare negli stessi errori e lanciandovi in imprese spesso senza alcuna reale prospettiva di riuscita, allora avete trovato la serie giusta. Le prime due stagioni di Misfits rappresentano uno dei punti più alti mai raggiunti dalla televisione britannica, nonché un esperimento di contaminazione tra generi tra i più riusciti nella storia delle serie tv. I protagonisti di Misfits sono cattive persone in un mondo marcio, sono l'apoteosi di quanto di sbagliato ci sia nella società, ma proprio questo rende loro e le disavventure cui prendono parte così esilaranti per lo spettatore. Non esistono limiti a ciò di cui si può ridere guardando Misfits, nemmeno la morte è una catastrofe tanto grande da non poterci ironizzare sopra. Certo, a volte potremmo sentirci a disagio davanti a questa ridicolizzazione del dolore, ma in fondo ci sentiamo sollevati di non essere noi a dover vivere in prima persona tutte quelle follie. E ridiamo.
In tempi più recenti è stata Netflix a decidere di dare alla dark comedy lo spazio che si merita, producendo alcune delle commedie nere più interessanti del panorama televisivo attuale e dimostrando ancora una volta quale possa essere l'importanza del genere, che ha un pubblico fedele e appassionato, oltre che rappresentare una delle nicchie in cui è concessa maggiore libertà creativa agli autori.
Netflix ha prodotto la quarta e la quinta stagione di Arrested Development, commedia familiare grottesca che all'inizio degli anni duemila aveva anticipato i tempi facendo comicità su praticamente qualsiasi cosa, dall'incesto alla disabilità, passando per la dipendenza, il razzismo e l'omosessualità. Quindi, nonostante le critiche negative riservate alle nuove stagioni di Arrested Development, Netflix ha in tempi recenti partorito due gioielli del genere della dark comedy, che hanno ottenuto il plauso di critica e pubblico: The End of the F***ing World e Dead to Me.
Il successo di queste ultime è una dimostrazione della forza che la dark comedy può avere anche su un livello più mainstream e non soltanto come genere di nicchia.
Se da una parte potrebbe essere un caso, è interessante notare come sia possibile che si sia recentemente verificato un tendenziale mutamento dei gusti del pubblico più in generale, oltre che del loro rapporto con il mezzo televisivo. Forse al giorno d'oggi, nell'epoca della comunicazione emotiva e del bombardamento continuo di notizie spesso negative, il pubblico sente sempre di più l'esigenza di scappare in un luogo in cui di quelle stesse notizie si può ridere. In cui non debba per forza avere paura. Quindi oggi più che mai abbiamo bisogno della dark comedy, che ci permette di ridere delle disgrazie altrui e, perché no, a volte persino delle nostre.