Ci sono serie tv che non faremmo mai vedere alle nostre madri. E poi ce ne sono altre che, invece, ci presentano dei rapporti madre-figlia commoventi, a volte pure troppo, come in Gilmore Girls. In altri casi, all'opposto, ci sono serie tv in cui questi rapporti sono talmente distruttivi che il termine "mother issue" di freudiana memoria ci sembra quasi un eufemismo. Alcune madri, buone o cattive che siano, sono entrate comunque nell'immaginario collettivo. Basti pensare alla quasi eterea Madre di How I Met your Mother o alla terrificante Norma Bates di Bates Motel. Il nostro intento oggi non è solo quello di parlare di madri o di rapporti madre-figlia in senso generico, quanto indicare cinque serie tv che sono, per tematiche affrontate o per trama, perfette da vedere con la propria madre. Possibilmente una madre con cui si è in buon rapporto (no, niente Bates Motel).
5) Jane The Virgin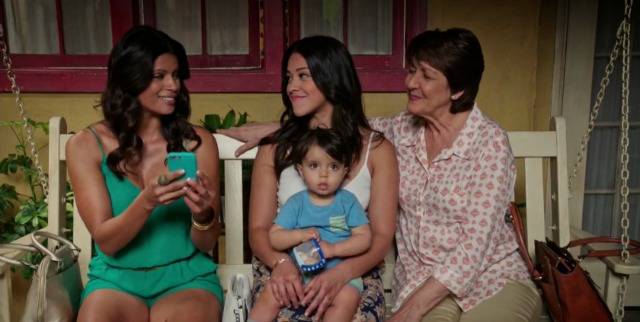 Jane the Virgin è una commedia piuttosto buffa, nella quale la ventitreenne Jane rimane incinta senza mai aver fatto sesso a causa di un'inseminazione artificiale sbagliata. Tuttavia questa è solo la premessa per aprire il dibattito su questioni più importanti, nonché per riflettere sulle relazioni madre-figlia. La madre di Jane, Xiomara, l'ha data alla luce quando aveva solo sedici anni in una famiglia prepotentemente cattolica. Questo le ha causato non pochi problemi nel rapporto con la madre Alba, la nonna di Jane. A quest'ultima viene quindi inculcato un senso dell'integrità sessuale tale che la decisione di tenere il figlio scompenserà i delicati equilibri della casa e aprirà a tutta una serie di discussioni sullo scontro generazionale, sulla maternità, sulla latenza di figure paterne. Il tono sarà comunque sempre quello della dramedy.
4) Pose
Pose lo mettiamo qui, a mo' di provocazione. Tutte le serie tv inserite hanno in qualche modo degli elementi che potremmo definire di contrasto, che potrebbero aprire dibattiti interessanti con le proprie madri (sempre ammesso che il rapporto sia di apertura e crescita). Pose attacca sul fronte della libertà intesa in ogni sua sfaccettatura e della maternità come acquisita. Protagonista della serie è Blanca, che decide di aprire House of Evangelista, una delle case che nella seconda metà degli anni '80 offriva riparo a membri della comunità LGBTQIA+, abbandonati dalle famiglie. La serie si dedica a una specifica sottocultura che potrebbe essere ostica, però affronta argomenti importanti, quali le reazioni della famiglia all'omosessualità, l'AIDS, la costruzione della famiglia intesa come luogo sicuro in cui essere se stessi. Blanca è una madre a tutti gli effetti e lo dimostra in ogni aspetto della sua vita, soprattutto insegna che famiglia non vuol dire solo legami di sangue ed è amore incondizionato. Un modo nuovo di essere rapporto, di essere madre.
3) Parenthood
Come contraltare drammatico a Modern Family c'era Parenthood. Anche in questo caso c'è un capofamiglia attorno al quale ruotano i nuclei familiari dei quattro figli. Tutto parte dal ritorno a casa della secondogenita, Sarah, madre single con due figli adolescenti. La serie fa un ottimo lavoro nel dipingere le difficoltà di una famiglia distrutta, economicamente e psicologicamente, dopo la separazione dei genitori. Il rapporto tra Sarah e Amber è conflittuale a causa di entrambe: da una parte, una madre che si trova ad affrontare il fallimento; dall'altra, una figlia adolescente sradicata dalla sua vita. Attraverso gli alti e bassi di questa relazione, si potrebbero aprire immensi dibattiti: dall'adolescenza al ruolo di madre come perno della famiglia, alla ricerca della propria strada. Tuttavia Parenthood non è solo Sarah-Amber, perché la famiglia, la maternità e il rapporto con i figli vengono declinati in mille modi diversi, tutti profondi ed educativi. Si parla di adozione, equilibro tra carriera e maternità, sindrome di Asperger e come affrontarla all'interno del nucleo familiare, ribellione giovanile e famiglia, intesa come luogo in cui tutto è perdonato.
2) Mom
Nomen Omen, al secondo posto abbiamo una serie che nel tempo si concentra proprio sul rapporto madre-figlia e lo fa in modo non convenzionale. Mom parla di seconde possibilità e di redenzione, di accettarsi e accettare l'altra persona per quel che è, senza filtri. Il rapporto tra Christy, giovane mamma ex tossicodipendente e alcolista, e sua madre Bonnie è tutt'altro che buono, all'inizio. A partire da una relazione di vicinanze forzata, le due si ritroveranno a crescere parallelamente alla crescita della loro relazione e al perdono che decideranno di donarsi. Mom è efficace perché è una sitcom che con uno stile delicato e sensibile apre molti argomenti delicati: dipendenze, gravidanze inattese, difficoltà di accettazione, abbandono familiare ed emarginazione. Tutto tra una risata e l'altra. Un ottimo modo, leggero, per introdurre alla propria madre un mondo complesso e difficile e soprattutto per parlarne.
1) Gilmore Girls
Ebbene sì, la serie per eccellenza dedicata al rapporto madre-figlia. Gilmore Girls e Mom meritano i primi posti perché il rapporto è centrale nelle dinamiche della serie. Gilmore Girls non parla solo di un rapporto madre-figlia, ma tratta efficacemente cosa dovrebbe e non dovrebbe avere una buona relazione madre-figlia. Attraverso Lorelai, Rory ed Emily non solo c'è la rappresentazione generazionale del ruolo di madre, ma soprattutto un parallelo tra metodi diversi di educare i propri figli. Emily è la rappresentante di un modello genitoriale compassato, irrigidito dalla propria età e dal gap con la figlia, ma anche dallo status sociale. D'altro canto, Lorelai è depositaria di un modello genitoriale più lassista e giovanile, la cui indulgenza è data dal minore gap di età madre-figlia e dal suo passato. Eppure anche questo modello, benché più soddisfacente di quello di Emily, alla lunga mostra le sue falle: Rory non viene preparata alla durezza della vita, ad affrontare il fallimento.
Gilmore Girls solleva così una questione interessante: esiste un modello giusto per essere genitore? La serie sottolinea come ciò che si è vissuto condizioni il proprio modo di fare il genitore e la relazione con i propri figli, ma afferma anche come si possa sempre recuperare. In questo senso, la relazione Emily/Lorelai è più interessante di quella protagonista. Lo scontro tra le due è forte perché il gap culturale e sociale è più profondo. Eppure entrambe riusciranno a ricostruire un rapporto da una forzatura artificiosa (così come in Mom), che tra alti e bassi viaggerà spedita fino alla fine. Gilmore Girls è una serie interessante da affrontare con la propria madre, perché è divertentissima e leggera, ma sotto alla leggerezza si parla di educazione, limiti e confini da non superare, ridefinizione dei ruoli.