Da adulti li abbiamo amati e seguiti in tutti i loro ruoli sul piccolo e grande schermo, ma la maggior parte dei grandi attori hanno iniziato la loro carriera da piccolissimi, prendendo parte a produzioni in cui troppo spesso non li ricordiamo. Serie tv come Friends, La casa nella prateria, La signora in giallo e tante altre, vantano nel loro cast numerosi volti noti, comparsi quando ancora il mondo non li conosceva.
Riguardando alcune serie del nostro passato ci è spesso capitato di rivedere alcune di queste star, venendo colti immediatamente da enorme stupore. Altre volte, invece, questi interpreti sono cambiati profondamente nel corso degli anni, rendendo quasi impossibile riconoscerli da bambini.
Proviamo, allora, a fare un tuffo nel passato scoprendo insieme 10 attori famosi che sono comparsi da bambini in importanti serie tv, come Friends e La signora in giallo.
1) Jason Bateman (La casa nella prateria)
Attore, regista, produttore televisivo e cinematografico: Jason Bateman fa veramente di tutto. Un uomo dai mille talenti che ha iniziato davvero presto a cimentarsi nel mondo dello spettacolo.
La maggior parte di noi lo ricorda per la sua partecipazione nella serie Arrested Development, in cui interpreta Michael Bluth. Più di recente lo abbiamo visto in Ozark e nella miniserie The Outsider.
Non tutti, però, ricorderanno che, agli inizi della sua carriera, Bateman fu uno dei protagonisti del cult degli anni '70 e '80 La casa nella prateria. All'epoca l'attore aveva solo 12 anni e prese parte a ben 23 episodi dello show, interpretando il piccolo James Cooper Ingalls.
2) Bella Thorne (The O.C.)
Per Bella Thorne il successo è arrivato soprattutto grazie alla sua partecipazione nella serie di Disney Channel A tutto ritmo. Ma la bellissima attrice vanta, in realtà, numerosi ruoli, avendo iniziato a lavorare da piccolissima.
Già a 5 anni la Thorne prendeva parte alla serie Entourage, partecipando a un singolo episodio. Ma tra le serie più importanti in cui l'attrice figura da bambina vi è, senza dubbio, The O.C.
Una giovanissima Thorne compare infatti nell'episodio 4×13 della serie, interpretando una piccola Taylor Townsend. Al tempo l'attrice aveva solo 6 anni, ma si preparava già a diventare una vera e propria stella televisiva.
3) Shannen Doherty (Magnum P.I.)
Shannen Doherty, l'iconica Prue Halliwell di Streghe e Brenda Walsh di Beverly Hills 90210, iniziò a recitare all'età di 10 anni. Tra le sue apparizioni troviamo soprattutto serie televisive, ma anche qualche ruolo cinematografico.
All'età di 12 anni, una piccola Shannen prese parte alla famosa serie Magnum P.I., recitando nell'episodio 4×08 del poliziesco nei panni di Ima Platt.
Recentemente l'attrice si è ritrovata a dover fare i conti con una dura battaglia personale, quella contro il cancro, allontanandosi sempre di più dai suoi impegni lavorativi.
4) Joaquin Phoenix (La signora in giallo)
Joaquin Phoenix, la grande star del Gladiatore e celebre attore del cinema ha preso parte a pochissime serie tv nella sua carriera.
Nel suo curriculum si contano soprattutto film, come il più recente Joker o la pellicola del 2013 Her. Eppure, all'inizio della sua carriera, l'attore ha prestato il suo volto anche a qualche telefilm.
Tra le serie famose in cui possiamo trovarlo vi è La signora in giallo, in cui Phoenix ha interpretato il nipote di Jessica Fletcher, indagando insieme a lei in un caso di omicidio commesso in un parco a tema.
Era il 1984 e all'epoca l'attore aveva solo 10 anni. Solo due anni dopo il giovane Joaquin prese parte al suo primo film, Space Camp, abbandonando per sempre il mondo delle serie tv.
5) Abigail Breslin (NCIS – Unità anticrimine)
Ancora giovanissima, Abigail Breslin vanta già una carriera di grande successo. A soli 24 anni la donna ha già preso parte a quasi 30 film ed è apparsa in diverse serie televisive.
Il suo talento fu evidente fin da subito, tanto che già a 11 anni la Breslin riceveva una candidatura agli Oscar come miglior attrice non protagonista per il suo ruolo in Little Miss Sunshine.
Il suo debutto avviene davvero presto, ad appena 3 anni Abigail era già impegnata nelle riprese del suo primo spot pubblicitario. Seguiranno diverse partecipazioni a film e serie tv.
A 8 anni l'attrice prende parte alla serie NCIS – Unità anticrimine, recitando nell'episodio 2×01, dove interpreta una piccola Sandy Watson. Due anni dopo la piccola comparve nell'episodio 3×03 di Grey's Anatomy nei panni della giovane paziente Megan Clover, una bambina incapace di provare dolore che Alex Karev prenderà in cura.
6) Raven-Symoné (I Robinson)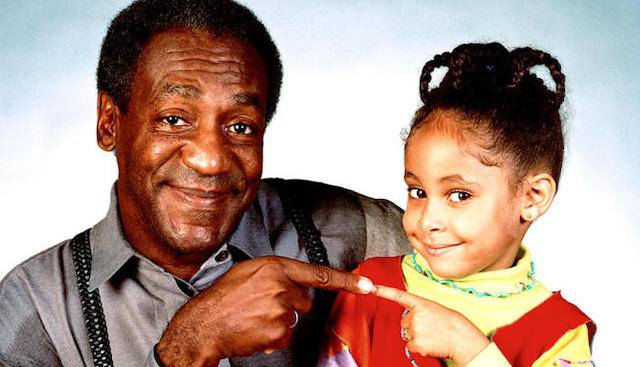 La famosissima star Disney, Raven-Symoné, è una vera e propria artista a tutto tondo. Oltre ad essere un'attrice, la donna è anche un'ottima cantante, oltre che ballerina, modella, comica e produttrice televisiva.
Principalmente conosciuta per i suoi ruoli televisivi, Raven ha preso parte anche a diversi film, tra i quali ricordiamo la commedia musicale Una canzone per le Cheetah Girls, Principe azzurro cercasi e Piccole canaglie.
Il successo per lei è arrivato da piccolissima, già a 6 anni la giovane era famosa per la sua interpretazione di Olivia Kendall nella celebre serie I Robinson. Per ben 64 episodi la piccola ha intrattenuto i telespettatori con la sua infinita dolcezza e comicità.
7) Mila Kunis (Baywatch)
Mila Kunis è ricordata principalmente per essere l'iconica voce di Meg Griffin nella serie I Griffin. Ma per la bellissima attrice e doppiatrice ucraina sono tantissimi i ruoli degni di nota.
La sua egregia interpretazione di Lily nel film del 2010 Il Cigno nero le ha permesso di conquistare il prestigioso premio Matroianni a Venezia oltre che procurargli diverse candidature per altri importanti riconoscimenti. Tra i suoi ruoli più importanti ricordiamo quello nel film del 2011 Amici di letto e più di recente la parte in Il tuo ex non muore mai.
Meno cospicua, invece, la partecipazione a serie tv, in cui troviamo principalmente delle singole comparse. Tra i suoi lavori spicca però la partecipazione alla sitcom That '70s Show che l'ha coinvolta per ben 200 episodi.
Tornando indietro fino agli inizi della sua carriera è possibile trovare una partecipazione a molti passata inosservata. Ad appena 12 anni la Kunis compariva in una delle serie più iconiche degli anni '90: Baywatch.
8) Dakota Fanning (E.R – Medici in prima linea)
Dakota Fanning è un'attrice che non necessita di alcuna presentazione. La sua lunghissima lista di premi basta a testimoniare il grande talento della donna, la cui carriera ha avuto inizio a soli 6 anni.
Già a 8 anni la Fanning otteneva una nomination allo Screen Actors Guild Award come miglior attrice non protagonista per la sua eccellente interpretazione nel film Mi chiamo Sam, divenendo la più giovane candidata della storia. Seguirà una carriera proficua e piena di riconoscimenti.
Forse non tutti ricorderanno che, agli inizi della sua carriera, la Fanning comparve nella serie E.R. – Medici in prima linea. Si tratta precisamente dell'episodio 6×19 del telefilm. La piccolissima attrice aveva ancora 6 anni e venne ingaggiata per interpretare una giovane paziente.
9) Emily Osment (Friends)
Di volti noti Friends ne ha visti passare veramente tanti negli anni, anche tra i più piccolini.
Quando pensiamo a volti celebri tra i bambini di Friends, il nostro pensiero non può che volare subito a Cole Sprouse, l'iconica star di Zack e Cody e oggi protagonista di Riverdale, che nella sitcom interpreta il figlio di Ross.
Solo i più attenti, però, avranno notato la presenza nel cast di Friends di un'altra famosissima star Disney. Si tratta dell'incantevole Emily Osment, la celebre amica di Hannah Montana nell'omonima serie.
Una giovane Osment di appena 9 anni compare, infatti, in una scena dell'episodio 8×06 di Friends. Una piccolissima comparsa che ci regala però una gag divertente. È halloween e un gruppo di bambini suona al campanello della casa più famosa della tv. Rachel, però, si trova a corto di dolcetti e decide così di firmare un assegno alla piccola Emily.
10) Dylan Minnette (Due uomini e mezzo)
Ancora giovanissimo, l'iconico Clay di Tredici è già riuscito a far emergere il suo talento, iniziando a percorrere il cammino del successo.
Il suo debutto avviene nel 2005, a soli 8 anni, e vede la partecipazione di Minnette in famosissime serie tv. Tra i suoi primi ruoli vi è una piccolissima partecipazione nella serie Due Uomini e Mezzo, avvenuta nel finale dell'episodio 2×20. L'attore viene chiamato a interpretare un piccolo Charlie, intento a recarsi a scuola con la compagnia del fratello.
Nella scena Minnette appare solo di spalle, eppure quella piccola parte segnò l'inizio di un'importante carriera. Lo stesso anno, l'attore fu chiamato a partecipare alla famosissima serie Prison Break, questa volta per una parte leggermente più lunga che comprendeva ben 5 episodi e una grossa responsabilità: quella di mettere in scena un giovane Michael Scofield.