3)Il Corvo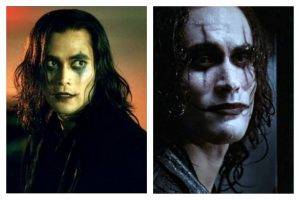 Ebbene si, pochi di voi sanno che dal famosissimo film con il compianto Brandon Lee (tratto a sua volta dall'omonimo fumetto) prese diretta ispirazione The Crow – Stairway to Heaven.
La Serie andò in onda sulla tv canadese nel 1998 (da noi nel 2003) e fu composta da una sola Stagione, mentre il ruolo di Eric Draven fu affidato al campione di arti marziali e stuntman, Mark Dacascos. Sul web pare impossibile trovarla in streaming e in Italia uscirono solamente due episodi.
Sorvolando sulla qualità di questa Serie Tv, c'è da dire che fra questo show, i tremendi sequel del film e i continui tira e molla legati all'ipotetico reboot della pellicola, per "Il Corvo" non c'è davvero pace!
Perdonali Brandon, non sanno quello che fanno!
4) The Exorcist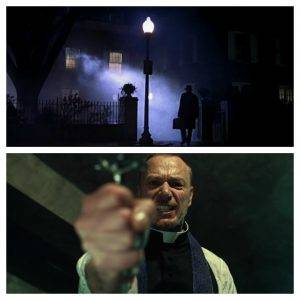 Il film non ha di certo bisogno di presentazioni. La pellicola del 1973 di William Friedkin, vincitrice di ben due Oscar, fu tratta a sua volta dal libro di William Peter Blatty, sceneggiatore poi del film.
La Serie Tv The Exorcist è invece fresca fresca, la Fox infatti ha trasmesso la prima puntata circa un mese fa (il 23 Settembre, ed è attualmente ancora in corso la sua messa in onda) e il cast vanta la presenza di Geena Davis. La trama non si discosta molto dall'originale:  due preti dalle  opposte personalità che tentano di aiutare con i mezzi a disposizione la giovane Charlotte Rance, che sembra manifestare i segni della possessione del demonio.
Il rischio di rovinare una materia tratta da una pellicola tanto amata e leggen(aspetta…)daria è alto, ma in merito il produttore esecutivo ha affermato:
"Stiamo provando lo stesso approccio che vi è stato con Fargo, si tratta di uno show che è ambientato nello stesso universo del film originale, ha gli stessi toni, la stessa mentalità, ma ha dei personaggi completamente nuovi […] Non vogliamo buttare via la storia che avete amato."
Gli sceneggiatori e il regista, inoltre, si sono avvalsi della consulenza di preti esorcisti e la trama è ispirata a veri casi di presunte possessioni.
Varrà la pena dare una possibilità a questa Serie?