Come è risaputo i libri sono stati un punto di partenza per molte, moltissime Serie Tv: Game of Thrones, Outlander, Orange is The New Black, solo per citarne qualcuna. Molti di voi sanno anche che parecchi show sono stati ispirati da film (per lo più omonimi della Serie che ne è seguita).
Alcuni di questi film sono davvero famosi, altri un po' meno (uno in particolare potrebbe sorprendervi). Curiosi vero? Ecco quindi 10 Serie Tv che sono state tratte da film!
1) Teen Wolf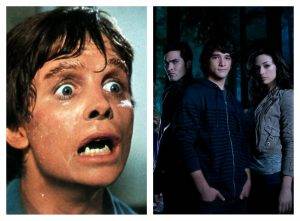 Chi di voi non conosce Voglia di Vincere (Teen Wolf) con Michael J. Fox? Il film fu diretto da Rod Daniel e uscì nelle sale nel lontano 1985, stesso anno del celeberrimo 'Ritorno al Futuro'. Queste due pellicole ebbero un enorme successo e contribuirono ad aumentare la fama di Michael J. Fox, attore simbolo di quegli anni.
La Serie Tv omonima di questo blockbuster invece, debuttò su Mtv nel 2011 e sicuramente si caratterizza per avere un'impronta molto più dark e fantasy rispetto al film, i cui toni sono molto più da commedia, rendendo quindi i due prodotti essenzialmente diversi.
La Serie Tv che ha avuto un buon successo di pubblico è ora giunta alla sua quinta Stagione. Purtroppo per i fan, durante lo scorso Comic-Con di San Diego è stato confermato che la sesta Stagione sarà anche l'ultima.
Piccola chicca: nel doppiaggio italiano il nome del protagonista del film è stato cambiato da Scott a Marty, per sfruttare il successo del personaggio di "Ritorno al Futuro". Aahh che furbi noi italiani, eh!?
Se non avete visto il film, recuperate quanto prima!