Il prodotto completo che vediamo sui nostri schermi non è sempre ciò che originariamente era stato pensato, o persino filmato. Per realizzare un episodio, infatti, si passa principalmente attraverso diversi fasi come scrittura, regia ed editing, e capita spesso che durante l'ultima fase il canale o la produzione non diano l'approvazione (è capitato persino a una serie come Dexter). Se così accade, la scena viene rigirata da capo o persino censurata ed eliminata in postproduzione. Un esempio? Nella serie tv Girls, in cui di certo non sono mai mancate le scene di nudo e sesso, ce n'è stata una particolarmente audace che il canale HBO decise di non mandare in onda. La scena in questione prevedeva che il personaggio di Elijah eiaculasse, decisamente troppo anche per gli standard di Girls.
Vediamo insieme quindi 5 serie tv che hanno subito una censura a causa di una scena troppo violenta.
1) Game of Thrones
Cosa può esserci stato di tanto terribile da meritare il taglio in Game of Thrones? Beh, sappiate che sì, c'è stata una scena troppo ardita persino per gli standard dello show HBO. E dire che di situazioni spinte ne abbiamo viste parecchie, dalla notte di nozze di Sansa Stark alle torture inflitte e Theon Greyjoy, per non parlare della terribile morte tra le fiamme di Shireen Baratheon.
Sappiate però che esiste una scena della quarta stagione così disturbante che alla fine venne rimossa in fase di post produzione. Nell'episodio "The Mountain and the Viper", infatti, Gregor Clegane faceva esplodere la testa di Oberyn come fosse stato un palloncino d'acqua. Brutta immagine vero? Devono averlo pensato anche quelli della produzione perché alla fine la scena venne editata in maniera molto più "soft", per gli standard di Game of Thrones si capisce.
2) The Walking Dead
Nel caso di The Walking Dead sono diverse le scene girate e lasciate indietro, soprattutto ai tempi della settima stagione che fu particolarmente violenta. Di certo ricorderete la premiere della stagione che ha introdotto Negan e la sua mazza Lucille, per chi non lo sapesse la scena iniziale venne girata con tutti e 11 i protagonisti uccisi dalla terribile mazza. In seguito solamente Glenn e Abraham sono andati incontro a un tragico destino ma non finisce qui, perché in una delle ultime riprese mai andate in onda una Maggie in dolce attesa veniva presa a randellate. Decisamente troppo.
Sempre nella settima stagione di The Walking Dead, un'altra scena è stata successivamente eliminata, quella in cui Fat Joey, interpretato da Joseph Hoover, veniva pestato a morte da Darryl. In seguito, la produzione ha deciso di ridurre il tono violento della scena in questione.
3) X-files
Esiste un episodio della sesta stagione dello show ritenuto così raccapricciante da aver spinto la FOX a vietarne la messa in onda. Solamente nel 1999, l'episodio (il 4×02) è stato finalmente trasmesso con l'avvertimento all'inizio "Consider yourself warned" (se volete conoscere altri retroscena delle serie tv, cliccate qui).
L'episodio in questione traeva spunto da un avvenimento biografico della vita di Charlie Chaplin, ma pochi sono a conoscenza di questa informazione.
"Home" vede Murder e Scully lavorara a un'indagine che li porta fino in Pennsylvania, qui viene rinvenuto il cadavere di un neonato deforme frutto di una serie prolungata di incesti. Ai margini della città vivono infatti i Peacock, una comunità con le proprie regole, quasi animalesche, che per generazioni è andata avanti a incroci tra gli stessi membri. Verso la fine dell'episodio viene fatta la terribile scoperta, all'interno della casa del titolo, della presenza di una matriarca mutilata, orgogliosa madre di tre figli che per lei sarebbero pure disposti a morire. Episodio assolutamente da recuperare.
4) Poldark
Lo show della BBC, ispirato ai romanzi Warleggan di Winston Graham, è andato incontro a una rielaborazione per nulla banale. Nella seconda stagione di Poldark, il protagonista e il suo primo amore (Elizabeth) sono protagonisti di una intensa scena di passione, peccato che originariamente quello fosse uno stupro.
La scena in questione avviene nel terzo libro, quando Ross Poldark fa irruzione in casa di Elizabeth e la porta con forza a letto, non prima di averle dato della "slut". Nella trasposizione televisiva la scena è stata cambiata e sostituita con una in cui i due parlano e si lasciano andare in maniera consenziente. La scelta di rimpiazzare la sequenza dello stupro è stata motivata dalla volontà di proteggere la figura eroica di Ross.
5) Dexter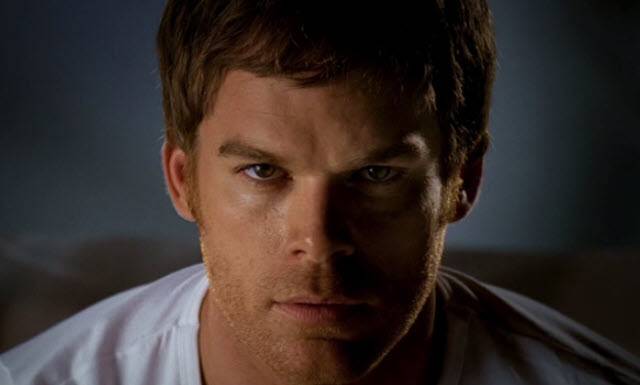 La serie tv di Showtime non si è mai fatta mancare scene generalmente disturbanti, d'altronde avendo per protagonista un serial killer che dà la caccia ad altri serial killer c'era da aspettarselo. L'opening credit originale di Dexter però risultò così oscuro da essere stato modificato e sostituito con quello che tutti i fan sono stati abituati a vedere.
Nella prima versione, infatti, Dexter si radeva la barba e si preparava poi una sana e ricca colazione a base di uova, arance e bacon.
L'intera sequenza risulta disturbante, con il bacon masticato ripetutamente e il succo dell'arancia che spruzza come fosse una arteria recisa. C'è anche un momento in cui Dexter prepara il caffè, pressandolo con forza come fossero ossa. L'intero montaggio venne così alleggerito con la telecamera che indugiava meno sui dettagli della routine mattutina di Dexter. Di certo se vedeste l'opening originale non guardereste più la colazione allo stesso modo.