Il legal drama è uno dei generi televisivi più longevi della storia della televisione, capace di catturare decine di milioni di fan dagli anni Cinquanta fino a oggi. Il successo del genere è legato a diversi fattori, primo fra tutti il ricorrere a schemi narrativi predefiniti, che alimentano nello spettatore un senso di familiarità e sicurezza senza per questo rinunciare ad appassionanti colpi di scena. Tuttavia, se è vero che la maggior parte dei legal drama contemporanei (pensiamo per esempio a serie di successo come Bull, Drop Dead Diva o la recentissima All Rise) continuano a rifarsi agli elementi che hanno caratterizzato il genere per decenni, alcuni degli show più rivoluzionari e apprezzati degli ultimi vent'anni – vere e proprie pietre miliari della televisione come The Good Wife o Better Call Saul – hanno contribuito a innovare radicalmente i legal drama.
Esempio per eccellenza dell'evoluzione del legal drama, tra il fascino esercitato dalla struttura classica a procedural e la necessità di innovare il genere per attirare nuovi fan, è Perry Mason. Infatti, la serie originale andata in onda tra gli anni Cinquanta e Sessanta aveva per protagonista un avvocato che immancabilmente vinceva un caso a episodio e la cui bussola morale non poteva essere messa in discussione, mentre il remake omonimo uscito nel 2020 si concentra su un unico caso e mette in evidenza la complessità del suo protagonista.
Nello stilare questa classifica abbiamo voluto bilanciare da una parte il ruolo storico fondamentale di alcuni legal drama, dall'altra invece la capacità che determinate serie televisive hanno avuto nel trasformare e sviluppare il genere oltre i rigidi schemi prestabiliti.
10) JAG – Avvocati in divisa
Forse non tutti ricorderanno che il crime NCIS, la serie campione di ascolti negli Stati Uniti, è nato come spin-off di JAG – Avvocati in divisa.
Sono ben dieci le stagioni della serie tv che prende il nome dal Judge Advocate General, la struttura per cui lavorano i protagonisti. Caratterizzata da una struttura basata su episodi quasi esclusivamente auto-conclusivi, JAG racconta delle vicende di un gruppo di avvocati che lavorano per l'esercito e pertanto si differenzia dagli altri legal drama proprio per i casi trattati, tutti relativi in qualche modo alla sfera militare.
9) Goliath
Creata dal maestro dei legal drama David E. Kelley (L.A. Law, Boston Legal, Ally McBeal), Goliath è la storia di Billy McBride, avvocato che da solo si scaglierà contro una multinazionale che produce armi, riproponendo la vicenda biblica di Davide e Golia in una nuova versione.
Il ritmo incalzante della serie e la moralità ambigua di cui è pervasa ne fanno un ottimo prodotto, che pur non esente da difetti ha il pregio di allontanarsi dai canoni del politicamente corretto per dare maggiore credibilità alla vicenda raccontata.
8) L.A. Law
Vincitrice di ben 15 Emmy, di cui 4 come migliore serie drammatica (nel 1987, 1989, 1990, 1991), L.A. Law vanta otto stagioni e la partecipazione di quelle che sarebbero diventate star di enorme successo come Bryan Cranston, Kevin Spacey e Steve Buscemi.
Ambientata a Los Angeles, la serie ha un cast corale e affronta in modo mai superficiale alcune delle tematiche più scottanti a livello politico e sociale nell'America degli anni Ottanta e Novanta, portando sullo schermo e in tribunale scontri ideologici e generazionali. L.A. Law è forse il legal drama più di successo della storia della televisione, tanto che oggi – nell'era dei revival – pare proprio che la ABC stia per riportarla in televisione. Siamo curiosi di scoprire se saprà ancora essere attuale e superare il test del tempo.
7) Perry Mason
Al settimo posto della nostra classifica troviamo il padre spirituale di tutti i legal drama: Perry Mason.
Andata in onda tra il 1957 e il 1966 per un totale di 9 stagioni e 271 episodi, Perry Mason è una delle serie tv che più di tutte hanno contribuito al successo del genere. Se si trova soltanto al settimo posto di questa classifica è perché – al netto della sua importanza nella storia della televisione – è una serie che allo spettatore odierno appare troppo classica, scontata, a tratti macchinosa. L'avvocato di Los Angeles, difensore solo di innocenti e pressoché invincibile, fatica ad attirare ancora un pubblico che si è ormai abituato a personaggi di ben altra complessità e intrecci che possano lasciarlo a bocca aperta.
6) How to Get Away with Murder
Se avesse mantenuto la stessa qualità della sua perfetta prima stagione per le cinque successive, How to Get Away With Murder si sarebbe senza dubbio posizionata sul podio dei migliori legal drama di sempre.
Purtroppo con il procedere delle stagioni la serie con protagonista Annalise Keating è incorsa in uno degli errori più frequenti quando di parla di questo genere: quello dell'eccessiva ripetitività. Ciò non cancella però l'importanza fondamentale che How to Get Away with Murder ha avuto nell'innovare il legal drama e attirare nuovi fan, grazie a personaggi tridimensionali e con cui è facile immedesimarsi, oltre che una trama accattivante da cui staccarsi è spesso impossibile.
5) Damages
Sebbene Damages non sia tra le serie più note al grande pubblico, la sua importanza nel ridefinire i termini del legal drama moderno è quasi senza pari (Better Call Saul è l'eccezione).
La serie ha per protagonista una Glenn Close in stato di grazia, nei panni della glaciale Patty Hewes, avvocatessa civilista dall'aria impassibile e restia a ricondurre la giustizia a semplicistiche definizioni di bene e male. Le novità apportate da Damages al genere – una linea temporale frammentata, antieroine come protagoniste, un caso unico per stagione – sono alcune delle ragioni (qui ve ne riportiamo altre) per cui la serie è una visione imprescindibile per qualsiasi appassionato di legal drama.
4) Ally McBeal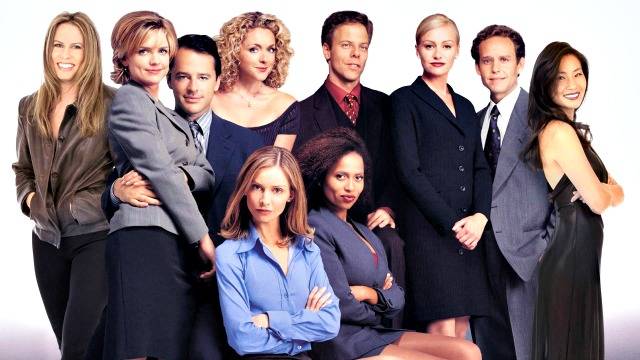 Prima di Sex and the City ci sono state due grande pioniere della nuova rappresentazione delle donne in televisione: Buffy Summers (Buffy l'ammazzavampiri) e Ally McBeal.
Ally McBeal è una serie che spazia dal dramma alla commedia, dall'aula di tribunale alle vite private dei protagonisti, andando a creare un mix di generi che ne ha decretato una popolarità notevole ai tempi della prima messa in onda.
È un prodotto in grado di far riflettere sugli argomenti più svariati senza tuttavia risultare pesante e attrarre anche coloro che normalmente non sono fan dei legal drama.
3) Suits
Le altre serie presenti in questa classifica hanno fatto incetta di premi, sono spesso state lodatissime dalla critica ancor prima che apprezzate dal grande pubblico. Non sempre però la qualità di una serie si misura dai riconoscimenti ricevuto, bensì anche dalla fedeltà del pubblico e dalla capacità di lasciare un segno nella storia della televisione.
È questo il caso di Suits, che conta ben nove stagioni e che non smette di introdurre migliaia di appassionati di serie tv al genere del legal drama.
Grazie alla sua perfetta miscela di casi appassionanti e relazioni personali, nonché a personaggi ben scritti e in costante evoluzione, Suits riesce a scampare al pericolo della ripetitività che si abbatte spesso sulle serie del genere. Un legal drama per molti aspetti classico, ma che aggiunge abbastanza elementi della televisione moderna per risultare originale e accattivante.
2) The Good Wife
Perfetto intreccio tra legge, politica e vita privata, The Good Wife è una delle serie tv più acclamate degli anni Dieci.
The Good Wife è la dimostrazione che è possibile coniugare episodi autoconclusivi con una solida trama orizzontale, prendere gli elementi più classici del legal drama e crearne qualcosa di nuovo ed esplosivo. È una storia di rinascita senza però peccare dell'eccessivo buonismo che a queste solitamente si accompagna, è una serie che pur attingendo ad alcuni degli aspetti più prettamente drammatici della televisione non rinuncia al realismo di base che la differenzia dalla moltitudine di legal drama apparsi sul piccolo schermo.
1) Better Call Saul
Nato come spin-off di Breaking Bad, Better Call Saul si è rivelato un prodotto unico nel suo genere, in grado di distaccarsi dalla serie madre e rivoluzionare la televisione.
Definire Better Call Saul come un semplice legal drama è riduttivo, lo sappiamo. Eppure, pur non rientrando solamente all'interno dei confini del genere, la serie di Vince Gilligan e Peter Gould è l'emblema di una nuova era della rappresentazione del lavoro di avvocato in televisione. Non un eroe, non il paladino degli innocenti, ma una persona ancora prima che un professionista. La rivoluzione della moralità in televisione, iniziata con I Soprano e proseguita con Breaking Bad, con Better Call Saul travolge definitivamente anche il legal drama, portando a termine il lavoro che Damages e The Good Wife avevano cominciato.