Goliath è la miniserie targata Amazon (da un'idea di David Kelley e Jonathan Shapiro) che vede il ritorno sul piccolo schermo di Billy Bob Thornton, due anni dopo averlo visto nelle vesti del tremendo criminale Lorne Malvo in un'altra miniserie, Fargo.
Goliath in otto ore distribuite in otto puntate coinvolgono lo spettatore in un viaggio giudiziale che contrappone un singolo avvocato contro un grande studio di fama mondiale.
Infatti, impareremo a conoscere Billy McBride, un avvocato caduto in disgrazia a causa dei suoi problemi con l'alcol, che viene contattato dalla sorella di un uomo, il signor Larson, morto apparentemente suicida due anni prima.
Il rispolverare questo caso chiama in causa una grande e potente multinazionale che produce armi, accusata proprio di aver assassinato l'uomo e di averlo fatto sembrare un suicidio.
In quanto legal drama, molte ore di Goliath si svolgono in tribunale, attraverso precisi procedimenti giudiziari e una accurata terminologia giuridica: tuttavia, lo show non è lento e, gradualmente, capiremo il perché.
Insieme ad una trama intrigante, merita una menzione la scelta del cast: Billy Bob Thornton illumina la scena (e rappresenta la vera marcia in più), ma è ben accompagnato da Molly Parker (House of Cards), Maria Bello, Harold Perrineau e Tania Raymond (entrambi hanno lavorato in Lost) e soprattutto il premio Oscar William Hurt.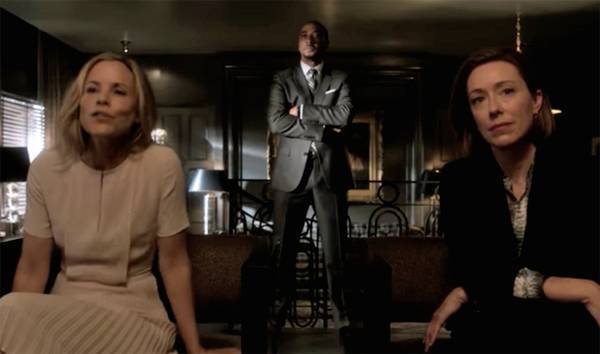 Come emerge già dal titolo, tutta la serie cerca di sviluppare la concezione del piccolo contro il gigante: Davide, cioè il piccolo avvocato McBride e la parte lesa, contro Golia (nonchè titolo della serie), ovvero il grande studio legale famoso, ricco e potente.
Visto il verdetto della giuria il messaggio è piuttosto chiaro: in linea di massima, Golia vince sempre . Eppure c'è quella piccola percentuale, affidata alla bravura del singolo, alla pietà del popolo, alla grandezza spirituale che permette a Davide di prevalere.
Curioso che proprio McBride era uno degli ingranaggi che compongono Golia: aveva fondato con il suo amico, e ora acerrimo nemico Donald Cooperman (William Hurt), il grande studio legale da cui poi era stato allontanato.
Il concetto del forte contro il debole, in crescendo in tutte le puntate, tocca l'apice diventando una metafora della vita quotidiana, in cui il popolo si sente legittimato a sapere la verità, senza voler più sopportare soprusi o bugie.
Goliath si caratterizza sicuramente per un altro aspetto: la violenza verbale.
Politicamente scorretta, "fuck" e "shit" sono le parole maggiormente usate dai protagonisti (ed è incredibile quanto bene escano fuori dalla bocca di Billy Bob Thornton).
Tale scorrettezza è volutamente usata sia per alleggerire i toni della storia (che è a tutti gli effetti drammatica), sia per far comprendere la bassezza morale dei personaggi (tutti, nessuno escluso): anche con le parolacce, però, alcuni sono capaci di elevarsi con i fatti, altri invece rimangono nella melma.
La serie non è comunque priva di difetti: uno che va necessariamente segnalato è la mancanza di accuratezza nei confronti della storia del passato tra McBride e Cooperman.
Questa superficialità potrebbe andare bene fino a quando lo scontro fra i due è mantenuto a distanza…
Ovviamente non è così che può andare, e dunque sapere qualcosa in più sul passato di quei personaggi avrebbe reso l'incontro tra i due più pregnante di tensione e avversione di quanto si percepisse.
Si tratta comunque di una miniserie: tuttavia, dedicare del tempo per comprendere di più le dinamiche psicologiche dei personaggi per capire perché sono diventati così sarebbe stata una mossa elegante ed efficace.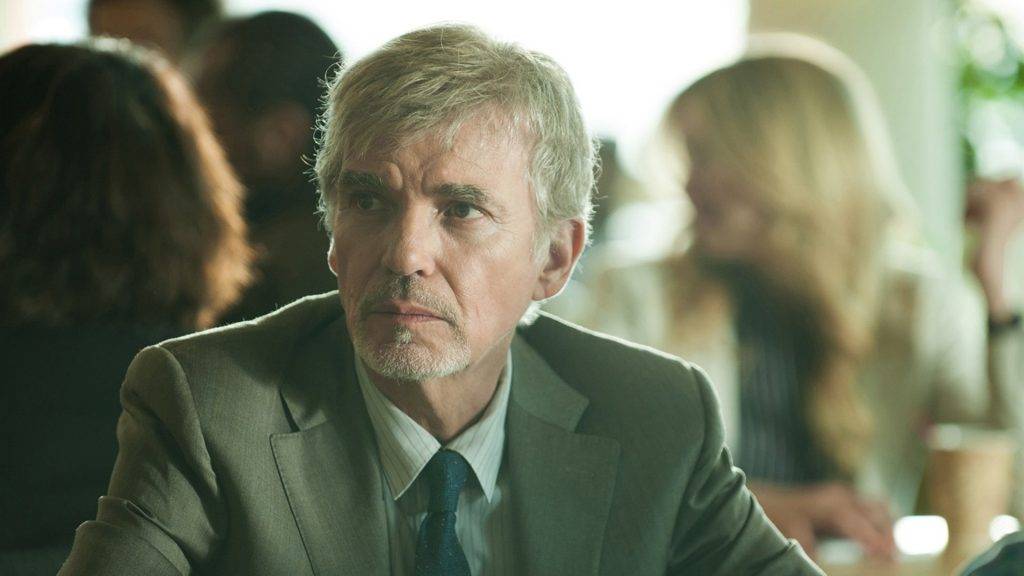 Un cenno finale meritano la sigla e le musiche: massimo dei voti per entrambe!
La sigla, con sottofondo "Bartholomew" dei The Silent Comedy è davvero un piccolo gioiello rock (con le parole che scandiscono "You're gonna learn the truth", cioè "la verità verrà fuori"), e tutta la serie alterna alla perfezione e ambiziosamente (perché in momenti inaspettati ma calzanti) musiche strong, pop e in un paio di occasioni anche lirica operistica (il Nessun Dorma di Pavarotti), creando una combinazione che non ha paura di osare, a cura di Jon Ehrlich e Jason Derlatka.
Sostanzialmente, dunque, Goliath
merita un'opportunità.
Il cast e la composizione musicale sono la marcia in più di una trama interessante ma sicuramente non incredibilmente originale, che fa a lungo riflettere sulle differenze di trattamento che i soggetti subiscono di fronte alla legge, facendoci per un attimo sognare che la legge sia sempre uguale per tutti.