Arrowverse, il nuovo mega crossover di DC, sta per aprire i battenti con presenti tutti i suoi principali protagonisti pronti a difendere il Multiverso dalle forze del male.
Ricordiamo, giusto per essere precisi, che con Arrowverse si intende l'insieme delle serie tv di DC Comics di Greg Berlanti.
In particolare ci si riferisce ad Arrow 6, The Flash 4, Legends of Tomorrow 3 e ultima, ma non per importanza, Supergirl 3.
Ad un anno dall'uscita del precedente crossover gli eroi sono pronti per una nuova serie di avventure tutti insieme!
Il primo crossover intitolato "Invasion" (che puoi approfondire leggendo qui) vedeva gli eroi alle prese con i Dominatori.
Ma in questo articolo parleremo del futuro crossover, nel quale comparirà un personaggio già conosciuto grazie alla storia di Arrow. Per annunciarlo lasciamo parlare l'immagine sottostante: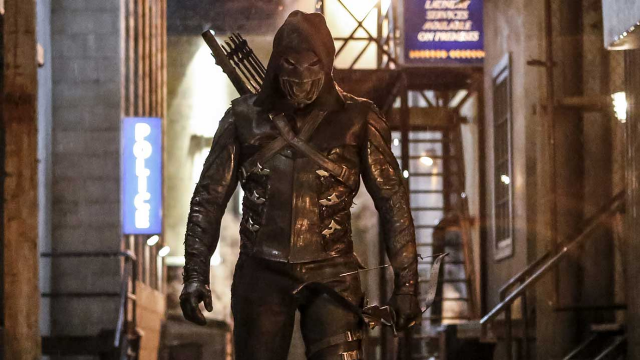 Esatto. È stato confermato il ritorno di Prometheus-X.
ATTENZIONE! QUANTO SEGUE POTREBBE ESSERE SPOILER SE NON SIETE IN PARI CON L'ARROWVERSE!
Prometheus sarà presente nel crossover nonostante la sua morte nell'ultima puntata della quinta stagione di Arrow.
I produttori hanno trovato il modo di reinserirlo.
Da una parte è sicuro che Prometheus-X, interpretato da Josh Segarra, sarà presente nel crossover, dall'altra parte non si sa niente del suo interprete, appunto Segarra.
Questo caso strano potrebbe significare solo due cose, che l'identità di Prometheus-X non verrà svelata oppure che qualcun altro sfrutterà la sua identità. A tal proposito è già partito il toto-Prometheus: chi si nasconderà dietro la sua maschera?
Il crossover inizierà il 27 Novembre con l'episodio di Supergirl 3, che sarà seguito da un episodio speciale di Arrow 6, creato apposta per il progetto crossover.
Si procederà poi diretti al martedì successivo all'interno di un episodio di The Flash 4 e infine si andrà verso la conclusione con un episodio di The Legends of Tomorrow 3.
Beh, che dire, anche quest'anno il canale The CW avrà il suo bel da fare. Stay Tuned che il 27 Novembre non è poi così lontano!