Il dominio di Netflix nel panorama dello streaming seriale è evidente per chiunque. La fortunata azienda è riuscita nell'arco di pochi anni a imporsi su scala globale relegando le concorrenti a ruoli subalterni. Tra le tanti rivali la più credibile parrebbe Amazon Prime, colosso mondiale del commercio. Eppure, la sua piattaforma, Prime Video, nonostante l'impegno di Jeff Bezos, magnate e fondatore dell'azienda leader, non sembra riuscire a reggere il confronto.
Proviamo ad analizzare insieme alcune ragioni che permettano di comprendere più nel dettaglio le origini di un fallimento che sembra irreversibile.
Per capire pienamente il successo di Netflix rispetto ai rivali occorre tenere a mente il contesto storico nel quale l'azienda viene ad affermarsi. In un recente articolo abbiamo sottolineato come tra i presupposti del suo successo vi fossero la tempestività nell'inserirsi in una branca del mercato in rapida ascesa e il parallelo sviluppo del fenomeno del binge-watching. Precedente di qualche anno era la crisi dei negozi di noleggio affossati dalla banda larga e dalla diffusione dei prodotti di streaming (più o meno legale).
La possibilità di avere sempre a disposizione un'intera cineteca tramite semplice connessione a internet risultò un incentivo fondamentale per il radicamento del modello e l'emergere di interessi economici fino ad allora inesplorati. Netflix ebbe il merito di comprendere prima di altri le potenzialità della cosa e di creare un suo spazio vitale che sarebbe andato sempre più crescendo. Amazon come la concorrenza stava ancora a guardare.
Come spesso accade nella frenetica economia moderna avere un vantaggio temporale sui rivali risulta spesso e volentieri decisivo.
Il continuo bisogno di innovazione e migliorie in ogni campo (da quello scientifico a quello dell'intrattenimento) è alla base di una corsa sfrenata "agli armamenti", determinante per il successo o il fallimento di un'azienda. Muoversi in anticipo è la parola d'ordine. Netflix ha saputo farlo. Ma Amazon non può barricarsi dietro questa puerile giustificazione.
L'azienda di Bezos rappresenta la più importante internet company al mondo in grado di investimenti da capogiro. Il confronto con l'emergente Netflix sarebbe tuttora impietoso tanto per ricavi quanto per investimenti. Già, perché entrambe le aziende hanno in comune la capacità di reimmettere nello sviluppo del settore enorme quantità di risorse spesso permettendosi anche deficit o cali di bilancio vertiginosi (-77% nel secondo semestre del 2017 per Amazon). Ma Amazon fattura enormemente di più.
Come già chiarito, la differenza non sta neppure nello scarso interesse dell'azienda di Seattle per la branca dello streaming. C'è altro alla base dell'insuccesso. La prova degli enormi investimenti nel settore può essere facilmente dimostrata da un esempio eccellente. Stiamo parlando della Serie Tv Crisis in Six Scenes che gode della prestigiosissima regia di Woody Allen. Il pluripremiato e acclamato genio della satira è stato convinto a partecipare alla realizzazione di una sua Serie a suon di milioni. Cifre astronomiche che testimoniano quanto Bezos e Roy Price, capo di Amazon Studios, credessero nel successo.
Il fallimento è stato epocale.
Alla base di questo insuccesso sono numerose ragioni che possono aiutarci a comprendere meglio le difficoltà e gli errori commessi da Amazon nell'approccio al mondo seriale. Partiamo proprio dalla scelta del grande nome, Woody Allen (e con lui Miley Cyrus). Il regista ha più volte ammesso non troppo ironicamente che in tv guarda "solo lo sport". E le sue rimostranze alla realizzazione di Crisis in Six Scenes sono state fugate solo, per sua stessa ammissione, dalla valanga di dollari che l'ha travolto. Il conseguente vuoto creativo alla base della Serie risulta così piuttosto evidente.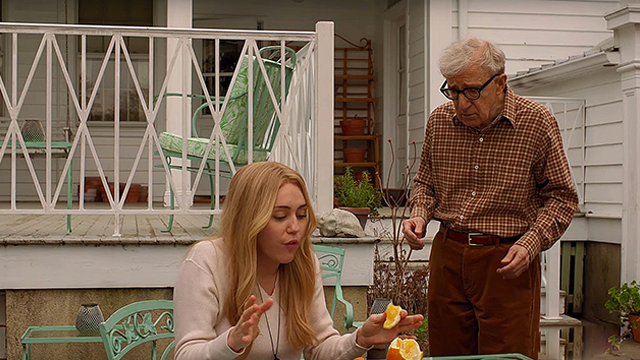 Insomma, l'approccio di Amazon è risultato disastroso. I grandi nomi non bastano. Anzi, come spesso insegna Netflix, non servono. Tanto più se sono all'asciutto di esperienze seriali. E anche la presenza di un mostro sacro come Bryan Cranston spesso non è sufficiente. Ce lo dimostra la deludente Sneaky Pete, che ha il celebre professor White di Breaking Bad come creatore e attore. Alla base di una nuova produzione, allora, come confermano i recenti successi, è indispensabile l'originalità, il coinvolgimento e la maestria recitativa. Netflix lo ha capito da tempo rinunciando a produzioni mastodontiche (Marco Polo) e indirizzandosi verso prodotti a basso costo concepiti stagionalmente come film di dieci ore. Lo ha fatto credendo e lanciando giovani promesse e potenziali star mondiali. Attraverso racconti di grande presa e magnetismo.
Il fallimento di Amazon è evidente anche da un impietoso confronto tra rinnovi e cancellazioni.
Di tutte le produzioni Originals diciassette hanno visto la loro più o meno prematura chiusura mentre soltanto dieci hanno goduto del rinnovo. Nel mezzo un'infinità di Serie ancora in bilico. Eppure, non mancano lavori che meriterebbero una più diretta attenzione da parte della critica. Opere come Lore, Fleabag e I Love Dick rappresentano prodotti originali e carichi di spunti di interesse. Anche un prodotto come The Man in the High Castle costituisce un ottimo esempio di svisceramento di un genere, quello distopico, che ha ottenuto grande successo (Black Mirror e The Handmaid's Tale). Il valore della Serie è indiscussa e parimenti riconosciuta da critica e pubblico che ci si sono confrontati.
Ma, c'è un "ma". Nonostante non abbia nulla da invidiare a Serie di maggior successo targate Netflix, The Man in the High Castle risulta semisconosciuta ai più. Ecco allora emergere qui un altro dei grandi problemi di Prime Video. La mancata esposizione mediatica. Questa lacuna è da un lato imputabile alla stessa Amazon, incapace di sponsorizzare adeguatamente i suoi prodotti.
Ma è anche un merito di Netflix e della sua enorme capacità inventiva.
Sarebbe superfluo qui ricordare alcune geniali campagne pubblicitarie finanziate dall'azienda. Basterà menzionare rapidamente l'esempio di Santa Clarita Diet e della sua "campagna multisoggetto". Tinte splatter, "locandine" a imitazione della pubblicità anni '60 dal fortissimo impatto ed enormi manifesti truculenti. Risultato: Hype alle stelle. Ecco, appunto: "hype", questo sconosciuto in casa Amazon. La strategia di marketing che punta sull'alimentare una forte attesa non è stata mai ampiamente calcata trascurando così un aspetto fondamentale di un universo in cui la "viralità" può generare guadagni astronomici.
Una breve digressione può anche essere proposta su aspetti secondari. In primis sulla varietà offerta dalle due piattaforme. Molto ricca Amazon Video quanto a film, spesso a livello qualitativo superiori a quelli di Netflix. Anche dal punto di vista della fruibilità l'applicazione regge egregiamente il confronto con la rivale. Lo streaming appare fluido e la connessione richiesta in linea anche con un Paese "arretrato" come il nostro. Le Serie Tv disponibili sono più limitate di numero ma anche in questo caso di grande qualità: basti pensare a Mr. Robot, Community, This Is Us e Due uomini e mezzo.
Dal punto di vista quantitativo però la differenza si acuisce e rappresenta un ulteriore elemento di accentuazione del divario tra i due mondi.
A ben vedere, insomma, Amazon Prime Video avrebbe i mezzi economici e quelli tecnici per reggere il confronto con le rivali. Nonostante ciò, appare indietro rispetto all'agguerrita concorrenza a causa di un'inadeguatezza nelle scelte e una scarsa audacia. Se Netflix si lancia continuamente in nuovi progetti, investimenti (oltre cento nuove Serie disponibili nel 2017) ed esperimenti per andare sempre più incontro alle mutevoli esigenze del pubblico, Amazon resta al palo. Un'inversione di tendenza è possibile e gli strumenti per metterla in atto sono già a disposizione. Mancherebbe "solo" la voglia di arrivare, l'ambizione e la competenza tecnica per investire con qualità. E non è poco.