Rick and Morty ha ottenuto molto successo con il suo debutto nel 2013 e col tempo ha acquisito maggior popolarità e critiche positive. La terza stagione si è conclusa nell'ottobre dello scorso anno e i fan sono impazienti di vedere i nuovo episodi. Adult Swim ha provato a colmare l'attesa inserendo Rick e Morty in un video musicale, ricordando Pulp Fiction (clicca qui per vederlo!).
Dan Harmon, co-creatore di Rick and Morty, ha confermato che Adult Swim non ha ancora ordinato la quarta stagione della Serie animata.
Non è quindi certo che Rick and Morty torni per una quarta stagione. Tempo fa Ryan Ridley (scrittore della Serie) ha confermato che i nuovi episodi non sarebbero arrivati prima della fine del 2019. I fan non vorrebbero dover aspettare molto per la quarta stagione di Rick and Morty, ma la situazione ha dei precedenti. Tra la seconda e la terza stagione della Serie sono passati infatti quasi due anni.
Le dichiarazioni di Ridley hanno fatto suonare un campanello d'allarme nella mente dei fan. Un recente tweet di Dan Harmon ha solo peggiorato le cose, confermando che Rick and Morty non ha ancora ricevuto l'ordine per la quarta stagione da Adult Swim: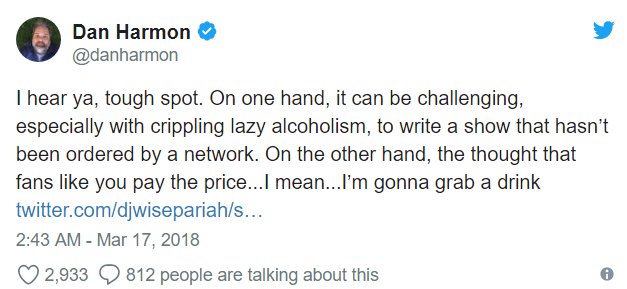 Probabilmente non c'è nulla di cui preoccuparsi. Adult Swim sa incontrare i desideri dei creatori e Rick and Morty non dovrebbe essere un'eccezione. La produzione della Serie animata richiede una procedura complessa, un complicato processo di scrittura e una raffinata animazione. È possibile che il mancato rinnovo di Rick and Morty sia solo una formalità e che il network stia aspettando di conoscere i desideri dei creatori per un'eventuale quarta stagione.
Ma Adult Swim si è anche guadagnata una reputazione per le cancellazioni inaspettate. Show come Metalocalypse e Aqua Teen Hunger Force si sono concluse nonostante il volere dei creatori, i bassi costi di produzione e un fandom fedele. L'eventuale cancellazione di Rick and Morty da parte del network sarebbe però più scioccante delle due appena citate, essendo una delle Serie più culturalmente significative che Adult Swim abbia mai prodotto.
Tuttavia sembra improbabile che Rick and Morty venga cancellata. È una delle più importanti hit di Adult Swim e i creatori, Dan Harmon e Justin Roiland, hanno sempre descritto positivamente la relazione con il network. Per i fan risulta comunque difficile non domandarsi quale sia il motivo del mancato rinnovo della Serie per una quarta stagione.