Lo sceneggiatore di Rick and Morty sta suggerendo che ai fan che molto probabilmente dovranno affrontare una lunga attesa prima di tornare nel mondo di Squanchy e Mr. Poopybutthole. La quarta stagione di Rick and Morty è attesa verso la fine del 2019. Creato da Justin Roiland e Dan Harmon, la Serie Tv racconta le avventure fantascientifiche del genio nichilista Rick Sanchez e del suo nipotino malvagio Morty Smith.
Una delle Serie Tv più ambiziose in televisione, Rick and Morty rivaleggia con artisti del calibro di Doctor Who e Star Trek nella complessità delle sue avventure intergalattiche. Ma non è solo questo che fa di Rick and Morty qualcosa di speciale, dobbiamo anche cconsiderare una buona dose di barzellette.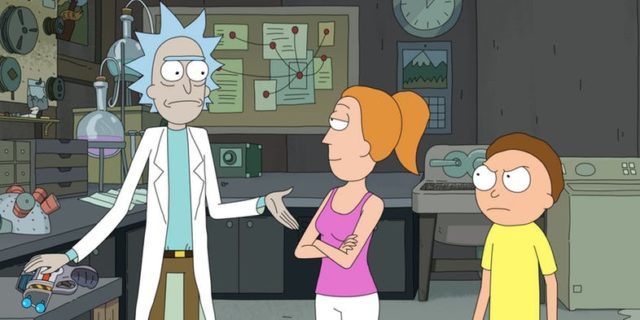 Tuttavia, sembra che i fan dovranno attendere molto. Ce lo fa sapere tramite un'intervista con The Detroit Cast, lo sceneggiatore della serie Ryan Ridley. Le sue parole sono state:
Abbiamo finito di scrivere la terza stagione a novembre dello scorso anno e sono passati appena 11 mesi. E poi so quanto tempo impiegherà per essere scritta la quarta, per non parlare dell'animazione. Sarei sorpreso se ci fosse una quarta stagione in onda prima del 2019. Non ho mai capito perché Dan Harmon, Justin Roiland e Adult Swim hanno voluto fare le cose di fretta. Non ha alcun senso per me. Sono sicuro che hanno tutti le loro ragioni.
Anche se deludente, questa non è esattamente una rivelazione scioccante. C'è stato un intervallo di quasi due anni tra la seconda e la terza stagione della Serie Tv. Dan Harmon ha parlato in modo dettagliato di come rallenta il corso delle sue Serie, lo abbiamo visto anche in Community. I superfan di Rick and Morty possono essere frustrati dalla lunga sosta, ma si sa, le cose belle si fanno attendere!