Questa settimana la CBS ci ha regalato ben due episodi di Young Sheldon e devo dire che il secondo è stato di gran lunga migliore del primo. Ho trovato che la seconda puntata di questa nuova stagione sia stata molto interessante e che ci abbia mostrato un inedito lato del protagonista. Abbiamo sempre visto infatti Sheldon Cooper eccellere in ogni campo e non avere nessun rivale alla sua altezza. Eravamo quindi abituati a pensare che anche da piccolo fosse stato l'unico intelligente della classe.
Nell'episodio A Rival Prodigy and Sir Isaac Neutron abbiamo invece scoperto che nella sua lunga vita scolastica Sheldon Cooper ha incontrato qualcuno che lo ha fatto sentire insicuro e geloso.
A riuscirci, in questa nuova puntata di Young Sheldon, è stata una giovane ragazza con un caschetto biondo che il genietto ha conosciuto alla lezione del Dr. Sturgis. Quando infatti il ragazzo è stato accompagnato come di consueto dalla nonna alla lezione del professore di fisica, ha trovato un'inaspettata sorpresa. In prima fila seduta al suo posto c'era Paige, una bambina più giovane di lui, che era stata invitata dal professore ad ascoltare le lezioni da uditrice.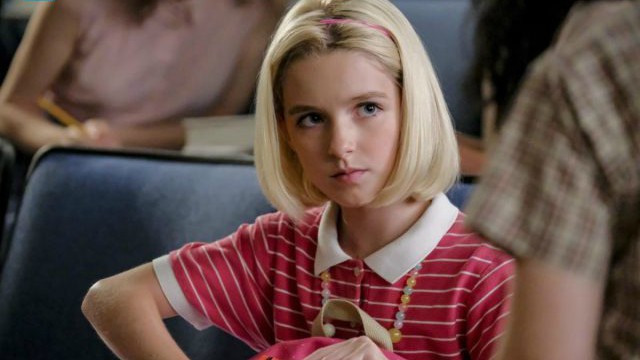 Ben presto ha scoperto che la biondina era anche di gran lunga più intelligente e preparata di lui. Questo ha ovviamente mandato su tutte le furie Sheldon, che ha passato tutto il viaggio in auto a lamentarsi di questa sua nuova compagna di corso per cui provava grande antipatia e un pizzico di gelosia. Il suo ritorno a casa è stato ancor meno piacevole: Mary lo ha infatti informato di aver invitato Paige e la sua famiglia a trascorrere un pomeriggio con loro. La donna infatti era stata informata dal dr. Sturgis che la madre di quella geniale ragazzina voleva conoscerla. Lei aveva accettato entusiasta di incontrarla perché era molto felice di potersi confrontare con un'altra persona che poteva capirla.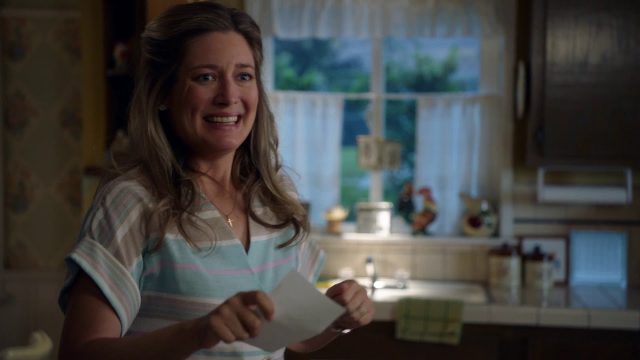 Sheldon invece è stato sicuramente meno entusiasta all'idea di rivedere quella fastidiosa ragazzina a casa sua. La madre ha quindi provato a convincerlo: ha cercato di spiegargli che, se si fosse sforzato di andare d'accordo con lei, avrebbe potuto scoprire che avevano molte cose in comune. Mary è arrivata anche a paragonare la bimba alla nuova Serie Tv Star Trek: The Next Generation che in un primo momento aveva fatto inorridire il piccolo Sheldon che successivamente lo aveva conquistato. Alla fine la donna è riuscita a convincerlo a giocare con Paige solo spiegandogli la verità. Gli ha confessato di voler diventare amica della madre di quella bimba e che questa era la ragione per cui voleva che lui si comportasse bene con lei.
Sheldon ha dovuto quindi trovare uno stratagemma per riuscire a nascondere il disprezzo che provava per la sua rivale e ci è riuscito grazie al dottor Spock (scopri qui le 30 migliori frasi di questo personaggio).
Guardando un episodio di Star Trek è rimasto colpito dall'abilità con cui il personaggio interpretato da Leonard Nimoy riuscisse a celare e reprimere le sue emozioni. Sheldon ha deciso di fare la stessa cosa per tutto il tempo che avrebbe trascorso con quella ragazzina irritante.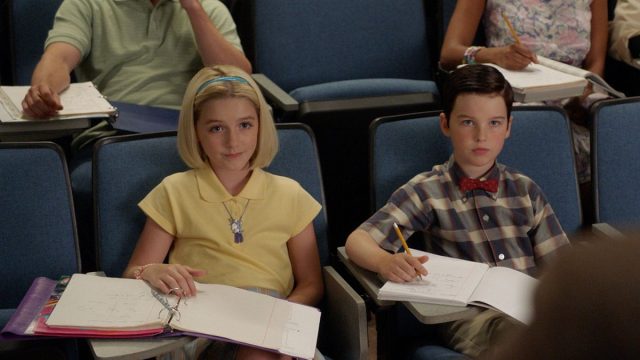 Quando Paige è arrivata a casa sua Sheldon si è comportato in maniera ineccepibile mostrandole i suoi giocattoli, i suoi treni e i giochi inventati da lui. Il piccolo bambino ha anche sopportato senza fiatare le opinioni assurde che la ragazza aveva su Stephen Hawking e il professor Proton. Per un attimo Sheldon ha anche pensato che forse sarebbe potuto andare davvero d'accordo con quella ragazzina. Era del resto l'unica sua coetanea con cui poteva parlare di scienza ed era l'unica persona al mondo che sembrava capirlo. La neonata amicizia però è presto finita: quando Sheldon è stato battuto a scacchi ha lanciato per aria la scacchiera e ha dichiarato guerra alla sua rivale.
Ma a rendere questo episodio di Young Sheldon ancor più divertente è stato l'incontro tra le famiglie dei due ragazzi!
In un primo momento Mary e George non hanno apprezzato affatto la compagnia di quella coppia apparentemente perfetta che non faceva altro che lodare la geniale figlioletta. Loro avrebbero desiderato incontrare invece una famiglia con cui potersi confrontare quando le stranezze di Sheldon li facevano impazzire e sono quindi rimasti molto delusi. Ma ben presto, grazie a qualche birra di troppo, il padre di Paige ha cominciato a lamentarsi e a far affiorare i loro problemi. I coniugi Cooper non hanno potuto fare a meno di esultare dinanzi a questa scoperta: nemmeno loro erano perfetti.
Questo ha dato modo però anche a Missy e Georgie di conoscere la sorella maggiore di Paige. Ovviamente i due fratelli sono entrati subito in sintonia con quella ragazza dato anche lei amava mettersi nei guai proprio come loro. Del resto i tre ragazzi avevano anche un'altra cosa in comune: erano costretti a vivere all'ombra di un genio che assorbe inevitabilmente tutte le attenzioni dei loro genitori. Avrebbero potuto probabilmente approfondire maggiormente questo aspetto, ma hanno preferito solo accennare al problema. Spero però che prima o poi questa questione verrà affrontata perché credo che possa essere davvero interessante.
Come ho detto all'inizio ho trovato questo episodio di Young Sheldon senza dubbio migliore del precedente.
Abbiamo infatti scoperto l'origine di una delle caratteristiche più particolari di Sheldon: la capacità di reprimere i propri sentimenti che abbiamo già visto in The Big Bang Theory (scopri qui i 5 personaggi più oscuri della sitcom). Inoltre è stato interessante vedere Sheldon entrare in competizione con un'altra persona e spero che potremo rivedere Paige in qualche altro episodio. Allo stesso tempo è stato importante vedere l'incontro tra queste due famiglie così diverse eppure così simili. Un episodio assolutamente godibile e divertente soprattutto grazie ai dialoghi tra Costance e il suo fidanzato. È stata proprio lei infatti a risolvere la questione: ha detto al professore di riservare delle attenzioni e dei complimenti anche a Sheldon per non farlo ingelosire.