Time After Time, serie targata ABC, ha debuttato negli Stati Uniti con ascolti al di sotto delle aspettative. Proviamo a entrare nel merito, ripercorrendo i modelli da cui prende le mosse la Serie e analizzando criticamente lo svolgimento della premiere.
Time After Time rappresenta l'adattamento su piccolo schermo dell'omonimo romanzo di Karl Alexander già noto per la trasposizione cinematografica di Nicholas Mayer (Time After Time, 1979). Il romanzo nasce in contemporanea alle riprese, opzionato e adattato per la scenografia del film.
Molto brevemente la vicenda ruota attorno alla figura dello scrittore H. G. Wells che nella finzione romanzesca avrebbe realmente inventato una macchina del tempo. Di essa entra in possesso un medico che si rivela essere Jack lo squartatore. Quest'ultimo, proiettatosi nel futuro per sfuggire a Scotland Yard, è seguito dallo stesso Wells che proverà a riconsegnarlo alla giustizia.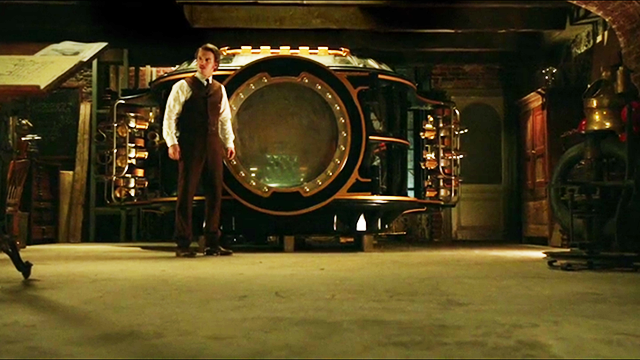 Tenendo conto della trama è chiaro che la Serie venga a svilupparsi su numerosi registri sovrapposti avendo come referenti ora gli scritti di Wells ora il film di Mayer, ora il romanzo di Alexander.
Il rischio, realissimo, è che si finisca per banalizzare un po' tutto senza approfondire realmente nulla. Ma andiamo con ordine.
Herbert George Wells è, ovviamente, uno scrittore realmente esistito. Ha vissuto, effettivamente, nella Londra tardo-ottocentesca e naturalmente non ha mai inventato una macchina del tempo né incontrato Jack the ripper. Ha invece composto, tra gli altri, un famoso romanzo dal titolo La macchina del tempo che ha ispirato il film L'uomo che visse nel futuro ("The Time Machine", 1960).
La figura di Wells è estremamente affascinante e per certi versi fraintesa e volgarizzata dalla critica moderna. Visse un'epoca di forti cambiamenti, assistette, sconsolato, all'infrangersi delle speranze di pace e allo scoppio delle due guerre mondiali. Continuò ad aspirare a un universalismo tanto ideologico quanto politico.
Nel pilot di Time After Time, come fu già per il film, Wells è un sognatore un po' ingenuo a cui fa da contraltare il cinico e spietato dottor Stevenson (Jack lo squartatore). È il Wells che traspare in Un Utopia moderna, romanzo che scrisse nel 1905. In quest'opera l'autore ci restituisce l'idea di una società tecnocratica totalizzante ma parimenti permissiva e tollerante composta da "tecnici" specializzati e scienziati. Alla guida è un élite (i "Samurai") scelta su basi meritocratiche.
È evidente che Wells avesse particolarmente cara quest'idea, certo alimentata dal clima positivistico ottocentesco e dal pensiero del filosofo A. Comte. E probabilmente riterrà sempre plausibile una via salvifica per l'umanità che passasse da un'ineluttabile progresso e dal governo dei "tecnici".
Tale è appunto la figura che di Wells ci presenta Time After Time.
"In five generations, utopia will have come to pass. Where mankind lives in peace with no war, no crime, no disease or famine. It's inevitable. Science and technology will advance beyond all imagination, forcing society to perfect itself", afferma Wells, interpretato da un onesto Freddie Stroma. Di contro la figura di Jack lo squartatore mostra un cinismo molto più smaliziato: "Mankind hasn't changed in 200 years. We're animals. We hunt. We're hunted. That's the way it has been and always will be".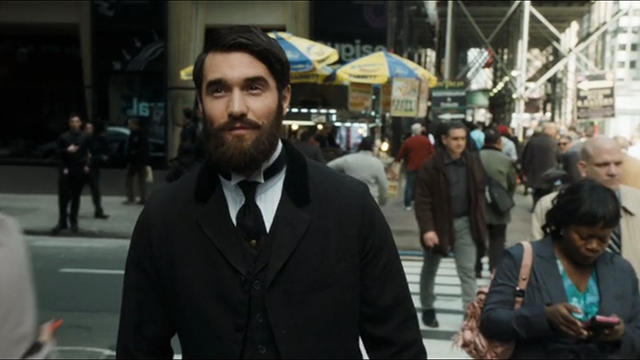 Si sviluppa fin da subito, dunque, quella dicotomia che dominerà tutta la Serie e che, per gli amanti di Lost, non può che rievocare il famoso dialogo tra Jacob e il Fumo Nero (un buon motivo per riguardarvi Lost lo trovate in questo articolo).
Black Smoke: "Loro arrivano, combattono, distruggono e corrompono. È così che finisce sempre". Jacob: "Finisce una volta sola. E qualunque cosa succeda prima… è solo progresso".
L'approdo dei due protagonisti nel Ventunesimo Secolo dà il là a una ben congeniata critica della società moderna. L'ambientazione newyorkese non potrebbe essere più adatta. Scorrono le immagini dei telegiornali: la guerra in Medio Oriente, l'Isis, Trump, le manifestazioni. Tutto il mondo è ancora in fibrillazione. Come lo era allora, lo è adesso. E pur con i notevoli progressi nell'ambito dei diritti civili, il futuro mantiene tutte le problematiche e le complessità di sempre. Dell'uomo e del suo stare al mondo.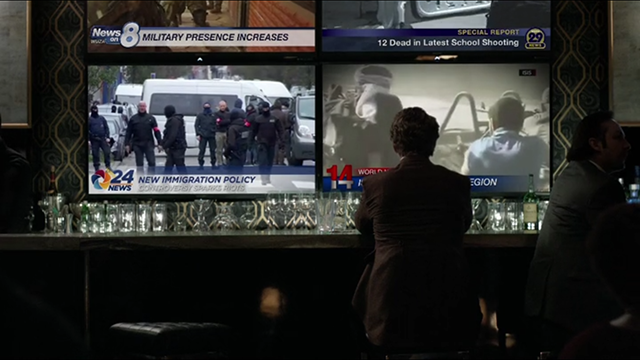 Jack e Wells sono catapultati in una realtà carica di contraddittorietà. "In our time I was a freak, Today I'm an amateur" afferma Jack, laddove nell'originale di Alexander al posto di 'amateur' trovavamo 'povero frustrato'. Lo slittamento di significato mira qui ad alludere a quella sublimazione della violenza che la società attuale ha prodotto. E ancora, minacciando Wells con un coltello in pubblico: "[everyone can see] And no one cares!". L'indifferenza: altra nota dolente dei tempi moderni.
Il grande vantaggio –che può trasformarsi in un merito- di Time After Time è dunque questo: mostrare l'attualità con gli occhi "nuovi" di chi ha vissuto nel passato. Di chi aveva maturato attese e aspettative e si ritrova in una realtà molto diversa dall'Utopia sperata.
Ma H. G. Wells è solo questo? La figura presentata nello show è null'altro che questo. Un idealista deluso anche se parzialmente rinfrancato da improvvisi bagliori di umanità. Questi passano attraverso i gesti che gli rivolgono, non a caso, le due figure femminili di spicco di questa premiere. Si tratta di Jane, assistente curatore di un museo, e Mrs. Anders, apparentemente una diretta discendente di Wells. E non è un caso che a entrambe si rivolga con identiche parole: "Thank you for your kindness". Di fronte alla gentilezza non può che lasciarsi vincere da una considerazione finale che sa di compromesso: "I envisioned a society that was entirely different. It's not without its beauty, though". E forse, avvinto per un momento da quella stessa bellezza -che nonostante tutto ancora possediamo- anche Jack tra un omicidio e l'altro lascia intravedere uno spiraglio di conversione.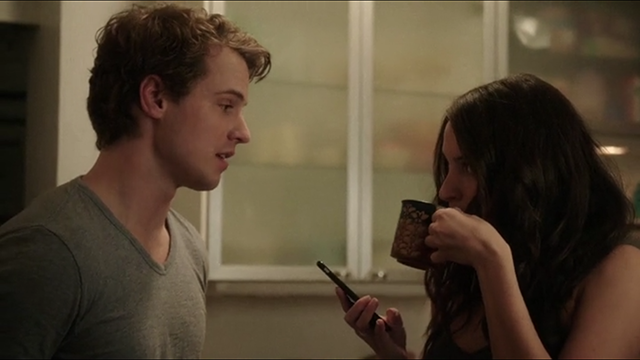 I limiti di Time After Time vanno allora ricercati altrove: nei dialoghi un po' piatti, nella trama piuttosto scontata come pure in una scenografia scialba.
La stessa caratterizzazione dei personaggi lascia l'amaro in bocca. Si accennava prima alla figura di Wells. Perpetrando l'errore già commesso nel film di Meyer, si rinuncia ad approfondire una delle personalità più affascinanti e ammirate dai lettori moderni.
A dimostrazione del fatto che Herbert George Wells non fosse un mero positivista, utopista e socialista basterebbe una lettura superficiale di alcuni suoi scritti, come pure l'immagine che di lui tratteggia lo scrittore e giornalista Pierre Devaux: "Wells non è un semplice «romanziere divertente»; è un «autore per adulti» che agita una massa di problemi concernenti la vita e la morte, la fatalità, i destini dell'uomo. I suoi romanzi sono «neri»: l'uomo vi perisce miseramente, schiacciato da forze enormi ed orribili… mentre Jules Verne, vivificante, ottimista – spesso ingenuo – ispira il desiderio di conquistare il mondo". Insomma, in Time After Time, il protagonista pare più un Verne che un Wells.
Prendiamo ora la celebra opera La guerra dei mondi ispiratrice di ben quattro film tra i quali l'omonima opera spielberghiana. Nel suo incipit appare chiara l'acuta e profondamente disincantata visione che l'autore ha dell'uomo e dei rischi di una deriva della tecnica. "Gli uomini, infinitamente soddisfatti di se stessi, percorrevano il globo in lungo e in largo dietro alle loro piccole faccende, tranquilli nella loro sicurezza d'esser padroni della materia. Non è escluso che i microbi sotto il microscopio facciano lo stesso".
Wells non aveva la sfrontata sicurezza positivista di vedere un mondo che potesse essere –e sarebbe dovuto necessariamente essere- dominato dall'uomo in qualità di 'padrone della materia' per tramite della tecnica.
Gli alieni, altri non sono, che l'espressione delle possibili derive che un incontrollato sviluppo avrebbe potuto portare. Sono manifestazione di una tecnologia che sfugge al controllo dell'uomo. Di contro alla sicura, splendente visione comtiana, un monito, dunque, alla cautela. Wells sente l'impellenza di mettere in guardia dal pericolo che la tecnica si svincoli dal suo servizio all'umanità; che la scienza non possa più essere funzionale a un progresso di cui scopo e destinazione finale deve essere sempre e solo l'uomo.
Anche in questo Wells s'era mostrato profetico. In un tempo, il nostro, in cui la tecnica corre ormai inarrestabile su binari a se stanti, l'uomo non è più meta ultima dello sviluppo ma uno schiavo della "crescita", costretto a inseguire costantemente una produttività che non potrà mai soddisfare a pieno.
Sarà forse utile terminare questo breve articolo con un passo tratto dalla conclusione de La macchina del tempo. Il protagonista, dopo lungo errare, come un vecchio Odisseo, si mette nuovamente in marcia nel tempo mosso da una rinnovata curiosità.
Non rimane che chiederci se un giorno ritornerà. Può darsi che si sia diretto in un'età in cui gli uomini sono ancora uomini, ma gli enigmi della nostra epoca e i suoi penosi problemi sono risolti?
È questa la domanda finale che affliggeva Wells. Non c'è la certezza di un futuro utopistico ma il dubbio vivido e penoso che in fondo, forse, la contraddizione è parte integrante e inalienabile dell'uomo stesso.