Attenzione: evitate la lettura se non volete imbattervi in spoiler sulla 1×05 e la 1×06 di The Young Pope. 
Odiamolo, quello stronzo d'un Papa del Medioevo. Oppure amiamolo, perché è uno di noi. Conosciamo Pio XIII da tre settimane, ma non sappiamo ancora se desiderare ardentemente una morte dolorosa o tifare incondizionatamente per lui. Dopo aver visto la 1×05 e la 1×06 di The Young Pope, ci siamo fatti un'idea: comprenderlo non porta a niente. Certi uomini si accettano in quanto tali e catalogare l'impatto emotivo che hanno su di noi diventa superfluo. Ancora meno entrare dentro la loro psiche. Ci proviamo, lo desideriamo. Guardiamo Lenny dritto negli occhi e vediamo un mondo labirintico. Un microcosmo incomprensibile. Assomigliamo sempre più ai fedeli che non hanno la possibilità di confrontarsi con lui, paradossalmente. Quello stronzo d'un Pio è totalmente imprevedibile, ed è fantastico per questo.
Ogni volta che pensiamo di riuscire a prevedere una sua mossa, lui ci fa l'occhiolino e fa il contrario. Abbiamo pensato per due settimane di aver di fronte un uomo senza un piano, un bambinone impaurito incapace di maneggiare un giocattolo pericolosissimo. Non è così, Lenny è altro. Papa Pio XIII sa cosa sta facendo molto più di quanto dicano le contraddizioni dell'uomo e la sua danza perenne nel vortice del dubbio. Pio XIII è sempre più simile a Frank Underwood, alla faccia nostra. Ed è sempre più simile a noi, poveri umani. La rivoluzione è iniziata, e la Chiesa ne uscirà probabilmente a pezzi.
Chi se ne frega del consenso, quando c'è una via di fuga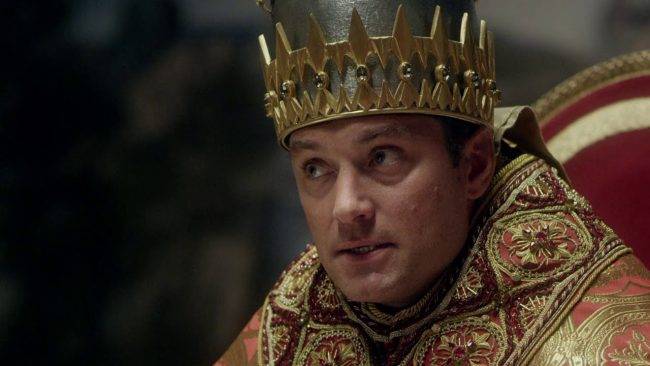 Ci ha spiazzato, ancora una volta. Nel momento in cui abbiamo intravisto un uomo ingenuo e incapace di adattarsi alle dinamiche più becere del mondo politico, Pio XIII ha dato una spinta fondamentale al suo piano di pulizia della Chiesa. Ha fregato Voiello, mica uno qualunque. Ha i suoi piedi un osso duro come Spencer. Tiene in pugno i suoi uomini senza ricercare il consenso, ma imponendolo. Finché il mondo non potrà guardarlo negli occhi, il mondo lo spierà dal buco della serratura, cercando invano una risposta. Non contempla l'idea di compromesso, lui. Neanche se il prezzo da pagare è la trasformazione della Chiesa in una nicchia per pochi, spenti, illuminati. Lenny ha cambiato le regole della politica, plasmandole a sua immagine e somiglianza nelle vesti di un Papa che gioca a fare la rockstar medievale. Se è vero che l'amore per Dio si misura attraverso l'intensità e non grazie ai numeri, il potere può sottostare alle stesse dinamiche. Forse è questo il più grande mistero della fede, quando si parla di una religione.
E poi c'è l'uomo, uno che non ha niente a che vedere con lo stratega politico. A parte tutto, forse. Lenny è solo perché ha scelto di stare da solo. Un po' come tutti i preti del mondo, a detta sua. Amare è sempre un rischio enorme, d'altronde. Non gli rimane che Dio, una semplice scappatoia per inglobare nella fuga la più grande metafora della storia dell'uomo. Lenny non fa e non farà nulla per essere accettato dal prossimo. Il motivo è semplice: la solitudine è una condizione esistenziale che porta con sé nel Dna fin dal giorno in cui è stato abbandonato dai genitori. Un po' come tutti gli orfani del mondo, a detta nostra. Una vita distrutta dalle fondamenta non può che portare all'autodistruzione compulsiva, nel suo caso. Più è grande la bomba che ci si trova tra le mani, più sarà dirompente l'esplosione. Lenny ha in mano la Chiesa, pensate che botto farà.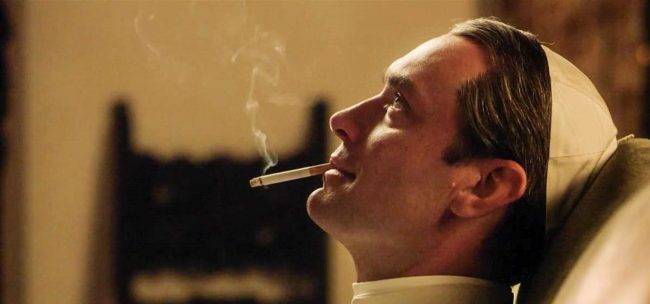 The Young Pope ci spiazza davvero quando capiamo che è il manifesto delle contraddizioni dei nostri tempi. E Lenny è uno di noi, finché non si veste da Papa. Perché l'uomo mette continuamente tutto e tutti in discussione, prima di tutto se stesso. Perché ama follemente nel momento in cui rinnega l'idea di amore nella sua persona. Perché in fondo è buono, ma è costretto a mascherarsi da cattivo per evitare l'ennesima fregatura. Perché ha gli occhi lucidi quando prende tra le un bambino. Perché cerca la semplicità nel mostrare lo sfarzo. Perché ha paura, come noi. Lenny ha paura di non trovare le risposte che cerca e teme di restare solo, anche se ha scelto di isolarsi. Umanamente, prima. Politicamente, poi. Perché si contraddice continuamente, come noi. Per questo lo odieremo, per questo lo ameremo. The Young Pope, in fin dei conti, è anche la nostra storia. A prescindere dalla storia che viviamo.
Antonio Casu
Un saluto agli amici di The Young Pope Italia!