The Walking Dead è quasi arrivata alla fine della settima stagione. Manca un episodio e poi dovremo (di nuovo) aspettare fino ad ottobre.
I conti in sospeso sono tanti ed è più che ovvio che non riusciremo a dissiparli nel finale di stagione. Una cosa è certa però: le squadre sono ormai formate. Ognuno ha scelto da che parte stare e per che cosa combattere. In The Walking Dead è difficile tornare sui propri passi, ma c'è chi ha avuto il coraggio, o la codardia, di farlo. Tantissime cose sono in ballo, quindi cerchiamo di prepararci al meglio.
In questa puntata le vicende si sono svolte su più fronti. Hilltop con Maggie e Gregory, la base dei Salvatori con Sasha, Eugene, Negan e i suoi uomini. Il gruppo di Rick si è spostato alla ricerca di Oceanside su consiglio di Tara, per poi tornare a casa e trovare ad attenderli solo una parte del kamikaze partito da Hilltop.
Un dettaglio è stato importante fin dai primi secondi dell'episodio, ovvero la scelta che ognuno può fare nel mondo di The Walking Dead.
L'apocalisse ha reso sempre più valido il concetto di libero arbitrio. L'universo non ha più regole di convivenza, leggi da rispettare, consigli da dare. L'unica cosa che ti rimane è sopravvivere, in qualche modo (JSS – just survive somehow). Se è vero questo e se ogni personaggio arrivato alla fine della settimana stagione ha affrontato un percorso che l'ha portato a capirlo, allora tutti sanno di poter scegliere. Nel fare concreto questa scelta si condensa nel 'da che parte stare'.
C'è un lato (per riprendere il titolo della scorsa puntata) in cui la comodità e la sicurezza ti permettono di chiudere gli occhi sul risvolto delle azioni necessarie per ottenerle. Poi c'è un altro che affronta a muso duro il male come fronte unito e a cui non puoi chiedere di abbassare lo sguardo.
Quindi Eugene sceglie da che parte stare, Gregory anche. Jesus ha scelto la sua nuova famiglia, gli abitanti di Hilltop hanno scelto Maggie. Tara ha scelto di infrangere la promessa, Rick ha deciso di cedere un coltello per dimostrare il loro valore.  Eric ha scelto Aaron e Rick. Dwight ha capito che Sherry aveva ragione, che è meglio essere morti che appartenere a Negan. David ha scelto di sfidare la regola di Negan. Sasha di avere un motivo per andarsene.
In poche parole ognuno dei partecipanti alla futura guerra sa bene per cosa vuole combattere.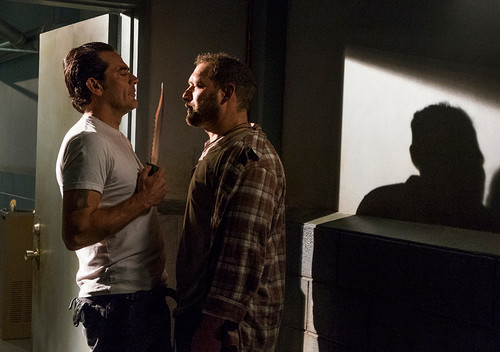 "Lo stupro è contro le regole qui, non vorrei vivere in un posto in cui non lo sia"
La vicenda che ha visto protagonisti David, Sasha e Negan sarà stata molto apprezzata soprattutto dai fan dei fumetti. La scena è praticamente identica (foto sotto) alla versione cartacea ed è un importante tassello nella conoscenza del personaggio che è Negan.
Perché lo stupro è contro le regole? Perché l'ha deciso Negan. Perché è contro le regole di Negan.
Perché David viene ucciso? Perché ha osato circumnavigare i dettami imposti dal suo 'signore'.
Non c'è morale. Non c'è un trauma da cui difendere una ragazza. Non c'è gentilezza. Ci sono solo una regola violata e un nuovo alleato (Sasha) da cui ottenere il più grande quantitativo di fiducia disponibile. 
Quando Negan la riconosce, è ancora più contento della piega che potrebbe prendere la situazione. Uccidere David davanti a lei per "difenderla" è un punto a favore, quindi perchè non rincarare la dose donandole un coltello? Il tema della 'scelta', centrale nella puntata, torna anche attraverso la bocca del leader dei Salvatori. Con il coltello Sasha potrebbe fare tre cose: provare ad uccidere Negan senza riuscirci (di nuovo), suicidarsi o impedire a David di trasformarsi.
Sembrerebbe una scelta semplice, ma dietro ad ogni porta le strade sarebbero diverse. Con il suicidio o il tentato omicidio Sasha terminerebbe le sue possibilità di 'morire combattendo' (stesso motivo dello sconforto davanti alla pillola di Eugene). Accoltellando David, invece, Sasha rimarrebbe in vita e, come aveva detto a Rosita, 'finché siamo vive possiamo riprovarci'.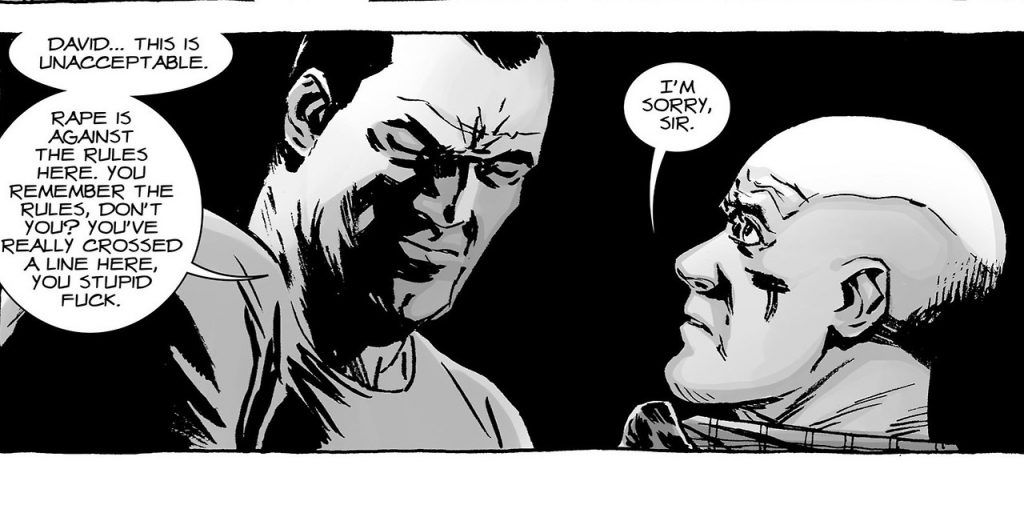 Sul fronte di Alexandria e di Hilltop  invece si cerca di giungere ad un accordo con Oceanside e gettare qualche base per il futuro. 
Mentre i ricordi della terza stagione e della morte di Lori riaffiorano con i pensieri di Carl ('Pensi mai alle persone che hai ucciso?' 'Non solo alle persone che ho ucciso, anche a quelle che non ho ucciso' – riferito, ad esempio, ad Andrew, il ragazzo che attirò gli zombie nella prigione), le promesse vengono infrante.
Tara non cede solo alla necessità delle armi, ma cede alla consapevolezza di star facendo la cosa giusta per il mondo intero. Non ci si può nascondere per sempre ignorando il problema come Natania. Le sicurezze e il bosco possono donare una sensazione di calma, ma nel bosco le bombe possono esplodere e la sicurezza può essere minata in qualsiasi momento se il problema non viene risolto alla radice.
Lo stesso vale per Gregory. Egli accetta di voler, in fondo al cuore, proteggere la donna incinta e la giusta causa, ma la codardia è il suo vero problema.
Non può permettersi di affrontare il mondo di The Walking Dead prima di averlo ammesso e di aver fatto un passo indietro. Non ha il coraggio di agitare il coltello contro Maggie per lo stesso motivo per cui non riesce a guardarsi allo specchio sporco di sangue. Non accetta di esser sfigurato davanti a suoi 'uomini' e non ci mette più di un secondo a ritrattare le promesse fatte a Carson, Jesus e gli altri abitanti. La chiamata a Kal per farsi portare da Simon è la condanna ad una vita di terrore e sensi di colpa. La stessa vita che sembra aver scelto Eugene.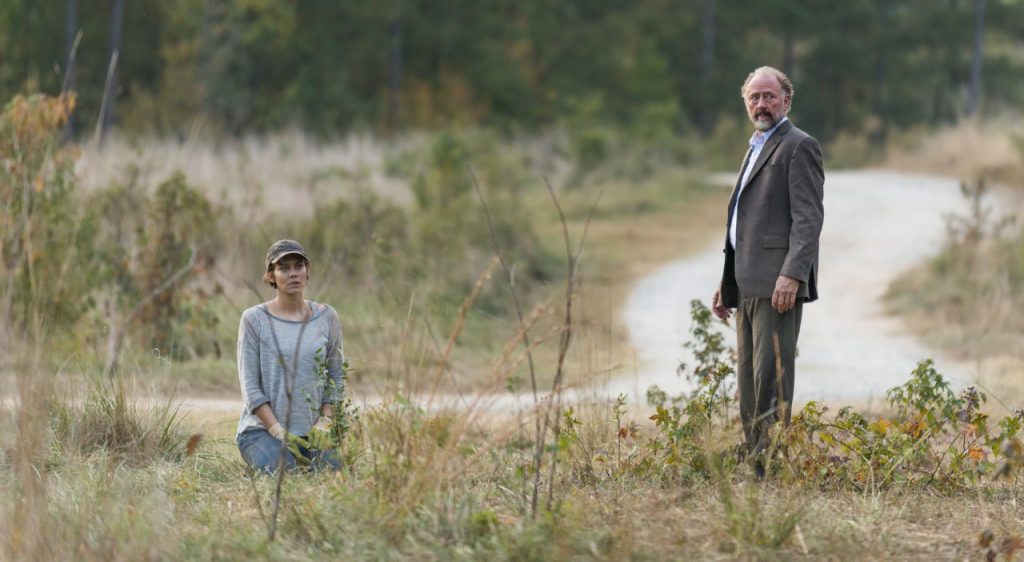 Il mondo può appartenere a persone oneste e buone se avremo il coraggio di tentare. 
Se avranno il coraggio di tentare allora avrà senso travasare una pianta di mirtilli che può vivere per quarant'anni. Se Cyndie riuscirà a convincere Natania, allora quella promessa non sarà stata infranta invano. Se davvero Negan afferma di non essere un mostro allora dovrà piegarsi all'evidenza che nel mondo senza mostri la sua presenza è troppo ingombrante.
Se davvero Dwight ha fatto suo il sacrificio di Sherry, allora Rick non dovrà ucciderlo in nome dell'amicizia che lo lega a Daryl. Dovrà fare un sacrificio, non dovrà premere quel grilletto. Dovrà fare come Sasha che è riuscita a regalare il braccialetto a Judith significando lo scioglimento della sua parola. Dovrà fare come Rosita, capace di lasciare andare Sasha oltre quel cancello, da sola.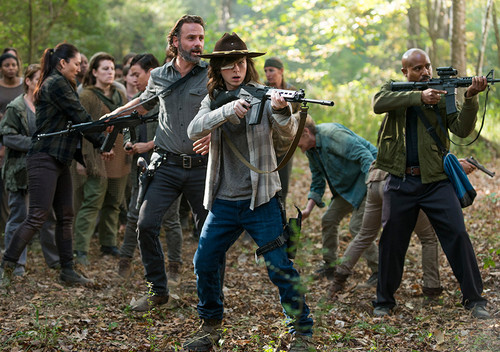 L'inginocchiamento richiesto a Dwight è simbolico. E' Negan che solitamente chiede alle persone di inginocchiarsi. E' Simon, nonché Negan, a domandarlo a Gregory dopo avergli rubato qualunque cosa.
Rick fa lo stesso gesto. Punta l'arma e chiede un sacrificio. Però lui, a differenza di Negan, non ucciderà Dwight. Perché lui non è Negan. Rick Grimes non è un mostro.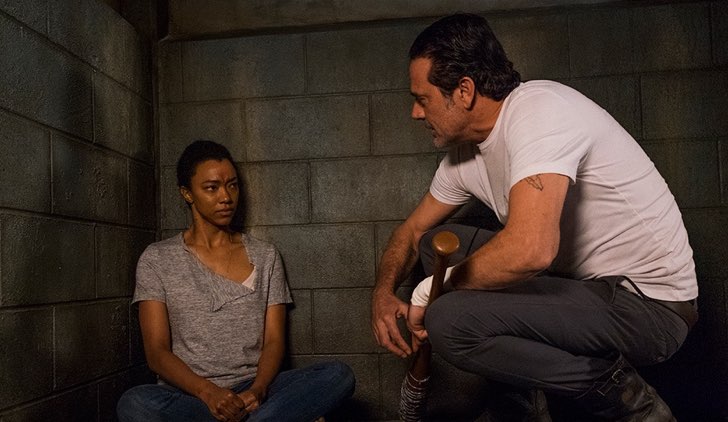 Non dimenticatevi di passare da qui: Norman Reedus Italia, The Walking Dead ITA . The Walking Dead-Italy , The Walking Dead Italia , TWD – Am I the only one Zen around here? Good Lord. . Caryl Italia, Andrew Lincoln Italy, Daryl Dixon ITA e FIGHT the Dead. FEAR the living – The Walking Dead gdr . The Walking Dead Pagina Italiana ! In più vi consigliamo un canale YouTube di un nostro affiliato Don't Open Dead Inside !
Partecipiamo all'iniziativa #ItalyWantTWDtoo con il gruppo su Facebook!