L'episodio di questa settimana di The Walking Dead è aperto, enigmatico e ci lascia in attesa delle ultime due puntate con una nota di curiosità in più rispetto a quello che potevamo aspettarci.
Puntata molto particolare. Cinque minuti di silenzio, interrotti solo dal ricongiungimento con l'episodio precedente di The Walking Dead. Quarantacinque minuti di alternanza tra tensione, commozione, confronti e svolte inaspettate.
Nei primi silenziosi cinque minuti ci viene mostrata Hilltop in varie sequenze dei giorni dopo il ritorno di Sasha, Jesus e Daryl dal Regno. Sono tante le cose da fare, da organizzare e altrettante quelle da capire e programmare.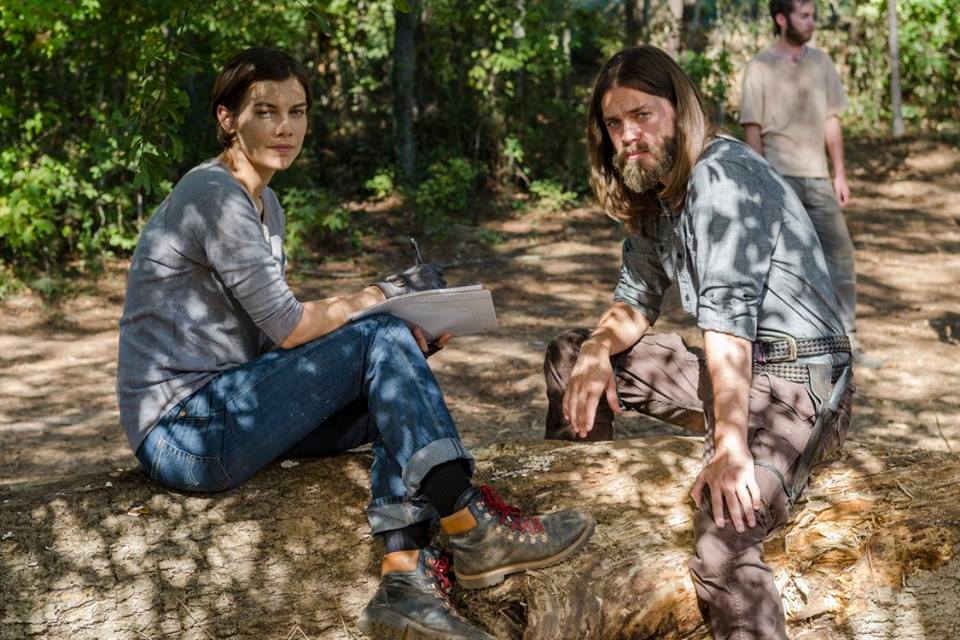 C'è chi studia vie di fuga e nascondigli in caso di arrivi inaspettati, chi progetta il suo piano d'attacco. Chi compila una cartina in attesa di colpire e chi si sente a suo agio in una nuova famiglia. C'è tempo per tutto a Hilltop. C'è tempo per l'addestramento, per un sorriso durante un'ecografia. C'è tempo per un confronto silenzioso con un amico che si sta allontanando, per una lacrima quando scende la sera. C'è tempo per un pisolino, per una bugia, per l'omaggio a una tomba, per una confessione. C'è tempo per sentirsi di nuovo appartenenti a qualcosa.
Ma, come ben si sa, in The Walking Dead non è tutto oro quel che luccica.
La musica di sottofondo cambia, dalla notte si passa al giorno e dal silenzio si passa al frastuono dell'arrivo dei Salvatori. Dai sorrisi, si passa alle lacrime soffocate.
Ogni giorno che passa in attesa della guerra e dello scontro finale, è un giorno in più in cui i morti non vengono onorati. Le pietre sulle tombe di Abraham e Glenn stanno già vedendo nascere i primi ciuffi d'erba mentre lo scontro con Negan sembra sempre più lontano. La mancanza della persona che si ama è più difficile da tenere lontana se bisogna aspettare. Lo spettatore quasi si meraviglia quando sente Maggie pronunciare il nome di Glenn e Rosita quello di Abraham. E' un tuffo al cuore per loro e per noi.
Nè Sasha né Daryl sono ancora pronti per parlare ad alta voce, per mettere a nudo davanti a tutti la loro sofferenza e il loro rammarico per quelle perdite. Il non riuscire a guardare in faccia Maggie (nel caso di Daryl) o il non riuscire a pronunciare il nome degli amici caduti sotto i colpi di Lucille è tanto straziante quanto importante.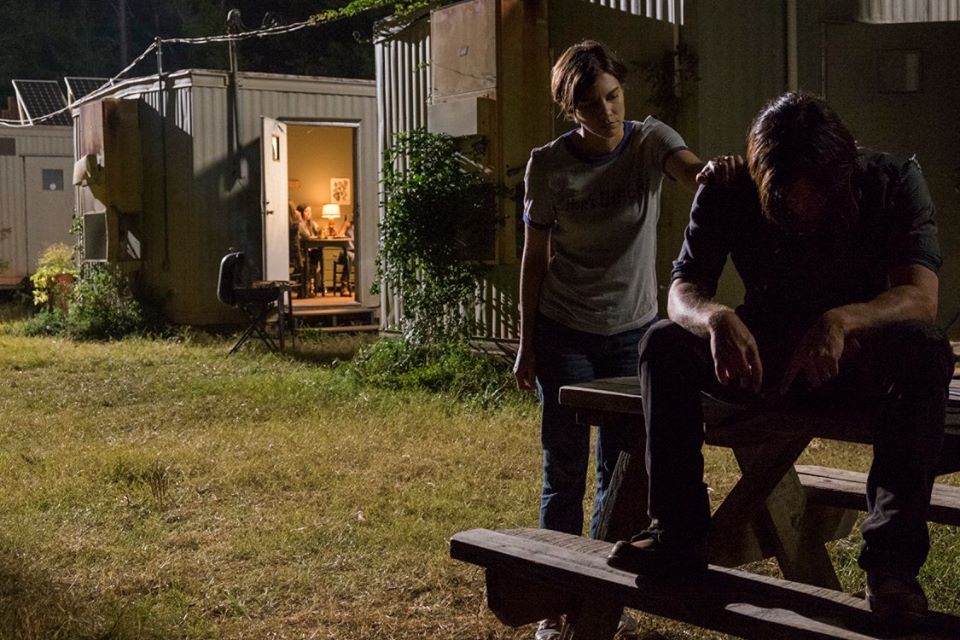 Ma è davvero ciò che conta? No. O anzi, sì, importa eccome, ma non importa quanto vincere alla fine.
Maggie è maestra in questo: mastica e manda giù, conserva questa rabbia e questo dolore per il dopo e per i veri nemici. In un certo senso è come se volesse indirizzare la rabbia di Daryl (e la sua) nella direzione giusta, verso chi la merita davvero. Perché se è vero che il suo pugno in faccia a Negan è costato la vita di Glenn, è vero anche che non ce ne sarebbe stato bisogno se Negan stesso non fosse esistito.
Se è vero che sia Maggie che Daryl vorrebbero uccidere ogni Salvatore che incrociano sul loro cammino, è vero anche che ogni passo falso potrebbe tradirli ed ogni tradimento significherebbe solo altre vite perse.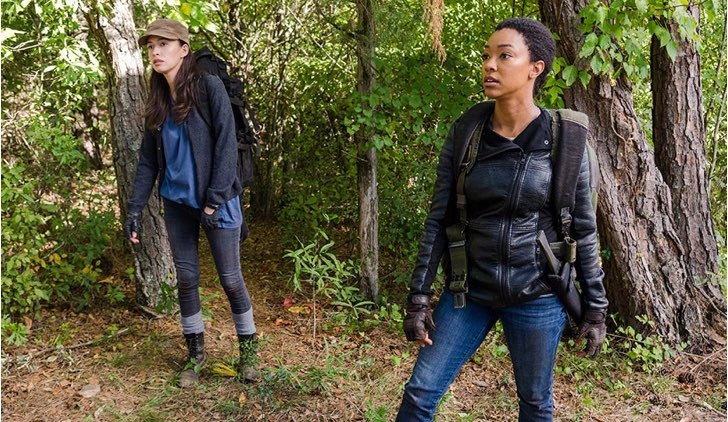 Coloro che non riescono ancora entrare nell'ottica corretta rischiano grosso. Se Maggie da una parte è pronta a dire 'l'importante è vincere', Rosita ribatte 'voglio solo che lui sia morto' e Sasha completa 'se ci facciamo prendere non avremo altre possibilità'.
I diversi obiettivi delle ragazze protagoniste di questa puntata si mescolano e si punzecchiano tra di loro. E' inevitabile notare le analogie tra le situazione che le circondano. Ognuna di loro ha perso la persona più importante. Ognuna di loro vuole un modo per vendicare quella scomparsa e per renderla 'un'uscita di scena che abbia un senso'.
Quello che distingue Maggie da Sasha e Rosita è la fedeltà del gruppo a cui appartiene, il non dover far la cosa giusta pensando alla propria vendetta personale, ma al popolo che la segue. Il futuro in grembo ti può far cambiare prospettiva e ragionare di più, ma forse basta pensare che la regola principale di The Walking Dead è sempre valida. Da soli non ci si salva e, soprattutto, da soli non si salvano gli altri. 
Ecco perchè alla fine anche Sasha e Rosita trovano il modo di coprirsi le spalle a vicenda e di instaurare una silenziosa alleanza inevitabile. Ecco perchè alla fine riescono a darsi modo l'un l'altra di scavarsi nel profondo e provare quel rimorso e quella tristezza legittimi.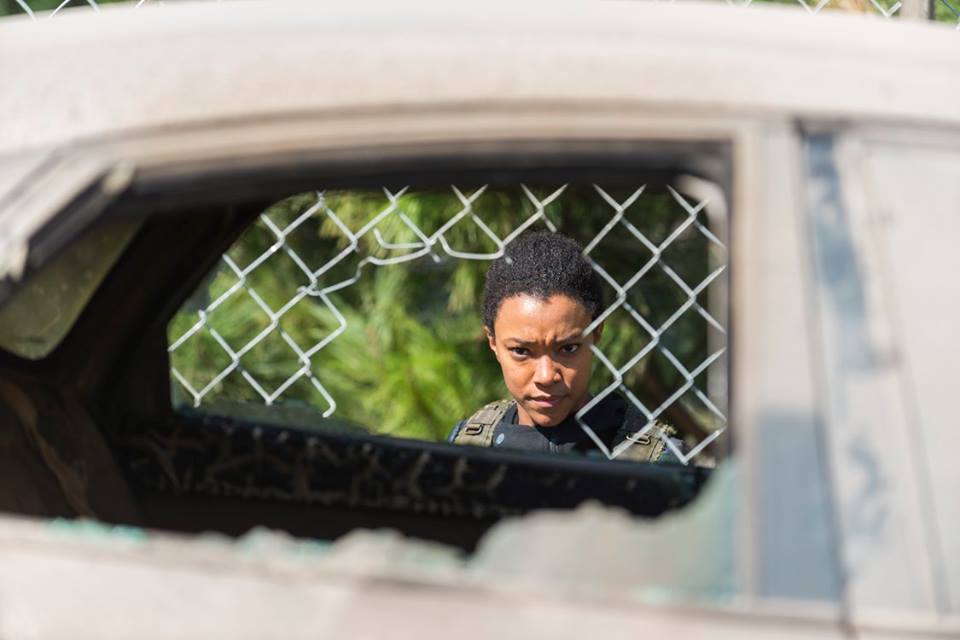 Ecco anche perchè ci viene inevitabile contare i giorni che restano a Gregory.
L'immagine dell'ultima bottiglia di whisky è emblematica. Gregory guarda dalla finestra il suo popolo che si prepara ad un nuovo giorno di addestramento, che si mette in marcia per cambiare le cose. Qual è la sua reazione?
Di andare ad allenarsi come Sasha, Enid o semplicemente di assistere e stare in mezzo alla gente come Jesus e Maggie non se ne parla proprio. Gregory si gira verso l'ultima bottiglia d'alcool e sceglie quella. Sceglie, per l'ennesima volta, di chinare il capo davanti a Simon, di essere un codardo, di essere schiavo. Sceglie tutto, ma non Hilltop.
L'immagine successiva ci rimanda il risultato di tale scelta. Gregory guarda nuovamente dalla finestra e del suo popolo, per lui, non è rimasto nessuno.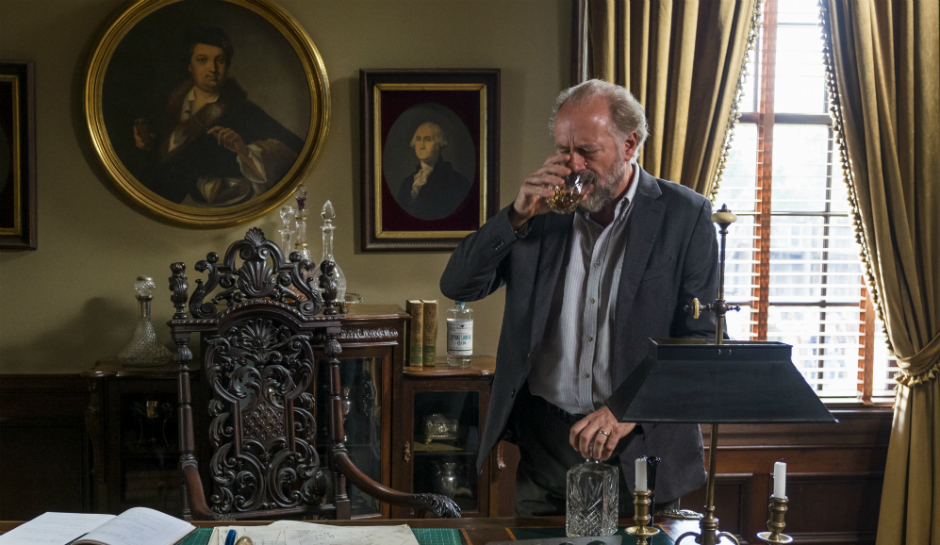 Nulla a che vedere con chi di quel posto è già il futuro. Nulla a che vedere con il lavoro che Maggie sta facendo con Hilltop. Nulla a che vedere con quanto quella tenacia sia costantemente premiata da fiducia e fedeltà. 
È entusiasmante vedere quanto Jesus riconosca già in Maggie la leader perfetta per quel posto. Non solo la leader che può indicare la strada giusta da percorrere, ma anche la leader con cui ci si può confidare su cose personali. La persona con cui puoi sorridere e aprirti, la persona a cui dimostrare tutta la tua fedeltà in ogni caso.
Jesus tiene a Sasha e capisce l'importanza della sua missione, esattamente come Enid. È curioso però come gli autori abbiano voluto sottolineare che la fedeltà dei due ragazzi sia totalmente verso Maggie. In ogni caso loro le diranno la verità e affronteranno il problema con lei, quindi il mentirle è solo una scelta di Sasha.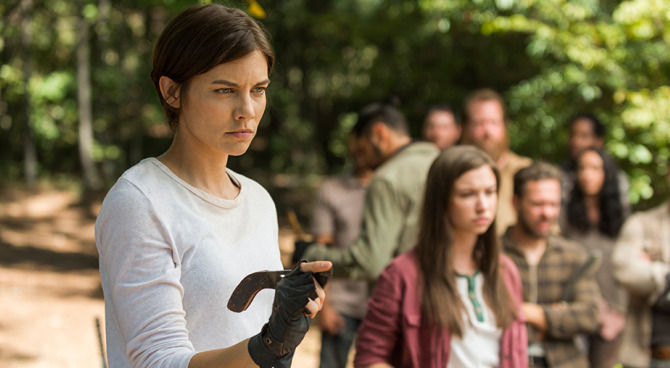 Tu sei una delle cose belle di questo mondo, Glenn lo sapeva. Lo sapeva perchè anche lui era una delle cose belle. 
Nel mondo di The Walking Dead le cose belle ci sono. Non sono poche, solo un po' nascoste da trovare o da ritrovare dopo il dolore, la sofferenza, la guerra.
Daryl è una di quelle, come afferma Maggie. In poche parole gli dice di non arrendersi a quel senso di colpa, di non lasciarsi trascinare in quel vortice da cui nessuno può uscire vincitore (il vortice della solitudine punitiva).
Il ciondolo di Abraham che Sasha porta al collo è una di quelle. Perché? Perché è simbolo di un futuro in cui non solo si può, ma si deve sperare. Un futuro per cui bisogna essere disposti a combattere e per cui si può chiudere un cancello in faccia alla tua compagna di missione, garantendole una via d'uscita.
Il braccialetto che la stessa Sasha nelle mani di Enid per il bambino è un'altra delle cose belle. Rappresenta tutto ciò che di puro e genuino vale la pena salvare nel mondo di The Walking Dead.
Il ricordo vivo e pulsante delle persone che non sono riuscite ad arrivare fino ad oggi è il legame che rende forte tutto ciò che rimane. E' forse la cosa più bella.
Quindi è questo 'l'altro lato' (The other side) di cui parla il titolo di questa puntata di The Walking Dead. L'altro lato della battaglia, quello in cui ci si prende del tempo per le persone. L'altro lato del cancello in cui Eugene può scegliere di essere un prigioniero. L'altro lato dello stesso cancello che può dividere vita e morte (Rosita e Sasha). L'altro lato di una notte in cui un nemico (Dwight) può tornare a farti visita sotto nuove vesti.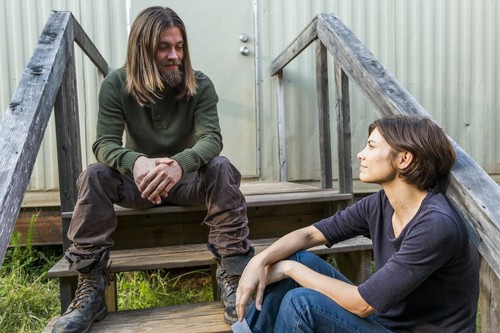 Non dimenticatevi di passare da qui: Norman Reedus Italia, The Walking Dead ITA . The Walking Dead-Italy , The Walking Dead Italia , TWD – Am I the only one Zen around here? Good Lord. . Caryl Italia, Andrew Lincoln Italy, Daryl Dixon ITA e FIGHT the Dead. FEAR the living – The Walking Dead gdr . The Walking Dead Pagina Italiana ! In più vi consigliamo un canale YouTube di un nostro affiliato Don't Open Dead Inside !
Partecipiamo all'iniziativa #ItalyWantTWDtoo con il gruppo su Facebook!