Una nuova puntata di The Walking Dead, la 7×13, appoggia un altro tassello nel grande quadro di questa settima stagione. Stagione che sta andando sempre più in una chiara direzione. Non è la stagione della guerra, non è la stagione definitiva, ma senza dubbio è la stagione che ci sta preparando a qualcosa che non abbiamo mai visto.
Ognuno di questi tasselli è indispensabile per completare il puzzle e (sinceramente) mi dispiace per chi non comprende a fondo l'immensità di queste puntate all'apparenza troppo tranquille. The Walking Dead non è solo questo, ma è anche questo.
Cos'è esattamente questa puntata? Non sono riuscita a darmi una singola risposta.
Questa puntata di The Walking Dead è una promessa mantenuta. Richard pone il sigillo sulla frase pronunciata in presenza di Daryl 'morirei per il Regno'.
E' una lezione. Benjamin, per quanto stimi il suo maestro Morgan fatica ad accettarne totalmente la dottrina. In punto di morte però si rende conto che 'ferire il tuo nemico è ferire te stesso' perché nessuna morte è leggera sul cuore di chi la infligge.
E' una battaglia interiore. Morgan combatte i suoi demoni, il trauma da cui non si è mai davvero ripreso.
E' verità. Tutta la puntata gira intorno alla verità: 'glielo dirò', 'lo vuoi sapere?', 'glielo hai detto?'. La verità come possibilità di riscatto e come condanna.
E' cambiamento. Carol cerca di trattenere Morgan esattamente come fece lui in passato. Il suo dolore le permette di prendere la decisione richiesta da Richard stesso tempo prima (convincere Ezekiel a combattere). Morgan stesso è costretto a scegliere una strada: suicidio o assassinio.
E' un puzzle, quasi completo. Esattamente come la cassa dei meloni offerti ai Salvatori.
Grande importanza in questa puntata di The Walking Dead è data alla fotografia di alcune scene e a speciali inquadrature.
Prima fra tutte l'alternanza dei primi piani in chiaro-scuro di Carol e Morgan. Vediamo Carol nell'ombra dopo esser stata nella luce per tutta la puntata insieme a Daryl (luce del sole all'apertura della porta, luce del camino nel dialogo dentro casa, luce della casa nell'abbraccio finale). La vediamo fumare, sbuffare, essere inquieta. Una parte di lei è oscurata dalla protezione che Daryl stesso ha voluto darle. E' la stessa parte di lei che la spinge a varcare quel confine che si era imposta. Il ritorno alla luce di Carol è dato proprio dalla nuova apertura della porta. Ella infatti per la prima volta dopo tanto tempo esce con l'intento di andare da qualcuno e non di fuggire o muoversi da sola.
Viaggio contrario, invece, quello di Morgan. Dalle riprese alla luce del sole con le lezioni al fratellino di Benjamin e l'ennesima pace costretta con i Salvatori (nel primo incontro della puntata) all'ombra della sua stanza e dell'ultima scena con le spalle alla porta.
Un altro particolare riguarda lo zombie attaccato da Carol lungo la strada.
La donna lo colpisce e non lo uccide. Lo lascia a terra facendolo divenire quasi innocuo. Quando ripercorre i suoi passi si accorge che qualcuno ha completato l'opera, meravigliandosene. Quel qualcuno è ovviamente Richard, in posizione per sistemare i carrelli e scrivere le sue ultime volontà.
Su quello stesso pezzetto di strada Morgan trasporterà il corpo inerme del traditore Richard, in una posizione analoga a quella dello zombie ucciso in precedenza.
The Walking Dead con il tempo ci ha abituati ai cambiamenti delle persone, alla loro maturazione o alla loro strada verso la follia.
Questo episodio è un super concentrato di ognuno di questi aspetti. Le cinque personalità che dominano la puntata (Carol, Morgan, Richard, Ezekiel e Benjamin) sono lo specchio di una perfezione che non può esistere. Non solo non può, ma non deve, perchè non esiste.
Richard in passato chiese a Morgan e Carol di aiutarlo a convincere Ezekiel ad agire contro i Salvatori prima che fosse troppo tardi. Daryl stesso avvertì Ezekiel su quella calma apparente 'quanto pensi che durerà ancora?'. Alla fine quel 'è troppo tardi è arrivato'. Benjamin, simbolo della purezza e della forza de Il Regno, è morto. E' morto per una sottomissione, esattamente come sono morti Spencer, Olivia e tutti gli altri.
Il rifiuto iniziale di Morgan e Carol è parte di quella sottomissione. Anche la negazione di Carol a Benjamin per insegnarli come uccidere tanti zombie insieme è parte di quella sottomissione. Richard, di fatto, non è stato l'unico tassello nell'omicidio commesso da Jared.
Alla fine tutti fanno esattamente ciò che Richard voleva o aveva progettato. Tutti, tranne Jared.
Carol convince Ezekiel a combattere e si mette al suo fianco per dargli la forza di cui necessita. Morgan sceglie di uccidere e di non suicidarsi, facendo in modo che i Salvatori si fidino di lui e prendano come segno di sottomissione la morte del traditore.
Al momento della morte di Benjamin, Morgan si ritrova nuovamente sul baratro della pazzia. Quel ragazzo strappato alla vita per una sua debolezza gli ricorda troppo Duane.
Puoi chiudere lo scheletro dentro l'armadio ma se quell'armadio si rompe e rimane aperto, non puoi far altro che accettare che quello scheletro esista davvero.
Così per Morgan. L'armadio si è rotto. La crepa del primo omicidio dei Salvatori per salvare Carol si è allargata. Quel 'non avevo altra scelta' è diventata un 'dovevo farlo'. Il nome di Duane è finalmente ricomparso in The Walking Dead dopo sei lunghe stagioni, mandando in frantumi il soggiorno di Morgan.
Quando le scritte lo assediano e le urla minacciano di sopprimerlo, l'unica cosa che salva Morgan è la certezza che Richard abbia imbrogliato tutti costruendo un modo per far combattere Ezekiel. Il melone che rotola ai suoi piedi è il suo lasciapassare per uccidere chi ha ucciso Benjamin. E' la sola convinzione che gli permette di non tagliarsi le vene su quella tomba, la scusa giusta per ammazzare Richard.
Lo strangolamento è specchio di quel passato che Morgan pensava di aver eliminato per sempre.
Le lezioni di Eastman, i giorni passati a guardare il sole e non più l'ombra, le convinzioni sulla redenzione… tutto si è dissolto nello stesso modo in cui tutto era cominciato. L'ultima vittima di Morgan prima di incontrare Eastman si era spenta tra le sue mani proprio come Richard.
Per citare il mio amico Davide quel momento è l'esatta controcatarsi di Morgan, il suo nuovo battesimo della violenza, la sua nuova entrata verso il mondo di The Walking Dead che, come detto all'inizio, non è perfetto. Benjamin, come Duane in passato, ha risvegliato qualcosa nell'uomo che Rick incontrò uscendo dall'ospedale.
E così la pace interiore diventa una nuova guerra. La tomba di una bambina diventa anche quella del padre. La vita che si pensava di aver ritrovato diventa morte. Il bastone di Eastman diventa una lancia da usare contro i Salvatori.
Quando Carol accetta di volere la verità segna uno degli ultimi passi per la costruzione dell'esercito contro Negan.
Si trasforma nell'allievo che supera il maestro quando cerca di fermare Morgan nel suo nuovo viaggio, ma al tempo stesso sa che è inutile fermare l'avanzata. Lei stessa prepara le sue cose e si mette in viaggio verso The Kingdom per prendere il suo posto nella guerra.
Rick ora ha Maggie e Daryl a Hilltop, Carol ed un infuriato Morgan ne Il Regno. I suoi generali sono pronti, così come è pronto lui. Rick ha capito che essere padri ed essere padri di un popolo sono due cose differenti. Ha capito che cosa è disposto a perdere per costruire il nuovo mondo ed è la stessa cosa che devono capire tutti prima di fare il passo finale.
Lo devono capire Ezekiel e Morgan con la perdita di Benjamin e Duane. Lo deve capire Carol facendo i conti con la scomparsa di Glenn, Abraham, Spencer e Olivia. Lo ha capito Michonne con la temuta scomparsa proprio di Rick.
Si può perdere tutto, ma lo si fa per vincere molto di più.
Si può bruciare tutto, come l'orto reale, per riseminare piante più forti.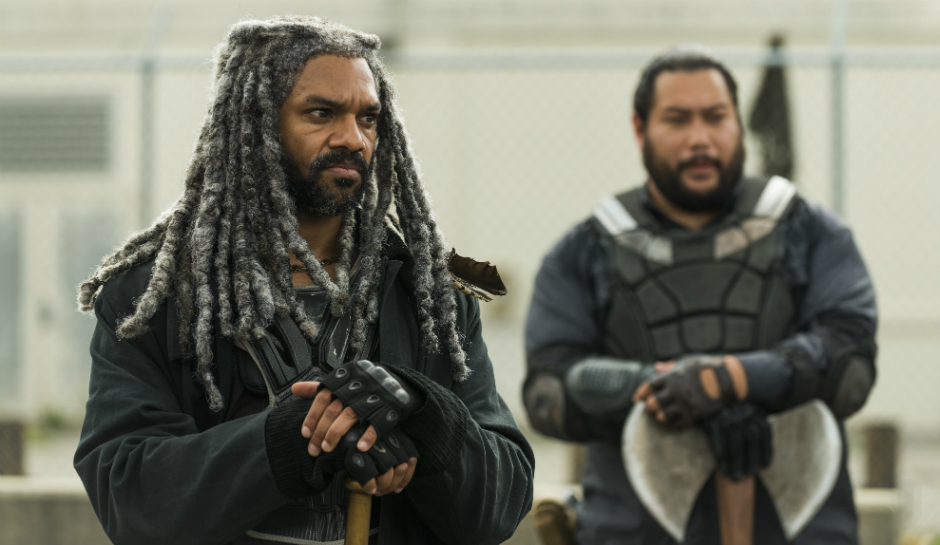 Non dimenticatevi di passare da qui: Norman Reedus Italia, The Walking Dead ITA , The Walking Dead-Italy , The Walking Dead Italia , TWD – Am I the only one Zen around here? Good Lord. , Caryl Italia, Andrew Lincoln Italy, Daryl Dixon ITA e FIGHT the Dead. FEAR the living – The Walking Dead gdr, The Walking Dead Pagina Italiana ! In più vi consigliamo un canale YouTube di un nostro affiliato Don't Open Dead Inside !
Partecipiamo all'iniziativa #ItalyWantTWDtoo con il gruppo su Facebook!