Apple TV+ ha fatto il suo ingresso nel mondo dello streaming lo scorso novembre e ha puntato tutto su alcuni contenuti, consapevole di dover attirare l'attenzione degli utenti già conquistati da Netflix e Amazon Prime Video. The Morning Show è una delle scommesse della società (ne abbiamo parlato in questo articolo) che ha incuriosito subito il pubblico grazie alla trama incentrata su temi attuali e alla presenza di un cast stellare.
Il titolo della serie è quello del fittizio show mattutino al centro della trama. Jennifer Aniston interpreta Alex Levy, la conduttrice del programma amato dagli americani, che svolge il suo lavoro insieme al collega Mitch Kessler (Steve Carell) da 15 anni. L'equilibrio negli uffici dell'emittente televisiva UBA viene minacciato improvvisamente dalle accuse di molestie sessuali nei confronti del conduttore e dall'arrivo di Bradley Jackson, una reporter idealista interpretata da Reese Witherspoon.
The Morning Show porta lo spettatore dietro le quinte del mondo televisivo, ma si tratta di un'esperienza tutt'altro che piacevole.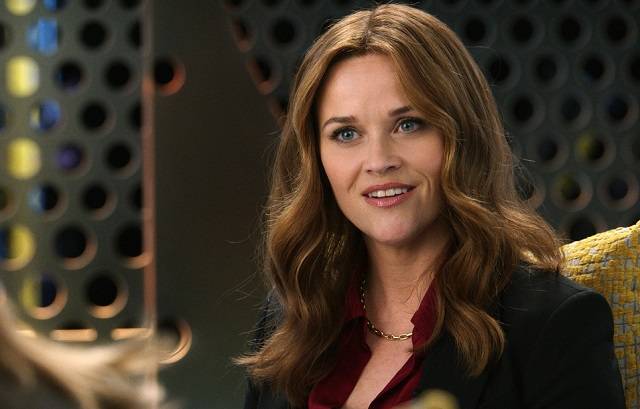 Jay Carson, l'ideatore della serie, ha tratto ispirazione dallo scandalo sessuale che ha coinvolto Harvey Weinstein (di cui vengono mostrate spesso delle immagini all'interno della serie) e dal conseguente movimento #MeToo. Cimentarsi in un'impresa così delicata è molto rischioso e lo show di Apple TV+ lo ha fatto parlando delle varie forme di abuso sessuale e della pluralità di reazioni possibili. Inoltre i personaggi del dramma mostrano molto chiaramente che, spesso, gli spettatori vengono ingannati e quello che vedono in televisione raramente corrisponde alla realtà.
Durante gli episodi si alternano costantemente due opposti: l'atmosfera colorata, luccicante e positiva del set e quella fredda, scura e triste che riguarda i retroscena e le vite private dei protagonisti. I riflettori di The Morning Show mostrano solo quello che i produttori della UBA vogliono far vedere, mentre tutto il resto (la verità scomoda) deve rimane nell'ombra a ogni costo. L'appartamento di Alex, in particolare, è un luogo che non trasmette alcun calore familiare. Il personaggio interpretato da Jennifer Aniston è il più complesso delle serie, una donna forte e determinata che ha messo al primo posto la carriera perdendo molti affetti. Lo stesso vale per Bradley che, a causa della sua caparbietà e dei problemi con la famiglia, ha sprecato varie occasioni lavorative e sentimentali.
Jennifer e Reese hanno ottenuto finalmente la possibilità di interpretare personaggi all'altezza del loro talento.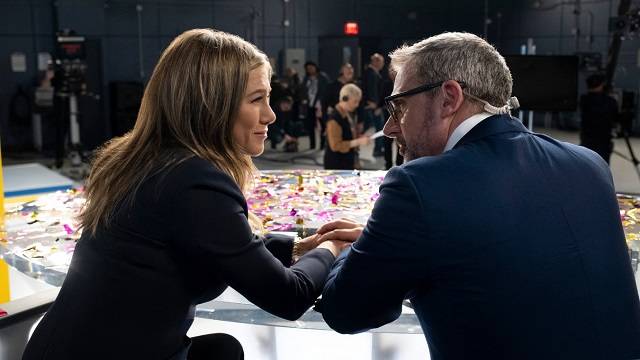 Anche Steve Carell non ha deluso le aspettative e ha svolto un lavoro eccellente (considerando soprattutto la difficoltà del suo ruolo), ma non ha avuto molto spazio nello show. Forse questa è l'unica pecca di The Morning Show, anche se l'isolamento di Mitch Kessler potrebbe derivare dalla volontà di punire il personaggio in seguito alle accuse di molestie sessuali.
[SPOILER ALERT! Non proseguite la lettura se non avete visto tutti gli episodi della serie]
Durante l'intera durata del dramma gli uffici della UBA sono dominati da un pesante alone di omertà connesso alla condotta di Mitch Kessler. Tutti i membri dello staff di The Morning Show sono consapevoli del comportamento riprensibile del collega, ma ognuno cerca di salvaguardare il proprio posto di lavoro e opta per una cultura del silenzio. I giochi di strategia, infatti, rappresentano la seconda componente principale della trama, dopo gli abusi sessuali.
L'improvviso licenziamento di Mitch scuote i protagonisti perché ormai quello che volevano nascondere è diventato reale, così si innescano inevitabilmente reazioni diverse in ognuno di loro.
The Morning Show riesce a caratterizzare numerosi personaggi al fine di condurre una profonda e interessante indagine psicologica colletiva delle vittime e dei complici.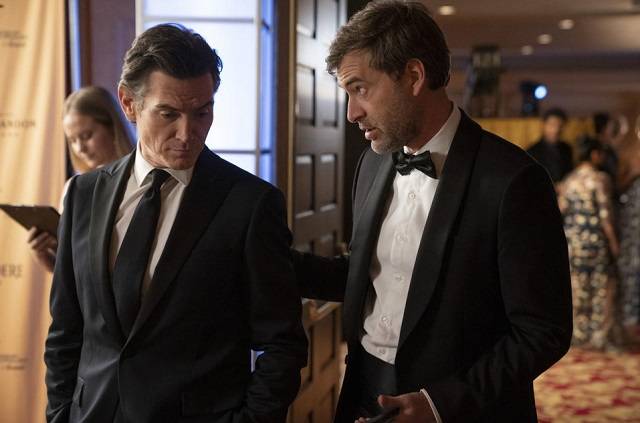 Nel corso delle puntate scopriamo che Mitch ha avuto relazioni con varie colleghe, anche se di alcune non si comprende a fondo la natura. Un esempio è la storia con Mia Jordan, sulla quale sembra essere proibito esprimere un'opinione. Bradley, ignara della prassi fondata sul silenzio all'interno dell'ambiente lavorativo, prova a parlarne e capisce subito che ciò non è fattibile.
Il conduttore dello show ha avuto rapporti sessuali anche con Alex e questo è il motivo per cui la collega prova dei sentimenti contrastanti nei suoi confronti, dopo le accuse. In virtù di questo affetto nei confronti di Mitch, il personaggio interpretato da Jennifer Aniston ha difeso il partner a lungo e adesso è tormentata dai sensi di colpa e anche dalla rabbia. La star di The Mortning Show si è resa complice del collega e questo vale anche per altri membri dello staff.
La storia dimostra duramente che il comportamento del singolo può avere delle conseguenze inimmaginabili anche sugli altri.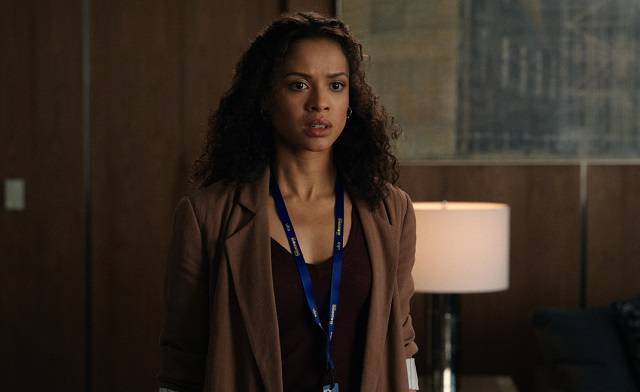 Yanko e Claire sono legati da sentimenti genuini, ma lo scandalo che ha coinvolto la UBA fa nascere dei dubbi nella mente dell'uomo del meteo. Il giornalista è molto più grande della sua fidanzata e comincia a pensare di averla conquistata tramite abusi di potere. Per fortuna non è così, ma la questione appare interessante quando gli sceneggiatori mettono a confronto le avances di Claire e quelle di Mitch.
I due rapporti iniziano nello stesso momento, nello stesso luogo e con la stessa modalità. Yanko riceve i complimenti dalla giovane collega e ne è lusingato perché nessuno, fino a quel momento, aveva notato le sue qualità. Anche Hannah è onorata di ricevere i complimenti per il suo lavoro da parte di Mitch, un uomo che ammira molto. Il problema è che la junior booker non si rende conto che il conduttore ha intenzioni diverse e non riesce a rifiutarlo a causa della posizione di potere ricoperta da Mitch, un giornalista di successo amato dai colleghi e da tutta l'America. Se dicesse di no sarebbe un'ingrata e verrebbe licenziata, perciò dalla sua bocca non escono parole. Durante il viaggio di lavoro Hannah rimane impotente e la regia lo mostra benissimo, inquadrando ogni tensione muscolare della donna e ogni espressione di confusione sul suo volto.
Tutti credono che rimanendo in silenzio la questione si risolverà da sola prima o poi, invece Bradley insiste con tanta tenacia da causare il crollo di Hannah.
Hannah a Bradley: Smettila di dirmi cosa fare o come dovrei sentirmi! Come ti convinco ad andartene? Cosa devo dirti? Che sono stata violentata? Che ero spaventata? Che ero indifesa? Che ci penso tutti i santi giorni? Centinaia di volte ogni giorno! Che questa è l'immagine che ho di me? Che ho ottenuto una promozione? Come ci si sente ad avere qualcuno che ami, rispetti e ammiri sopra il tuo corpo, che ti sta usando? Che usa il tuo corpo per il suo esclusivo piacere infischiandosene di te? Che cercavo un padre e invece lui mi ha penetrata? E poi che sono costretta a vivere tutta la vita con quelle voci che mi risuonano nelle orecchie, che mi ricordano "Sei sporca, l'hai causato tu, è solo colpa tua"? E infine, che vedo persone che perdono il lavoro e il mondo che va a pezzi perché io non avuto il coraggio di dire di no?
Eppure, neanche davanti al suicidio di Hannah il vertice della UBA intende fare luce sulla questione.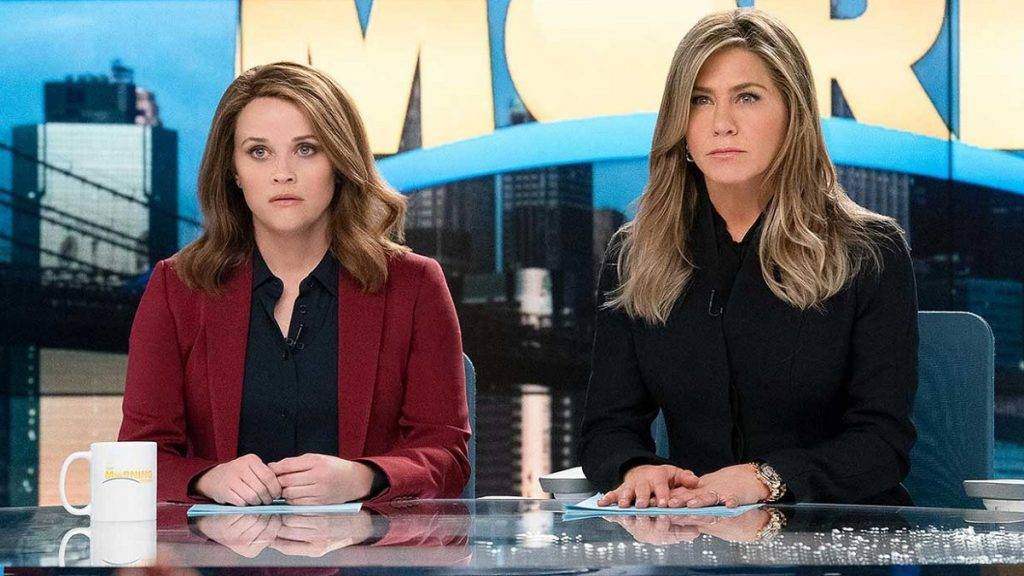 La situazione precipita e ormai nessun membro dello staff vuole continuare a seguire la politica del silenzio. Persino Cory è scioccato, proprio lui che ha approfittato di ogni problema per aumentare la popolarità dello show durante tutta la durata del suo incarico. L'unico che vuole mettere a tacere ogni cosa è Fred (Tom Irwin), colui che ha zittito Hannah offrendole una promozione per insabbiare la violenza subita da Mitch.
Nell'ultimo episodio (1×10 – Il silenzio della verità) finalmente Bradley e Alex iniziano a parlare dell'accaduto in diretta televisiva e sembra che il coraggio vinca sui prepotenti, ma non è così. Dopo qualche secondo le conduttrici vengono bloccate e gli schermi di New York mostrano l'assenza di segnale accompagnata da un suono persistente e fastidioso per vari secondi. Questo rumore assordante che pervade l'intera città è associato al mutismo forzato delle protagoniste, ancora una volta vittime del sistema. È così che gli sceneggiatori di The Morning Show hanno voluto lasciare gli spettatori, con la sensazione di fastidio nei confronti del silenzio, per dimostrare che è la scelta sbagliata.